This Thai Peanut Dressing is super easy & versatile. This peanut salad dressing is savory and tastes delicious on everything from slaw to stir-fries to grilled proteins, or anything you can think of with savory peanut flavor!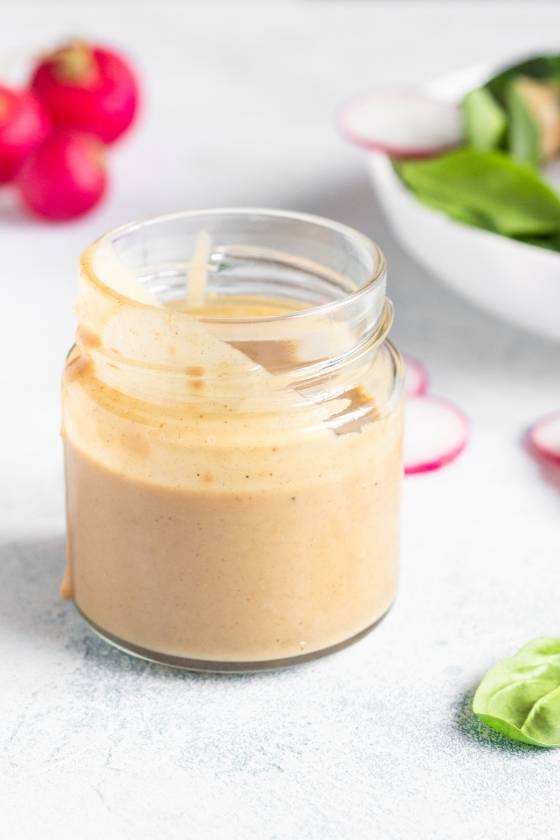 Peanut Salad Dressing 
I dont know about you all, but this Thai Peanut Salad dressing is one of my regular kitchen staples. It's a creamy, delicious, and healthy salad dressing without any harmful preservatives. 
If you are a peanut butter lover then it's the sauce for you! A good peanut butter dressing is always at the top, but especially when you tweak it to tha Thia-style with a drizzle of lime juice, a hint of hot sauce or sriracha, and with a slight kick of ginger – it's totally irresistible! 
It's a great dressing to pour over your favorite salad or a boring slaw, BONUS- it also tastes amazing when paired with any grilled or pan-fried protein, stirs fry veggies, just anything!
Ingredients for Thai Peanut Dressing 
It's as easy and quick as combining everything in a bowl. Whisk everything in a bowl or feel free to toss in a blender or a food processor. Make sure to taste and adjust the seasoning before serving it.
peanut butter
rice vinegar or apple cider
soy sauce or tamari (or coconut aminos)
Honey or maple syrup
lime juice
ginger
sesame oil
garlic
red chili flakes
Sriracha or hot sauce
Water or coconut milk (to adjust the consistency)
How long does peanut sauce last?
This Thai peanut dressing will easily stay well in the fridge for at least a week. The dressing will thicken when it's cold, you can adjust the consistency of the dressing by adding some water or coconut milk to it. Do not add excess water at once, make sure to add water little by little until it returns to its pourable state.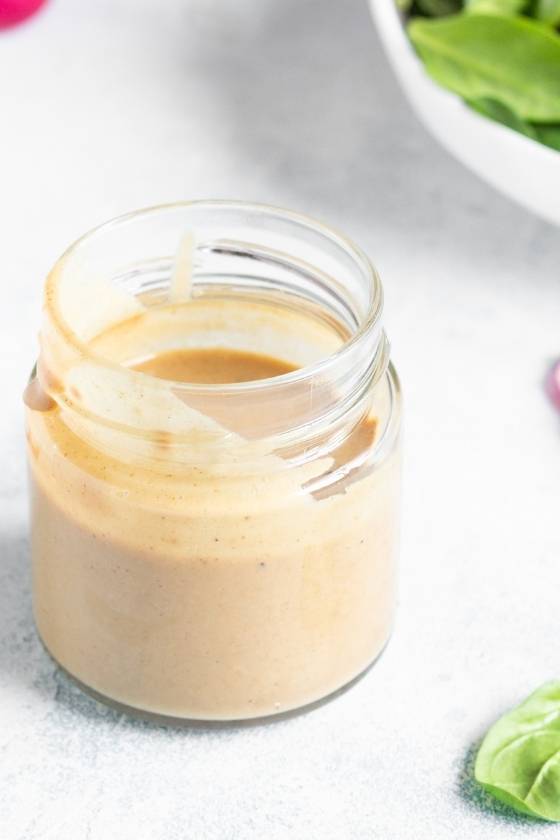 What to serve with Thai peanut sauce 
This Thai Peanut Dressing brings an Asian vibe to the table. I love serving this peanut sauce with my Air Fryer Chicken. A few other recipes that go well with the sauce are: 
Drizzle over some stir fry veggies or protein 
Give a nutty flavor to Boring salads or slaws 
Tossed with warm pasta or noodles salads 
Serve as a dip with raw veggies or fingers chips 
Use it as a marinade for chicken or salmon or tofu 
A delicious best sauce for your grilled chicken or veggies
Basically, just pour it over anything on your plate, it will taste great :p
More Salad Recipes: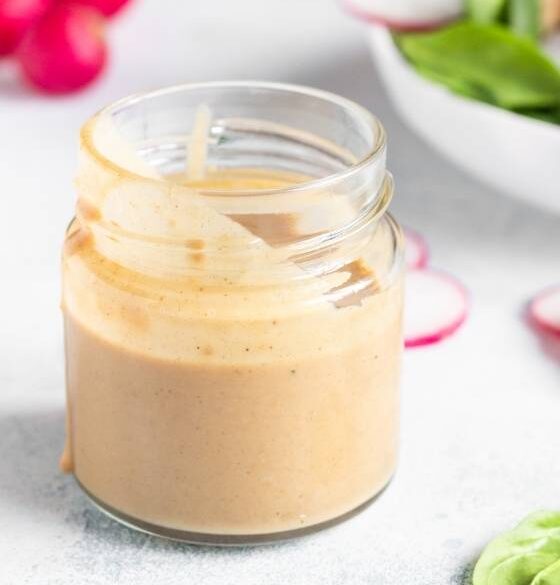 Ingredients
1/2 cup peanut butter

2 tbsp rice vinegar or apple cider

2 tbsp soy sauce or tamari (or coconut aminos)

1 tbsp Honey or maple syrup

2 tbsp lime juice

1/4 tbsp ginger

1 tbsp sesame oil

1/4 tbsp garlic

1/8 tbsp red chili flakes

1 tbsp Sriracha or hot sauce

2 tbsp water or coconut milk (to adjust the consistency)

Salt to taste 
Instructions
Take a small bowl and whisk all the ingredients together. Or take a blender and whirl everything until smooth. 

Serve immediately or store the dressing in an airtight container in the fridge for about 1 week. 
Notes
This recipe is vegan, dairy-free, and vegetarian. 
To make it gluten-free, use certified GF tamari
If the dressing feels a little thick, then add water or coconut milk depending upon your desired consistency. 
This peanut sauce thickens up in the fridge when it cools. You can add some water to adjust the consistency before serving it. 
This peanut sauce is a bit tangy and spicy, if you prefer sweet peanut dressing then simply omit sriracha and add one more tablespoon honey or maple syrup to sweeten it more.
Did You Make This Recipe?