Are you craving some baked chicken wings? These crispy chicken wings will probably be the easiest and most delicious chicken wing recipe you'll ever make, which doesn't require deep-frying!
The wings are coated with homemade spice rub, then baked in the oven to crispy perfection. The result is super crispy chicken wings that are delicious and so much healthier!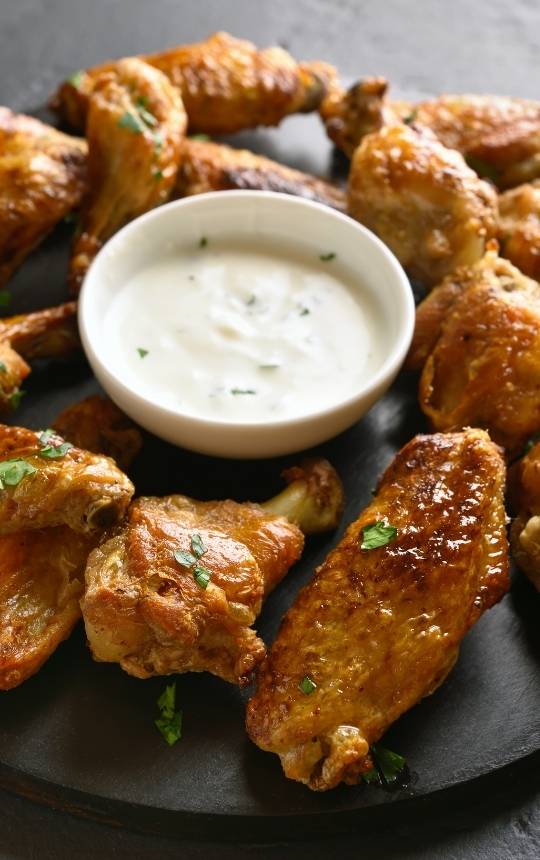 Who needs Takeout? Make these Homemade Crispy Baked Chicken Wings recipes for an easy appetizer or fun dinner recipe that takes just minutes to put together!
You can never go wrong with chicken wings; whether it's buffalo chicken or sticky sesame chicken wings, wings are low-cost, tender, and relatively easy to cook.
These baked chicken wings are SO DELICIOUS, and you won't miss the deep-fried version. Make them ASAP, and then write your experience in the comment section!
Healthy Baked Chicken Wings
I know you all must be thinking… Chicken wings are supposed to be deep-fried and then tossed with a spicy sauce. But what if I told you that these oven-baked chicken wings are so much more delicious than the traditional or deep-fried method. They come out super crispy and, not to mention with a lot fewer calories, that you can enjoy anytime, guilt-free! 
I am a huge chicken wing fan, sometimes I make these for dinner, too! I know they are an appetizer but adding a side dish like air fryer potatoes or Lebanese Spicy Potatoes, baked beans, or healthy veggies like air-fried carrots or asparagus makes them into a fun dinner.
So, serve them at your next get-together, or potluck, or make them for dinner – either way, they will be a hit! If you are short of time, you can also check out my air fryer chicken wings.
The Best Dry Rub For Chicken 
This easy chicken wings recipe is a great gluten-free appetizer option that requires only a few simple ingredients, which you properly have in your pantry right now! 
Garlic powder

Smoked paprika

Salt and black pepper

Chili powder

Onion powder

Brown sugar

Mustard powder

Baking powder
You must be wondering about baking powder in dry spice rub? Yes, it's necessary and the secret ingredient to make the crispy chicken wing in the oven. The baking powder helps to dry out the wings' skin while baking, so it gets extra crispy on the outside while it bakes.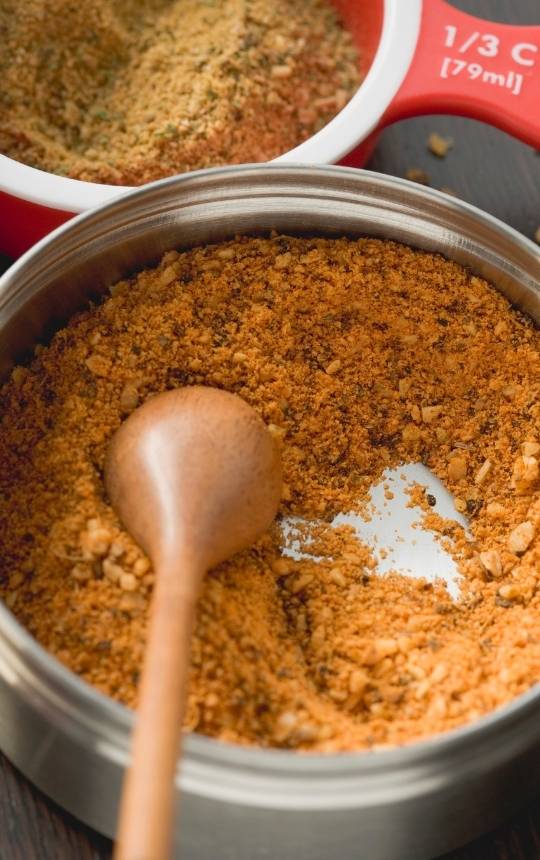 How do you make baked chicken wings? 
**Be sure to see the recipe card below for full ingredients & instructions!**
The baked chicken wings recipes required only three major steps. The recipe starts with cutting the chicken wings and tossing them in a little vegetable or olive oil. Then in the next step, you need to coat the wings thoroughly with the spice rub. Then place the wings on a baking rack and bake at high heat until crisp and golden brown.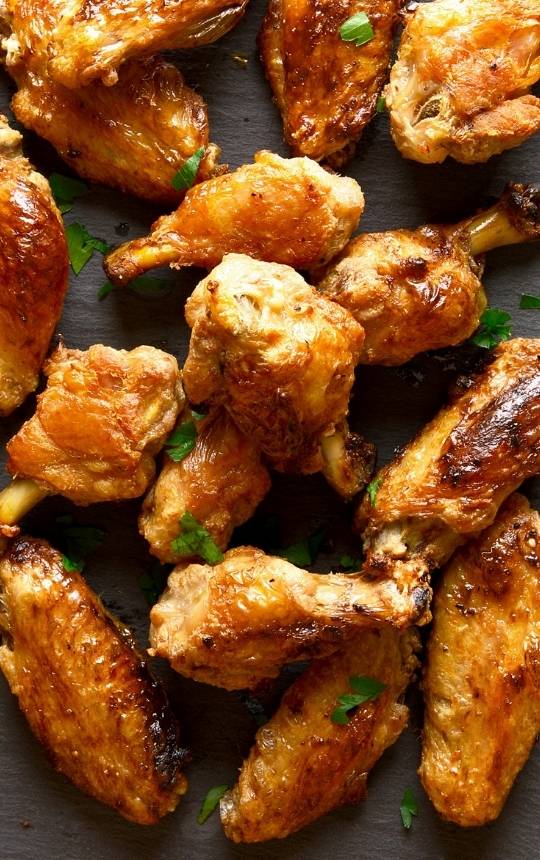 Best way to cut chicken wings into three sections – 
You can save a lot of money just by buying the whole chicken wings and then cutting them down into small segments yourself at home. You'll only need a sharp knife and a clean cutting board. 
Start by pulling the wing at joints to locate the joint, and cut them where the joint is to separate the wingtip. When you find the right spot between the joints, it's easy to cut.
Fresh or Frozen Chicken Wings? Which is Best?
We'll need to stick with the FRESH CHICKEN WINGS for this recipe since frozen wings hold a lot more moisture tha fresh ones, which may not yield a crispy texture on the wings. 
But if you only have frozen chicken wings, just make sure to thaw them entirely in your refrigerator and then use a kitchen towel to remove any excess moisture from it.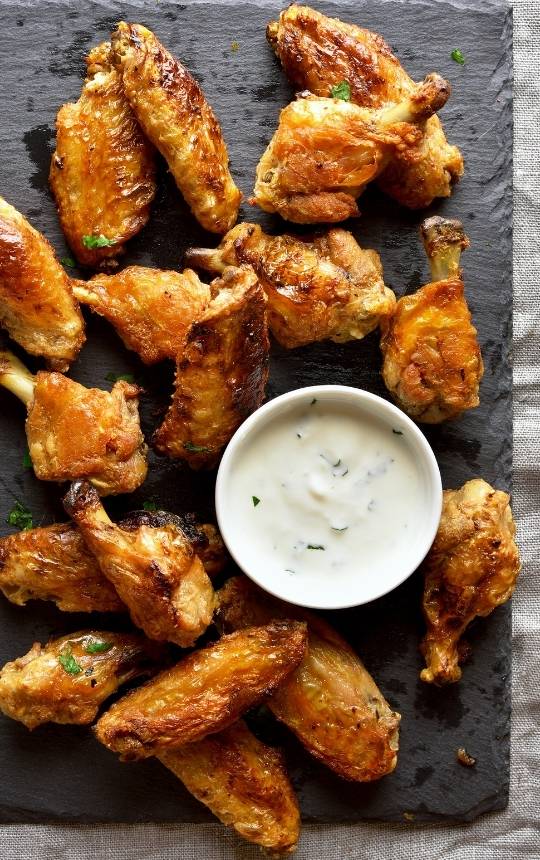 How long does it take to cook a wing?
It takes about 40 to 50 minutes oven bake chicken wings at 450°F (232°C). The chicken wings should be nicely cooked, crispy, and golden brown on the outside. However, each oven is different start looking at them after the 30-minute mark to ensure the seasoning does not turn black.
If your oven has convection settings (when you bake in it, a fan circulates air inside the oven), it will help the chicken wings cook faster and get those delicious crispy wings within no time!
Convection oven: Cook at 450F for 50 minutes, flipping the chicken wings halfway through. 
Conventional Oven: Keep the temperature at 400F and increase the cooking time to 1 hour 10 minutes, flipping the wings halfway through.
More Chicken Recipes :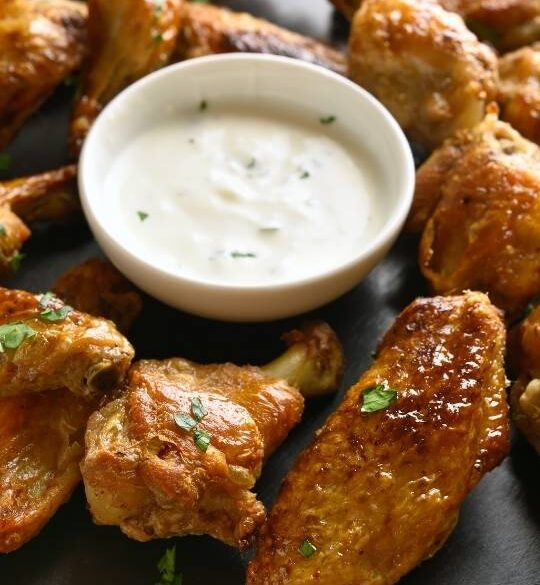 Ingredients
2

 

lb

 

chicken wings (halved at joints, wingtips discarded)

2

 

Tbsp

 

olive oil

2

 

tsp

 

baking powder

1

 

tsp

 

sea salt

½

 

tsp

 

ground black pepper

1

 

tsp

 

garlic powder

1 tsp mustard powder

1

 

tsp

 

smoked paprika

¼

 

tsp

 

chili powder

1

 

tsp

 

onion powder
Instructions
Preheat the oven to 425 F degrees. Line a baking sheet with parchment paper.

Now, use a paper towel and pat to dry the wings as dry as possible to get rid of any excess moisture in them. This becomes a very critical step as we're trying to achieve CRISPY chicken wings!

Combine all the dry rub ingredients in a small mixing bowl and set it aside. In a large mixing bowl, add chicken wings and vegetable oil. Use a spatula or your hands to gently coat. 

Sprinkle the dry rub mixture and massage it into all the chicken wings, until everything is coated evenly. 

Place the coated chicken wings on the baking sheet and bake for about 40 minutes at 425F degrees, turn all the pieces and bake for another 15 minutes.
Did You Make This Recipe?