Craving for a fried, crispy, and super easy appetizer, make this quick air fryer cauliflower recipe! This air fryer cauliflower is perfectly seasoned, crispy, and easy to make a low-carb side dish or a vegan main course. 
Easy Air Fried Roasted Cauliflower:
Cauliflower is one of my favorite vegetables, roasted, tossed in a salad, or even in a curry.
It is so versatile that it can easily adapt the flavor around it or you can easily tweak the seasoning as per your taste preference, either way, it will taste good.
This air-fried cauliflower is very easy to make and a simple appetizer that is very healthy and flavourful with very little oil. 
An air fryer is the best way to cook extra crunchy and crispy vegetables, but you can also bake them.
In whatever way, it works best as an appetizer, or as a vegan meal, you can serve them with endless toppings options.
I would go for freshly chopped parsley or cilantro with a little drizzle of lemon juice. You can also add sauce, parmesan, or roasted pumpkin nuts.
Printable Full Recipe/Instructions are available in the recipe card at the bottom of the post. You can find important tips/tricks in the blog post.
Ingredients for Roasted Cauliflower
This air-fried cauliflower recipe lets you quickly cook a healthy side dish and it only requires 5 ingredients to prepare this crunchy and flavourful appetizer.
PLUS everything here will take you under 20 minutes, so if you realize you did not prepare enough, you can easily whip up another batch of this fried cauliflower:
Cauliflower: Cut or break the cauliflowers into medium to small florets. make sure to cut the cauliflower into the same pieces or the outer will get overcooked before the middle cooked through. 
If you like to use frozen cauliflower, you do not need to thaw, simply toss them in olive oil and seasoning.
Olive oil: Adding a little bit of extra virgin olive oil will help to crisp up the outer surface as well as add more richness. 
Bread crumbs: It helps to coat the outer surface and create a crispy coating. 
Spices: onion powder, garlic powder, paprika, salt, and pepper
Corn flour: If you run out of bread crumbs, you can add 1-2 tbsp of cornflour while tossing the cauliflower with the spices, it will give a nice texture to it. 
Egg (optional): you can dip the cauliflower in the egg then coat it with cornflour for extra crunchy and crip[sy texture. ( I did not use this, as this is a VEGAN recipe).
♦♦Keep scrolling down to the recipe card for a list of FULL ingredient amounts and detailed instructions for cooking Air Fryer Roasted Cauliflower.
How to Make Air Fryer Roasted Cauliflower 
Cooking roasted cauliflower in an air fryer is very simple and quick. Though roasting in an air fryer and in an oven is quite similar, only the air fryer is quicker than the oven and yes it uses a lot of less oil as compared to the oven recipes. 
So, let's cook some roasted cauliflower in an air fryer (scroll down for full instructions): 
Cut the cauliflower into medium to small-sized florets, put all the ingredients in a bowl. 

Toss the cauliflower florets with seasonings and olive oil, combine everything properly (toss everything together like a salad) 

Place the florets on the basket, make sure you do not overcrowd the air fryer basket.

Shake the basket midway for even cooking, fry until fork tender.



How to make Oil-free Air fryer Cauliflower:
You may get a bit different texture, but it will still turn out delicious and healthy(oil helps the cauliflower florates to get a crispy outer texture). You can use air fryer parchment papers to avoid the florates from sticking to the air fryer base. Air-fryer parchment papers are easy to use and cheap.
Roasted Cauliflower in a Convection Oven?
If you want to roast your cauliflower in a convection oven then simply follow the steps below: 
Cut your cauliflower into small-sized florets, toss the pieces with extra virgin oil, and seasoning of your preference or you can follow the spices listed in the recipe card. 

Spread the cauliflower in an even layer on a baking pan or sheet.

Bake for 20 to 30 minutes at 350 degrees Fahrenheit.

Make sure to flip the cauliflower during the baking process to ensure it cooks thoroughly. 
In my opinion, you cannot get the crispier cauliflower as compared to the air fryer version, as the oven misses the intense direct heat, but it's good at its place.

How to Get Perfectly Roasted Cauliflower every time:
Do not forget to preheat your air fryer or oven: the vegetable will get soggy if you forget to preheat the oven or air fryer, as the high temperature is very essential for the crispy texture. 
Dry the vegetable before roasting: To obtain the crisper texture on the surface, ensure the vegetable is dry enough or pat it dry with a kitsch towel and get that extra moisture out of it. 
Uniform size = Even roasting: always cut the vegetables in the same size. 
Combine the seasoning properly: combine and mix the seasoning and oil in a large bowl and make sure all the florets are coated properly. 
Do not overcrowd the air fryer basket
More Air Fryer recipes :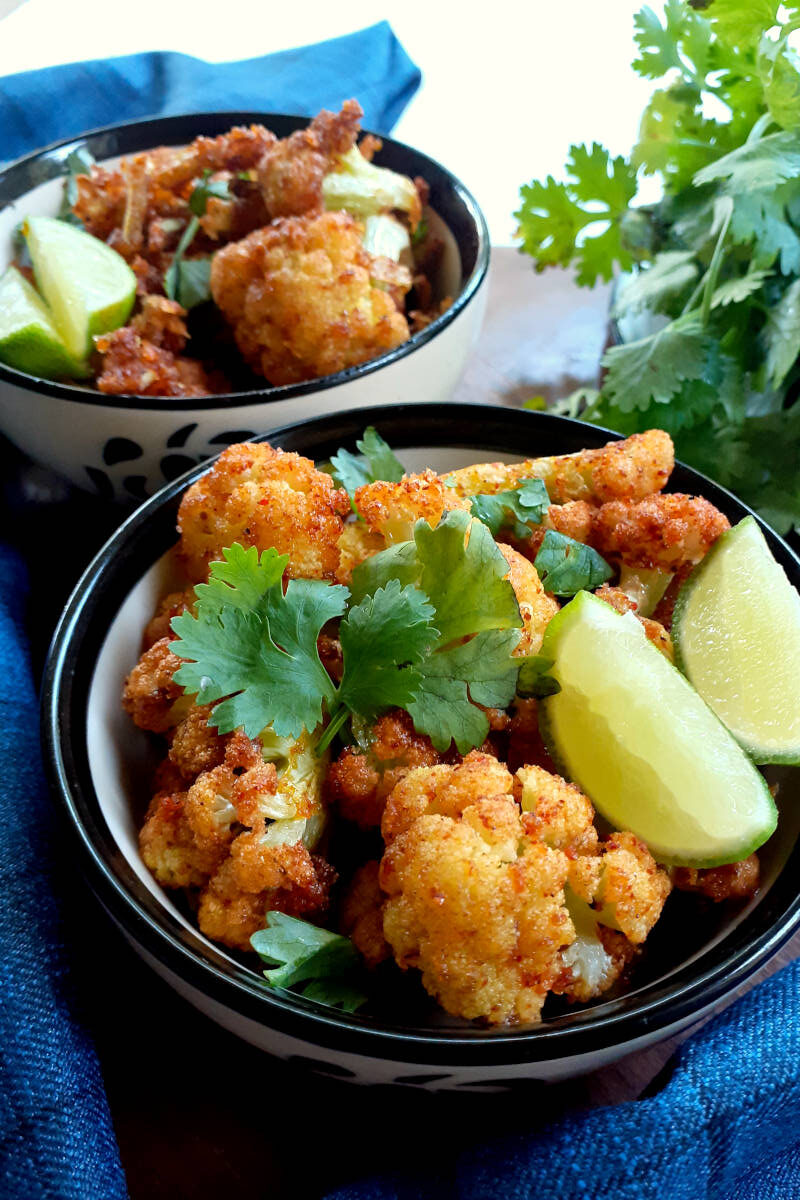 Ingredients
2 cup Cauliflower florets

2 tbsp Extra virgin olive oil

½ tbsp Onion powder

1½ cup  Panko bread crumbs

1 tbsp paprika

1 tbsp Salt

2 tbsp Corn Flour
Instructions
In a large mixing bowl take cauliflower florets, toss with spices, olive oil, bread crumbs, cornflour, until everything is combined properly.

Preheat the air fryer to 370°F.

Place the cauliflower in the basket (in a single layer), do not overlap, or overcrowd the air fryer basket. Spray or drizzle some olive oil if required.

Now, cook at 375°F (190°C) for about 7 minutes, then flip the florets and fry for another 7 minutes.

Serve them warm, with a little drizzle of lemon juice over it, and topped with some freshly chopped parsley.
Notes
If you want evenly roasted cauliflower, then make sure to cook in small batches and in a single layer. 

You can reheat the leftover roasted cauliflower by placing them in the air fryer for 2 to 4 minutes or until heated through. 

If your cauliflower florets are wet (after washing), it will get steamed inside the air fryer instead of roasting.

The exact time may vary based on what air fryer you are using.  
Did You Make This Recipe?
YOU MAY ALSO LIKE:
Philips Air Fryer XXL Honest Review
Kitchen essentials for a Bachelor Pad