Are you looking for a simple and delicious air fryer side dish that can be made quickly?
Look no further than air fryer baby potatoes! With just five ingredients and minimal prep time, you can have crispy and flavorful potatoes that are perfect for any meal.
It's a quick and easy side dish that's sure to impress anyone. Fire up your air fryer and let's get cookin'!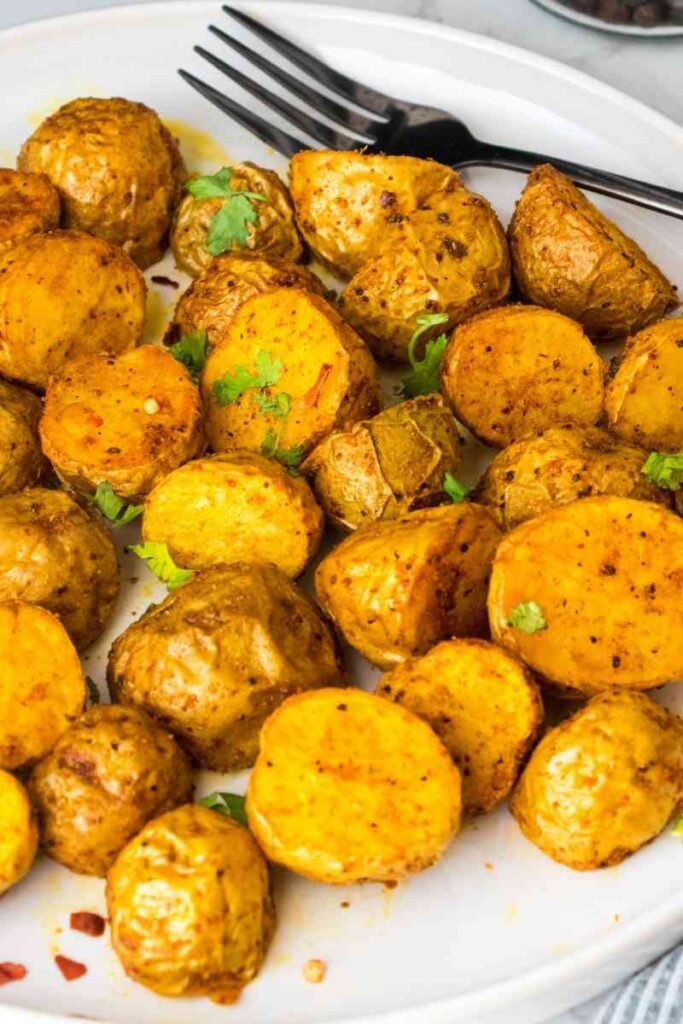 Why This Air Fryer Recipe is a "Must-TRY"
Vegan, soy-free, dairy-free, and gluten-free friendly

Crispy, crunchy, tender, and juicy

Baked in the air fryer rather than fried

Made with 5 simple ingredients

Versatile (fried, baked, or cooked in an air fryer)

A meatless appetizer for bbq or a snack for game day

Great with salads and dipping sauces
What Type Of Baby Potatoes are Best?
If you're asking about the potato variety that's velvety in texture and buttery in flavor, then I recommend trying yellow baby potatoes. 
When roasted in an air fryer, they yield a creamy consistency that's sure to satisfy your taste buds. 
However, don't fret if yellow baby potatoes aren't available, as both red baby potatoes and tri-color baby potatoes can serve as suitable substitutes with no need for recipe adjustments.
You can also experiment with this recipe using fingerlings instead. These are readily available at our local farmer's market during the winter months, and they can be cut into thirds or smaller depending on their size.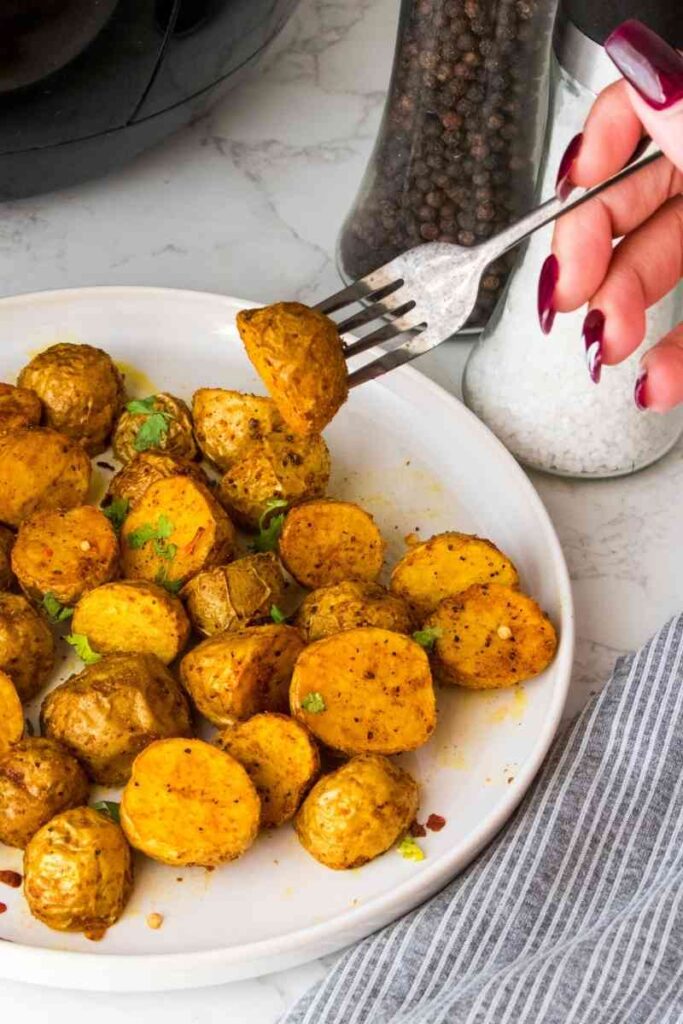 They're an excellent substitute for baby yellow potatoes when making air fryer roasted potatoes. 
In essence, you can use any potato variety that has soft skin, so long as it's cut up to the same size as a halved baby potato. 
With this roasted potato recipe, there's no need to limit yourself to a single potato variety. Instead, you can easily experiment with different types of potatoes to see which one suits your palate best.
Ingredients For Air Fryer Potatoes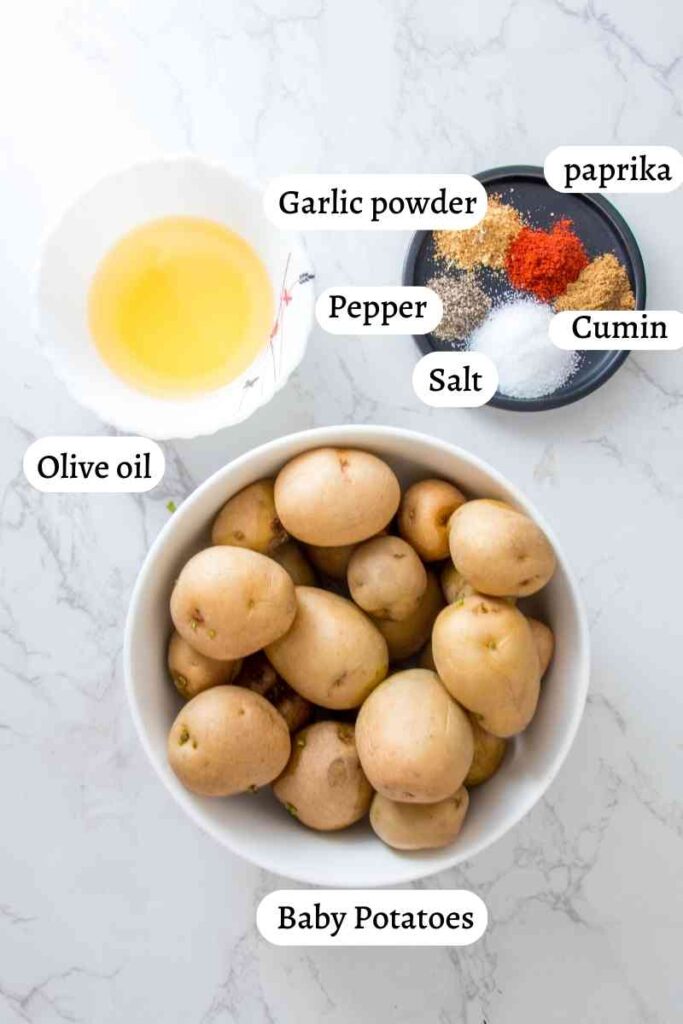 To make air fryer roasted baby potatoes, here's what you'll need:
Baby Potatoes – tri-color or red baby potatoes also work. But honestly, you can use ANY type of small potatoes for roasting.
Oil – I like to use extra virgin olive oil.

salt & pepper

garlic powder

Smoked paprika

fresh parsley for garnish
This seasoning blend is a great combination of both dried and fresh herbs! However, I like to change things up, and sometimes I love to use different seasonings to make different variations of the roasted potatoes – such as Italian seasoning, fajita seasoning, cajun seasoning, or simply stone house seasoning.
How to cook baby potatoes in the air fryer
To make these easy air fryer baby potatoes, start by halving them and placing them in a large bowl. Drizzle some olive oil over the potatoes and toss them until they're all coated evenly.
Next, add garlic powder, smoked paprika, cumin powder, salt, and pepper. Give everything a good toss to ensure that the seasoning is nicely coated. 
Now, it's time to transfer the potatoes to the air fryer. If you're using an oven model, make sure to arrange them in a single layer on the air fryer trays. If you have a basket model, place the potatoes in the basket, do not overcrowd the basket.
Set your air fryer to 390°F or 200°C and cook the potatoes for 18-22 minutes, or until they're fork-tender. 
You should notice that the outsides are a beautiful golden brown, with a crispy texture, while the middle is soft and tender, easily pierced with a fork or knife.
Once the potatoes are done, remove them from the air fryer basket and transfer them to a serving plate. You can garnish the roasted baby potatoes with freshly chopped parsley to give your dish an extra pop of color and flavor. 
And voila – your mouthwatering air fryer baby potatoes are ready to be devoured!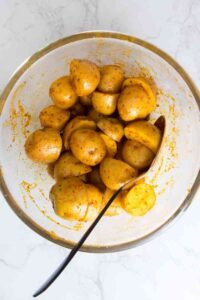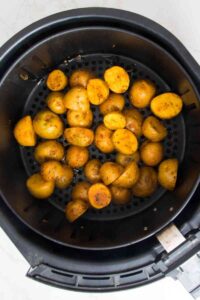 Storage and Reheating 
To store air fryer roasted baby potatoes, let them cool down completely and then transfer them to an airtight container. You can keep them in the refrigerator for up to 3-4 days.
To reheat the roasted potatoes, preheat the air fryer to 375°F (190°C) and place the potatoes in the basket. Heat for 3-5 minutes or until they are heated through and crispy. Alternatively, you can also reheat them in the oven or microwave.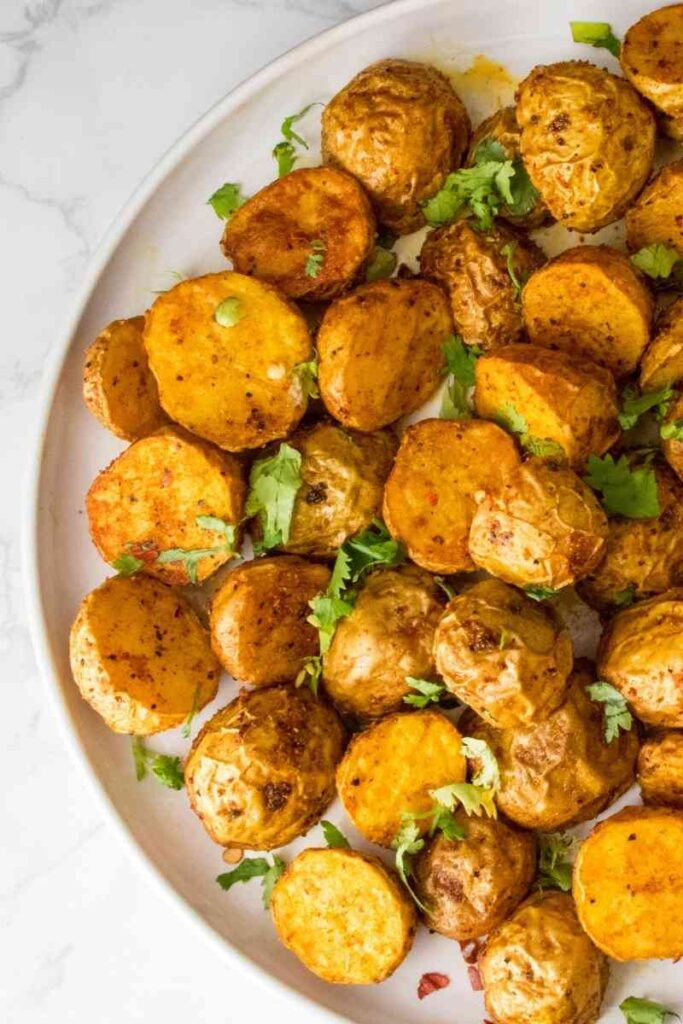 What to pair with roasted potatoes
These air fryer baby potatoes are super versatile! You can enjoy them in so many ways, from adding them to a breakfast bowl with eggs and sausage to incorporating them into a hearty vegan salad for lunch.
And when it comes to dinner, the possibilities are endless – pair them with just about any protein you can think of! I love pairing it with air fryer chicken and air fryer salmon bites.
Once you try these easy 20 minutes air fryer baby potatoes, you'll likely become addicted and find yourself craving them on a weekly basis. So, why not experiment with different protein pairings and see what combination satisfies your taste buds the most?
More Air Fryer Recipes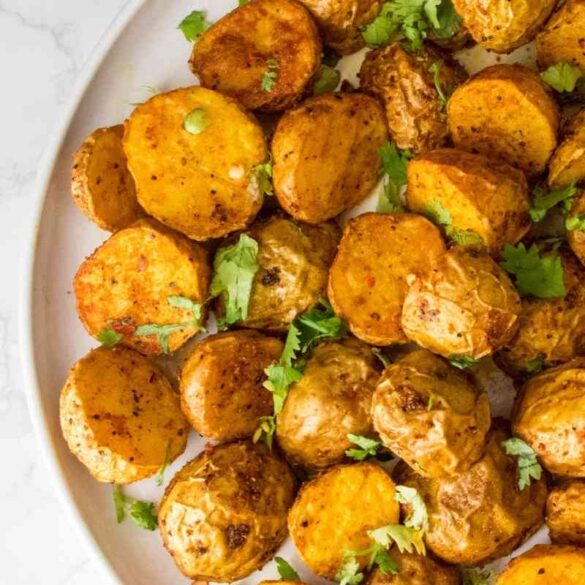 Ingredients
1 ½  pounds of baby potatoes, halved

1 ½  tablespoons olive oil

½  teaspoon garlic powder

½  teaspoon smoked paprika

¼ teaspoon cumin powder 

¾ teaspoon salt

¼ teaspoon ground black pepper

2 tablespoons freshly chopped parsley for garnish (*optional)
Instructions
In a large bowl, toss the baby potatoes with olive oil, smoked paprika, and garlic powder, cumin powder, and season with salt and pepper. Toss evenly and make sure that the potatoes are well coated.

Place the seasoned potatoes in the Air Fryer basket in a single layer and do not overcrowd the basket. 

Set your air fryer to 390°F or 200°C and cook the potatoes for 10 minutes, or until they're fork-tender. Flip the potatoes, and roast for 10 more minutes.
Did You Make This Recipe?