This Air fryer broccoli recipe is a quick and simple side dish you can whip up anytime. It tastes just like classic oven-roasted broccoli but cooks in just ten minutes! Its extra crispy and packed with flavors make it a perfect side dish for busy weeknights when you want to pair it with a main.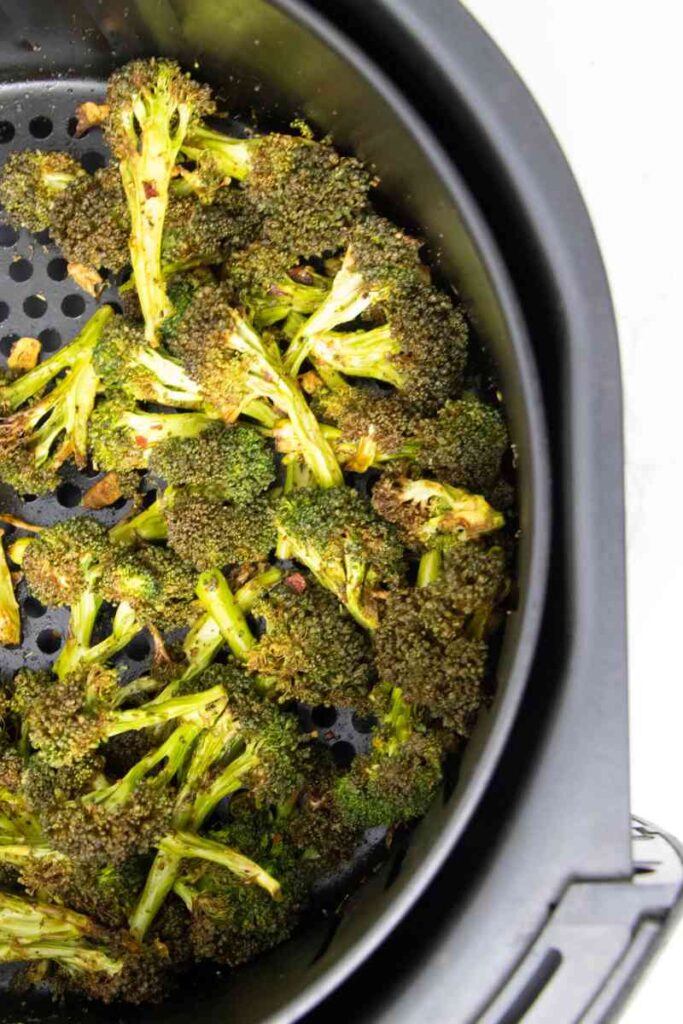 As I start my air fryer week, I wanted to share my favorite classic and easy air fryer recipe with you. This air fryer broccoli is such an easy side dish, and it tastes so damn delicious!
If you ever feel like what I am going to make with broccoli that my whole family will love to eat (especially your children), this air fryer recipe is your savior!
This roasted broccoli comes out crispy and delicious, and yes, it's totally addicting! It can be a healthy snack recipe for kids which do not require tons of oil in the air fryer. And once you try this air fryer broccoli recipe, you'll never go back to oven-roasted broccoli. 
We love serving this broccoli with a juicy air fryer chicken breast or chicken alfredo and a crispy baked potato! You could also serve it with a bowl of your favorite pasta and call it dinner.
Why We Love This Air Fryer Side
Minimal Ingridents: this air fryer broccoli recipe requires only six ingredients you might use daily. 
Healthy: Broccoli is a good source of vit K and calcium, two vital nutrients for maintaining strong, healthy bones. When seasoned properly, it tastes so damn delicious! 
Taste great with everything: This broccoli recipe is a versatile side dish that goes well with almost any main or grilled protein. 
Without mess and cleaning up, this easy air fryer recipe is perfect for serving as a side dish; it pairs well with General Tso's chicken. Or you can also cook your dinner in the air fryer to pair with broccoli, like shrimp, baked potatoes, or salmon.
Ingredients For Air Fryer Roasted Broccoli 
Please scroll down the page to find the detailed recipe card with ingredient measurements and instructions.
The following sections provide notes on ingredients and substitutions and step-by-step instructions with photos for visual reference.
When you're ready to make the recipe, use the recipe card at the end of the post.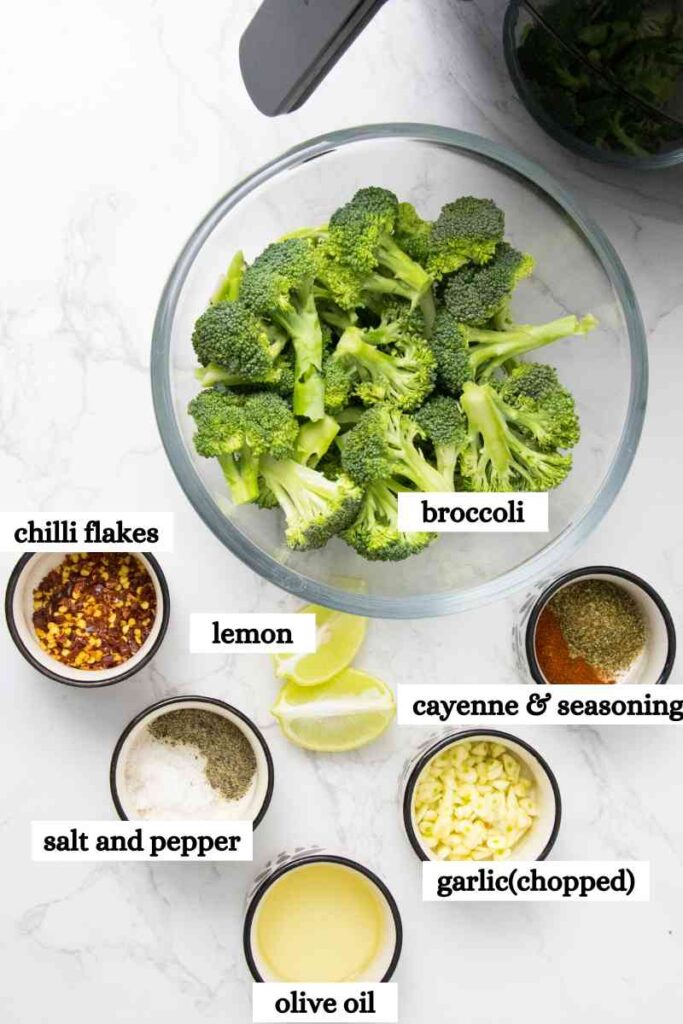 This air fryer recipe calls for minimal ingridents; maybe you already have them in your pantry. Here is what you'll need to make air fryer broccoli: 
Broccoli: use fresh broccoli florets, and cut them into equal sizes.
Olive oil or any vegetable oil: you'll need only two tablespoon 
Salt and pepper: about ¼ teaspoon or according to your taste
Garlic: fresh garlic is the key to this recipe! Garlic has natural sugars, and it caramelizes beautifully. 
Red pepper flakes: Give a spicy touch to the roasted broccoli
Lemon juice: Fresh lemon juice tastes the best
Water (optional): You'll need to add a splash of water to the inside of the air fryer basket to prevent burning. You can skip this step if you want crisper broccoli, but you may find that they take longer to cook and the edges of broccoli florets burn.
Seasoning: A simple blend of Salt, black pepper, and garlic powder gives you an excellent flavor. You can always add other seasonings, like a homemade fajita or Italian seasoning,  but these basic seasonings work beautifully. So many times, I have used my favorite fajitas seasoning, and the air-fried broccoli returned out delicious!
How To Air Fry Broccoli 
Air fryers make cooking so breezy, and this roasted broccoli recipe is no exception. I love air fryer recipes – they do all the work for you in minutes!
This air fryer roasted broccoli is best when enjoyed right out of the air fryer, so plan accordingly while serving your entree.
Step one: Prep the Broccoli 
Take a large mixing bowl and add broccoli florets, olive oil, salt, black pepper, chilly red flakes, and freshly squeezed lemon juice, then nicely toss everything to coat.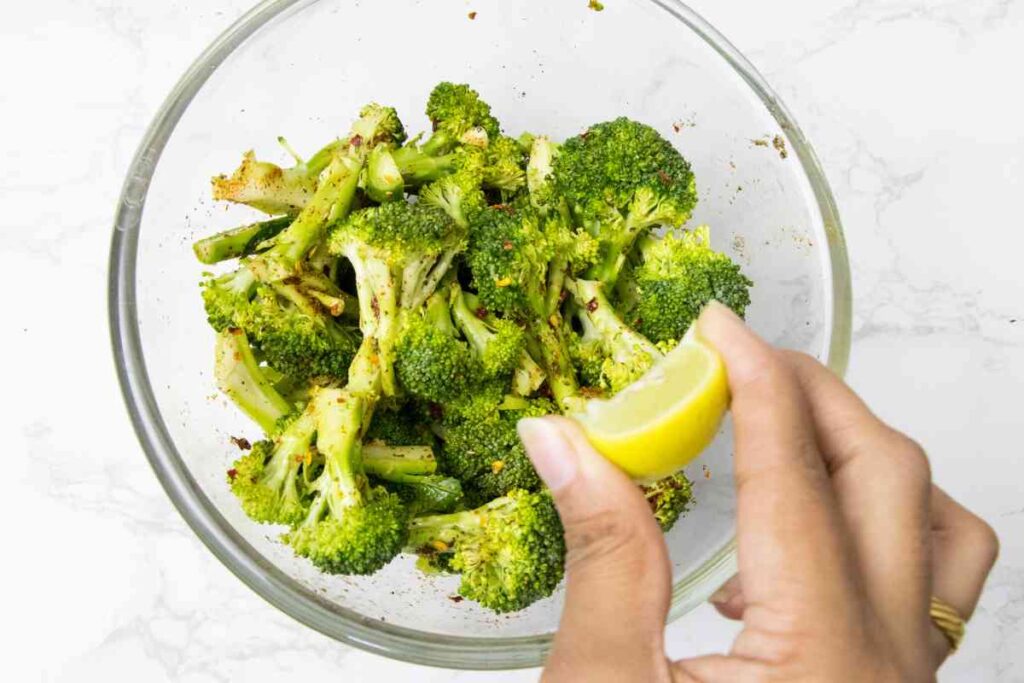 Step two: Air fry the broccoli 
Transfer the seasoned broccoli to the air fryer basket in a single layer (do not overcrowd the basket). If you have a small air fryer, cook the broccoli in batches for better results. 
Cook them for about 4 minutes, give them a shake and cook for another 4 minutes. Then enjoy it hot with your main dish or as the entree.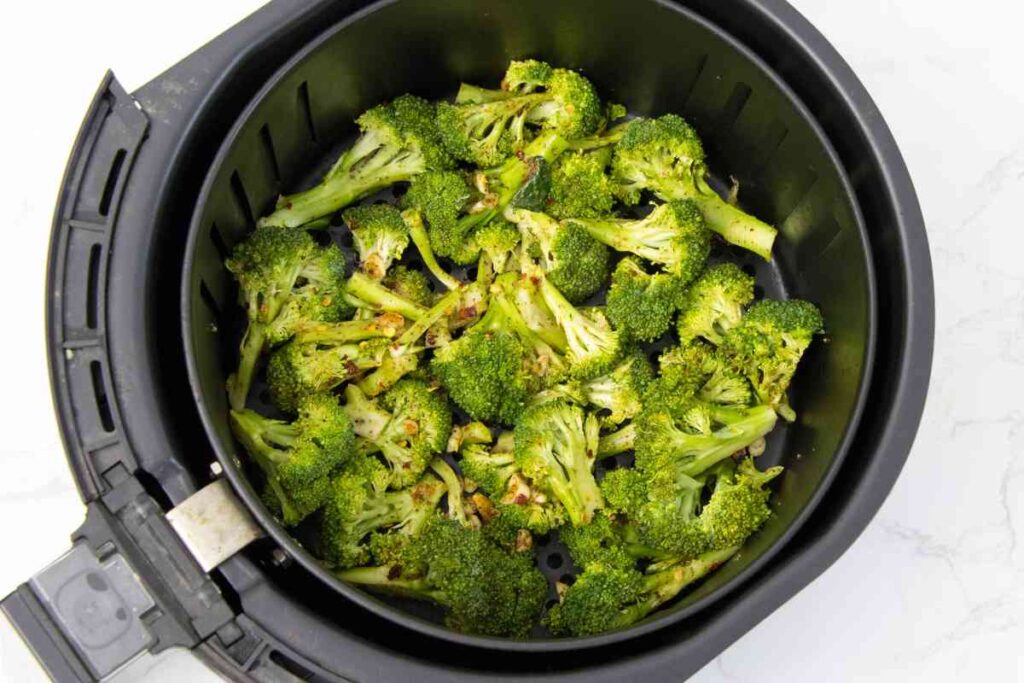 Step three: Garnish it with lemon juice
Place the roasted broccoli in a dish, drizzle a few drops of lemon juice, and sprinkle it with parmesan cheese. 
Enjoy the easy 10-minute air fryer side!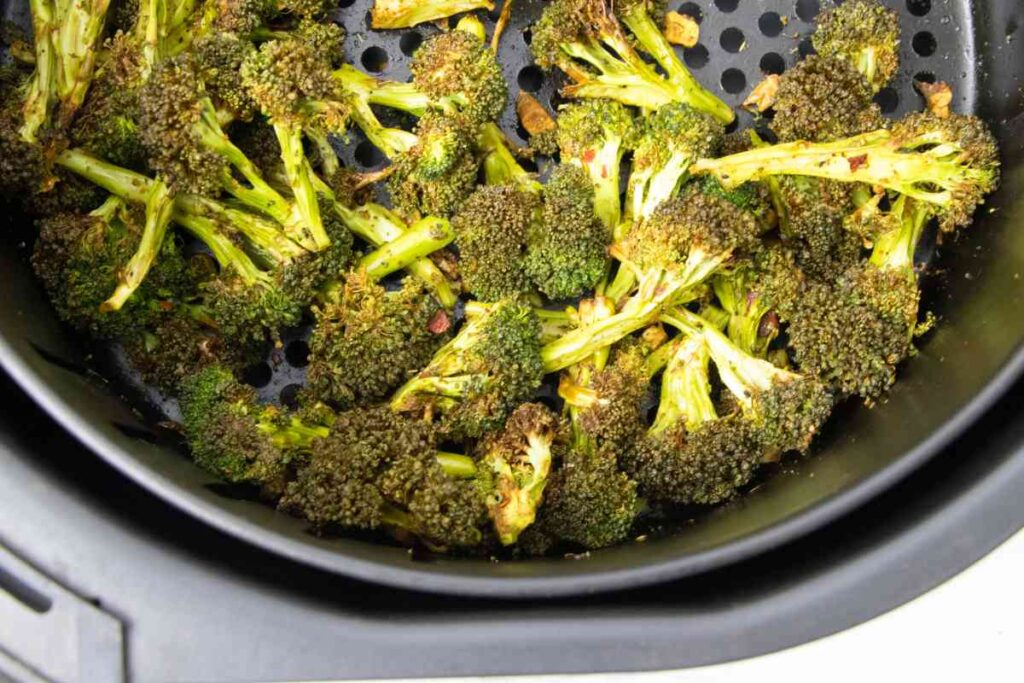 Air Fryer Broccoli FAQs
How Long does broccoli take in the air fryer?
You need to cook the broccoli in the air fryer at 350°F for about eight to ten minutes (shaking the basket halfway through) or until the broccoli florets are crispy and fork tender. 
Should broccoli be boiled before frying?
No, you dont need to steam or boil your broccoli before air frying them. If you prefer tender broccoli, add about a tablespoon of water to the bottom of the basket, creating a steaming effect inside the air fryer.
Can I use frozen broccoli in an air fryer?
Yes, you can use frozen broccoli; you can easily use that for this recipe. Remember that the extra moisture from the frozen broccoli will make it slightly less crispy and more tender, so skip the water at the air fryer's bottom.
The air fryer roasts the broccoli so quickly that it leaves it black on the outside and hard on the inside. To prevent this, add a few tablespoons of water to the air fryer to help the broccoli steam as it cooks.
Tips and Tricks
Here are a few tips and tricks to make the best air fryer broccoli (extra crispy and tender) in just ten minutes:
Preheat the air fryer: If you preheat the air fryer with the broccoli inside it, the edges will likely burn and leave the broccoli uncooked from the inside. 
Cut the broccoli florets evenly: Cut the broccoli florets to the same size (1'' to 1 ½ '' in size) to ensure all the florets cook evenly and thoroughly without burning. 
Add a splash of water: adding one or two tablespoons to the bottom of the air fryer helps keep the broccoli tender and prevent burning. 
Put the broccoli florets in a single layer: Spread the seasoned broccoli florets in a single layer, and avoid overlapping. If you overcrowd the air fryer basket, they won't cook all the way around. If required, you can cook the broccoli in batches.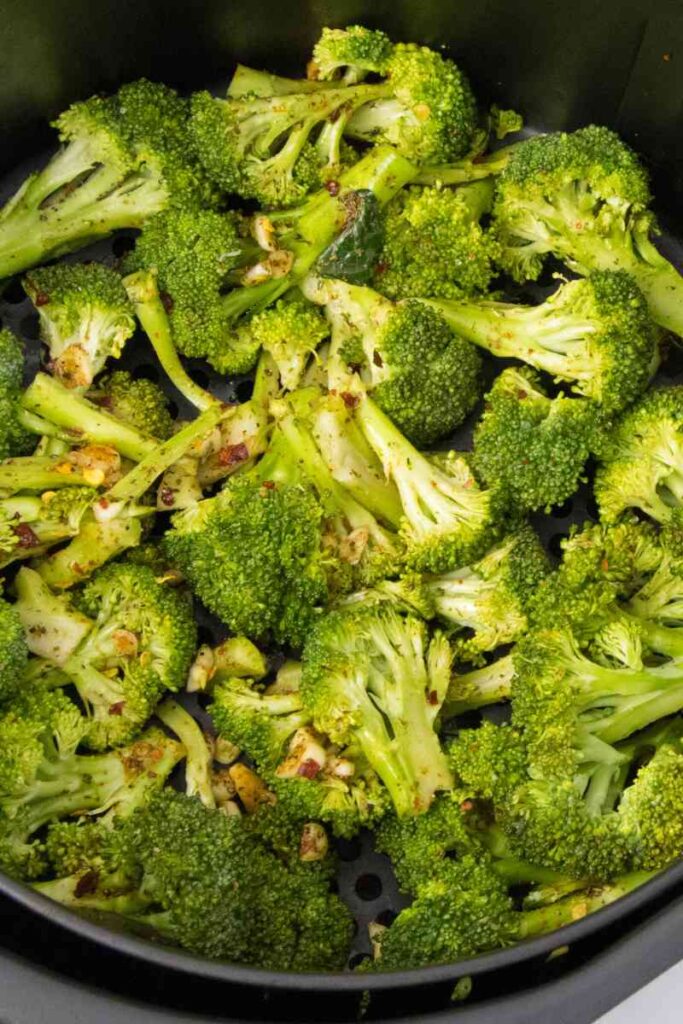 Roasted Broccoli Variations 
Like any other air fryer vegetable, you can quickly level up the flavor with a few tweaks! Here's what you can try: 
Sweet and spicy: you can drizzle a generous amount of honey and sprinkle some chilly red flakes for a sweet and spicy combo. 
Use sauce: you can use a combination of vinegar and sauce to boost the flavor. Toss fried broccoli in balsamic vinegar, katsu sauce, or any other sauce you choose. 
Cheesy Goodness: You can sprinkle some freshly grated parmesan cheese or cheddar cheese to give them a cheesy touch.
What to serve with Air Fryer Broccoli? 
This roasted broccoli tastes excellent with so many entrees. You can serve it next to your favorite soup, grilled protein, or an air-fried protein! Try Crispy Baked chicken, tofu nuggets (to make it a vegan main dish), salmon, or air fryer chicken thighs. 
You can also serve the leftover air fried broccoli as a substitute for raw in our favorite broccoli and cauliflower salad. 
More Air Fryer Recipes
Did you make these Air Fryer broccoli? Be sure to leave a rating and a comment below! This helps us thrive & continue providing free recipes.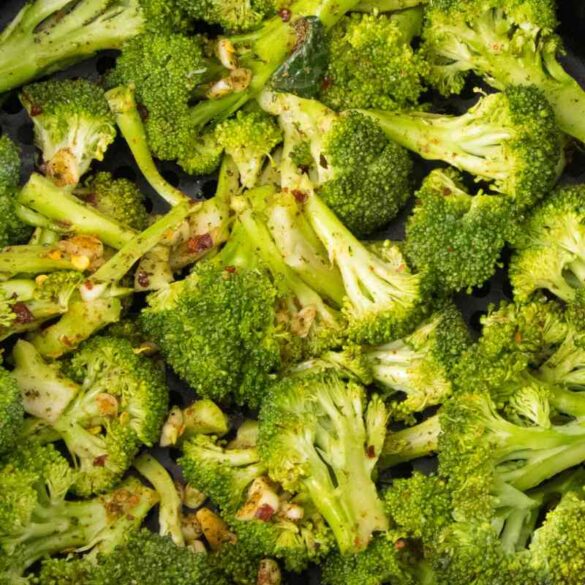 Ingredients
12

 

oz

 

fresh broccoli florets

(cut into roughly equal pieces)

1 tablespoon Olive oil

1 tablespoon freshly grated Parmesan cheese

¼ cup chopped garlic 

¼ teaspoon garlic powder

⅛ tablespoon Salt

⅛ tablespoon pepper

2 tablespoons water
Instructions
Season: Combine all ingredients in a large bowl, and toss everything to combine nicely.

Preheat your air fryer to 400 degrees F or per your air fryer models' instructions (for my air fryer, that is 3 minutes of preheat time).

Prepare air fryer basket: Pour 1 TB water into the bottom of the air fryer basket (this helps prevent contents from smoking and prevent from burning. Skip the step if you are using frozen broccoli.)
Cook: Place the seasoned broccoli evenly into the air fryer basket. Set to 400F for 4 minutes. Remove the basket with tongs, toss the broccoli, and continue cooking for about 4 to 8 additional minutes. The cook time may vary based on your air fryer (keep an eye on the broccoli and toss every few minutes)
Serve: Remove the basket and serve immediately. (Optional: sprinkle with a dash of fresh lemon juice or freshly grated parmesan cheese.)
Did You Make This Recipe?