Are you looking for a tasty and healthy side dish that's easy to prepare with minimal ingredients? Look no further than this air fryer green beans recipe! Crispy fresh green beans garnished with lemon juice, a delicious snack that is perfect for any occasion.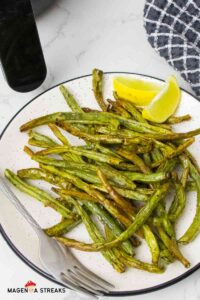 With just a few simple kitchen staples and the magic of your air fryer, you can enjoy a flavorful and satisfying dish that's sure to please even the pickiest eaters.
Whether you're looking for a healthy snack or a delicious side dish to complement your favorite meal, air fryer green beans are a perfect choice. So, let's get cooking!
Why We Love This Recipe 
Easy side dish takes only 10 minutes to make. 

Great for meal prep

These are vegan, gluten-free, dairy-free, and paleo

Best air fryer recipe for beginner
Ingridents For Air Fryer Green Beans
Make crispy and tender air fryer green beans in just 10-12 minutes! The best part about this air fryer recipe is that it takes only a few staple ingredients.
And a healthy and delicious side dish ready in no time. We love eating roasted green beans with my favorite juicy air fryer chicken breast, air fryer egg muffins, and air fryer salmon.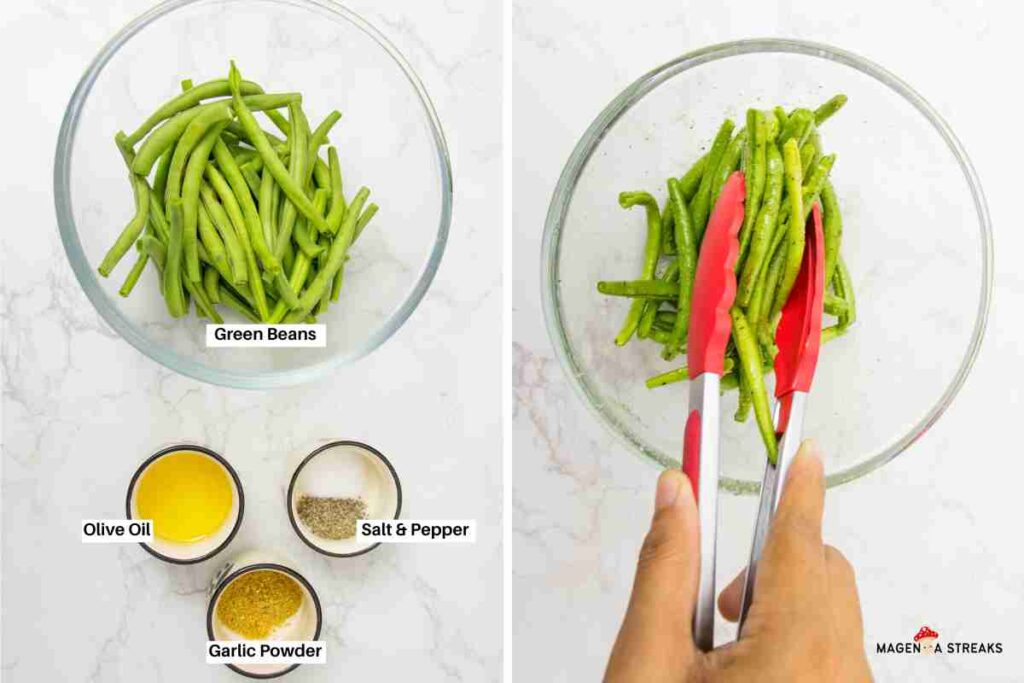 Please scroll down the page to find the detailed recipe card with ingredient measurements and instructions.
The following sections provide notes on ingredients and substitutions and step-by-step instructions with photos for visual reference.
Green Beans: I love using fresh beans; I cut the ends off to make them uniform before i cook them in the air fryer.
Olive oil: Just a little bit of olive oil is all you need. It helps the seasoning stick to the green beans. 
Garlic powder: it just elevates the taste of any roasted vegetables. 
Salt and pepper: You can add to your preference. 
Lemon Juice: a few drops of lemon juice will give these roasted green beans a fresh flavor.
How To Air Fryer Green Beans
Prepare: Start by trimming ½ inch of the ends of the green beans and getting rid of the stems. You can snap the beans with your hands or just use a knife or scissors to trim the ends. 
Combine: In a large bowl, add washed green beans, olive oil, garlic powder, salt, and pepper. Use tongs or a spatula to toss and coat the seasoning to the green beans nicely. 
Cook: Place the seasoned beans in your air fryer basket in a single layer. Cook at 370 degrees for about 5 minutes.
Shake the basket: Shake the basket halfway through and cook for another 5 minutes or until golden brown and tender.

Serve and enjoy it with your favorite protein!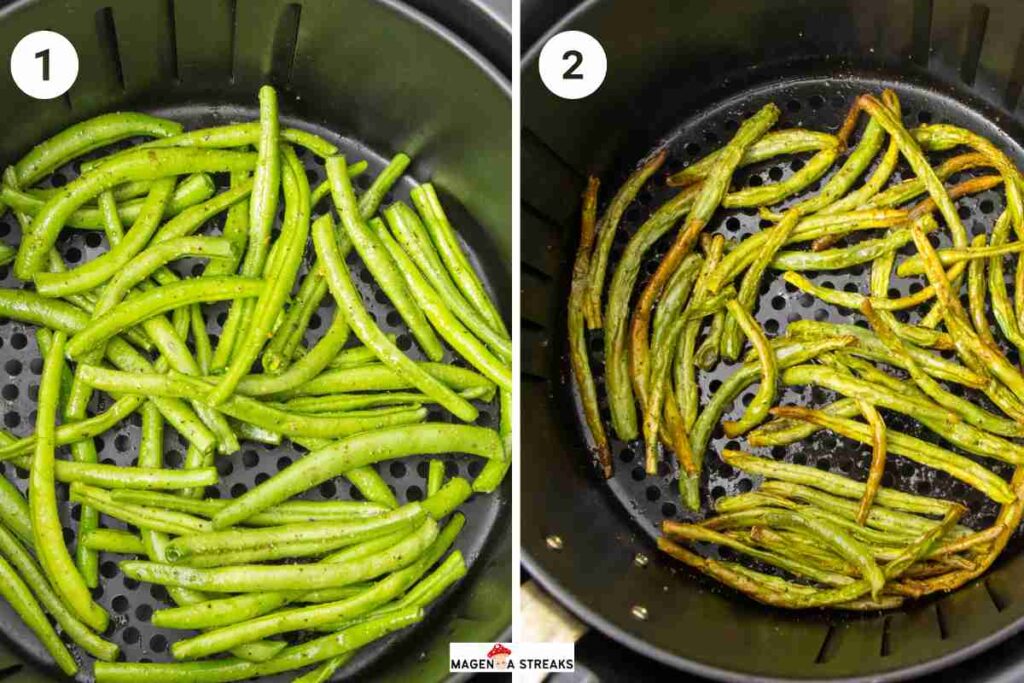 Tips and Tricks
Use fresh green beans for the best results.

Place the green beans in a single layer in the air fryer basket to ensure even cooking.

Do not overcrowd the air fryer basket. Depending upon your air fryer size, you may need to split the beans into 2 batches and cook.

Serve them while they are hot and crispy!
FAQs
How to Store the leftover Roasted Green Beans?
You can store the leftover air-fried green beans in an air-tight container for about 3 to 4 days in the refrigerator.
How to reheat air fryer green beans?
You can reheat them in the air fryer or in a microwave. But before reheating, make sure to let them come to room temperature to ensure even heating.
Can You Freeze air fryer Green Beans?
You can also freeze the air-fried green beans for up to 3 months in freezer safe container. When you are ready to eat, let them thaw in the refrigerator overnight before reheating.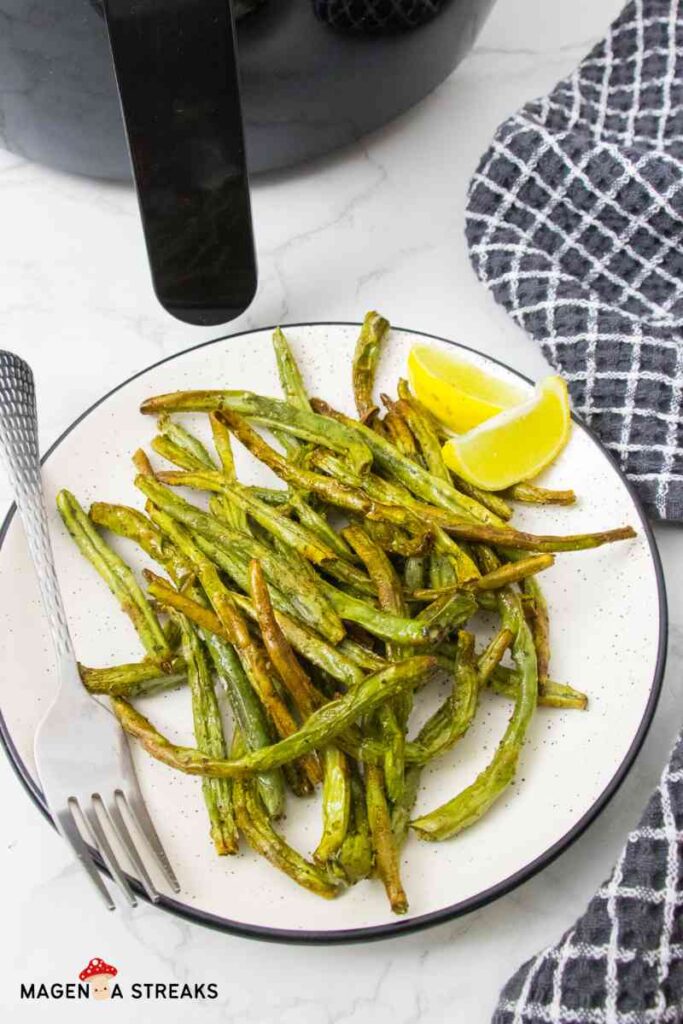 What to Serve With Air Fryer Green Beans 
Air Fryer Mains: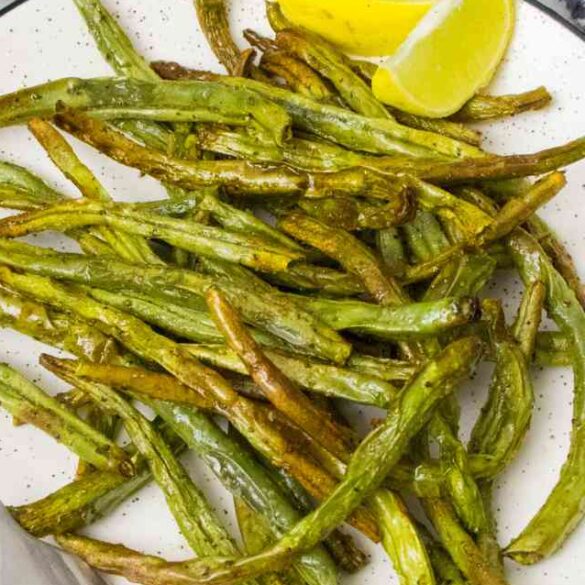 Ingredients
1 pound fresh green beans

1 tablespoon olive oil

½ teaspoon salt

¼ teaspoon  black pepper

2 tablespoons lemon juice for garnishing
Instructions
Wash and dry the green beans. Pat it dry with a kitchen towl or tissue paper. 

Toss the green beans with olive oil, salt, pepper, and garlic powder.

Preheat the air fryer to 390°F and cook until crisp and tender, shaking the basket halfway through for about 8 to 10 minutes.

Serve and Enjoy!
Did You Make This Recipe?