Shakshuka is a delicious Middle Eastern breakfast dish that has become popular all over the world in recent years. With just 6 ingredients plus a spice mix is a delicious yet easy-to-make recipe, shakshuka makes for a hearty and satisfying meal that is perfect for any time of day! Read through for important tips and possible variations for how to make shakshuka!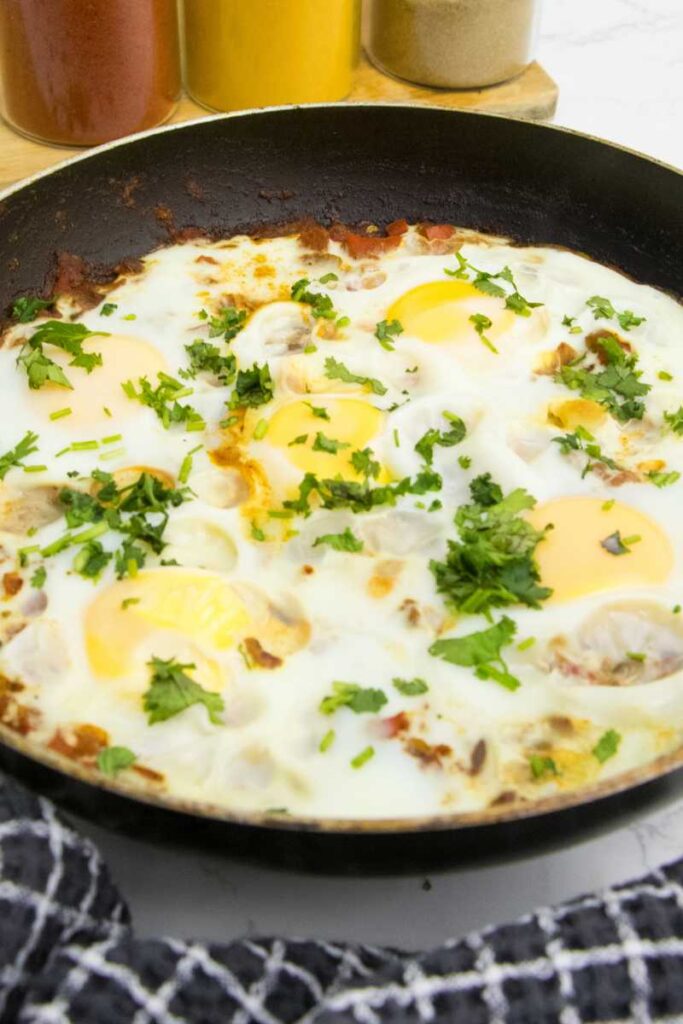 Shakshuka is one of my all-time favorite dishes. It's super easy to make, flavorful, and you can literally have it any time of the day! I usually make it for breakfast, but it also works well as a brunch or dinner option.
Why This Recipe is a "Must-Try"
Easy one-pan dinner/breakfast recipe: with just a few pantry staples and one pan, you can whip up a delicious weeknight dinner meal in no time. 
Healthy Vegetarian Breakfast: Shakshuka is packed with protein from the eggs and nutrients from the vegetables, making it a nutritious meal.
Versatile: You can tweak the recipe to suit your liking, play around with different vegetables or proteins, and serve it for any meal of the day.
Flavourful and Visually appealing: The combination of spices, tomatoes, and vegetables in the sauce creates a complex and delicious flavor that is hard to resist and makes for a beautiful presentation that is sure to impress your guests.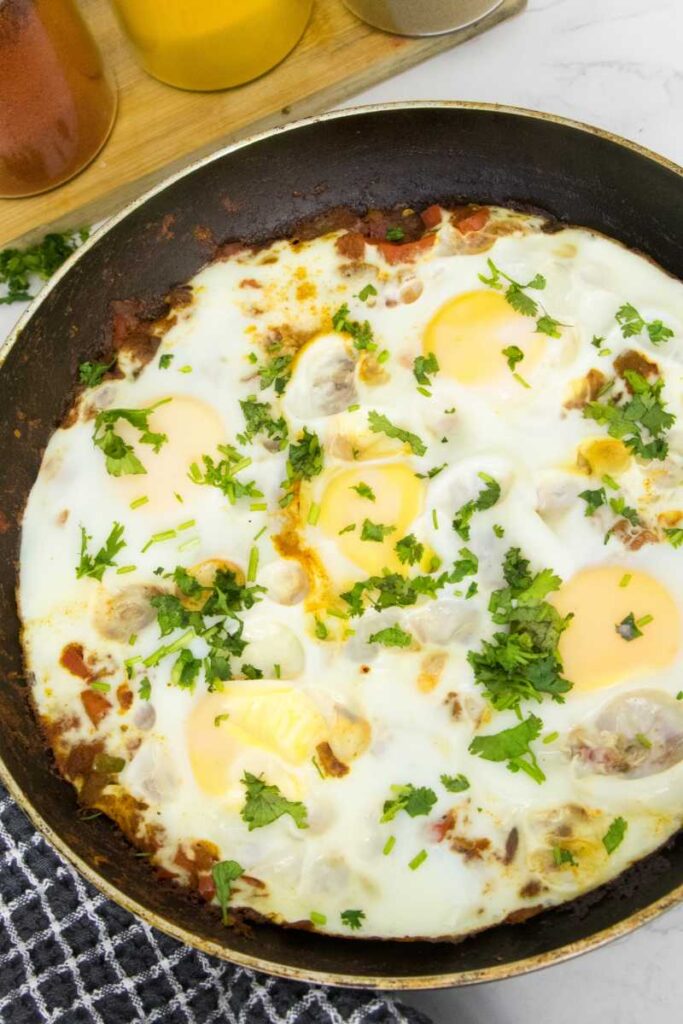 What is shakshuka?
Shakshuka, also 'Shakshouka,' is a simple vegetarian dish popular in Middle Eastern and North African dish that typically consists of poached eggs in a flavorful tomato-based sauce with onions, bell peppers, and spices such as cumin, paprika, and chili powder. 
Shakshuka is a versatile dish that you can enjoy for breakfast, lunch, brunch, or dinner, and will have your guest wanting more! It is a delicious and satisfying meal that has gained popularity around the world in recent years.
One of the best parts about this dish is how simple its ingredients are. Shakshuka is a healthy, flavourful meal made from just a handful of pantry staples. You can play around with veggies, herbs, or spices until the flavor is to your preference.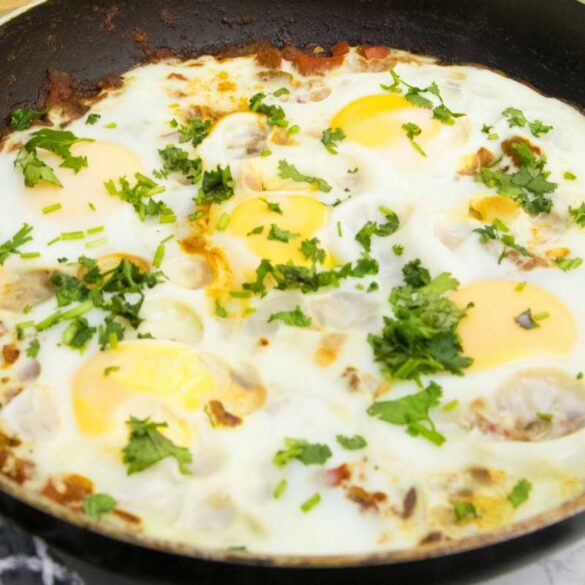 Ingredients
2 tbsp olive oil

1 medium yellow bell pepper

1 medium red bell pepper 

3 cloves garlic minced

2 tsp smoked paprika 

2 tsp ground cumin or cumin powder

1 tsp salt

¼ tsp ground black pepper

1 28-ounce can of whole peeled tomatoes

6 large eggs

Red pepper flakes 

1 tbsp freshly chopped cilantro
Instructions
In a large nonstick skillet or pan heat the olive oil over medium heat, and cook onions and garlic until tender. Add diced bell peppers and cook for about 5 to 6 minutes until they get soft. 

Add the paprika, cumin, and chili powder, and cook for another minute until fragrant.

Add the diced tomatoes, salt, and pepper, and stir to combine. Simmer the tomato mixture over medium heat for about 10-12 minutes until the sauce has thickened.

Use a back of a large spoon to gently create wells for the eggs. Crack the eggs into each well evenly spaced out on top of the tomato sauce.

Turn the heat to simmer, cover it with a glass lid and let it simmer for about 5 to 8 minutes or just until the egg whites are set. 

Serve immediately with crusty bread for dipping into the sauce and scooping up the eggs.
Did You Make This Recipe?
More Breakfast Recipes:
Ingredients
Please scroll down the page to find the detailed recipe card with ingredient measurements and instructions. The following sections provide notes on ingredients and substitutions and step-by-step instructions with photos for visual reference.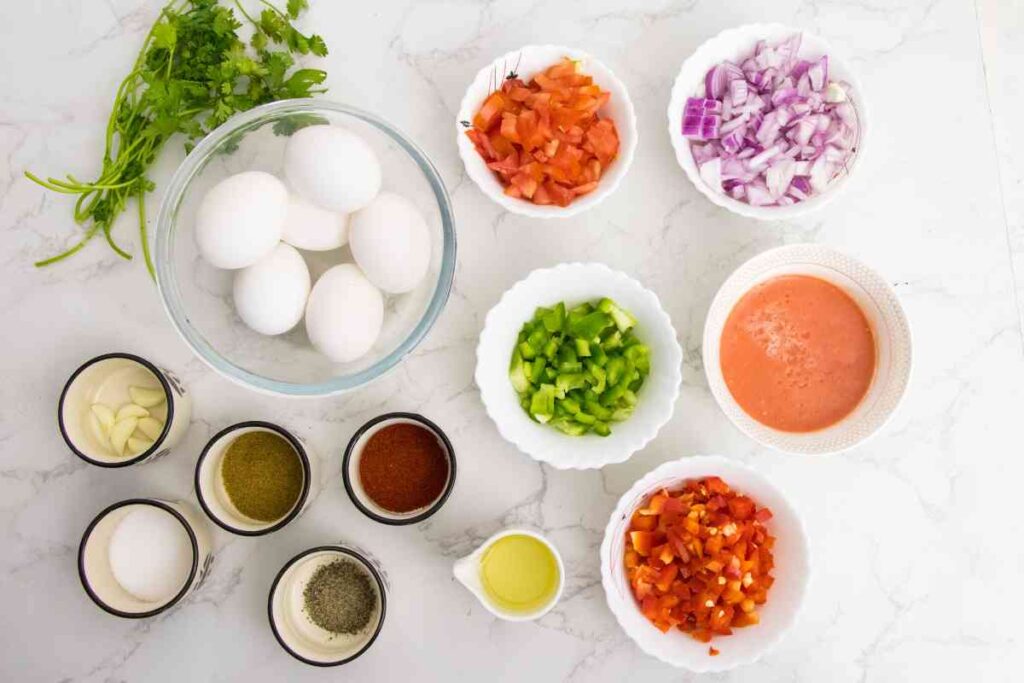 When you're ready to make the recipe, download and use the recipe card at the end of the post.
Vegetables: yellow, red, or green bell peppers, and onions, You can slice them, but I prefer the texture of finely diced vegetables.
Tomatoes: I use both the freshly diced tomatoes and the tomato sauce for this recipe to get the best texture and rich flavor out of it. You can also use canned ones. 
Species: cumin powder, paprika, coriander, salt, and pepper to flavor the sauce. 
Eggs: I added 6 large eggs 
Toppings: Garnish the shakshuka with some crumbled feta, red chili flakes, and freshly chopped cilantro, and serve it with crusty bread.
How to Make Shakshuka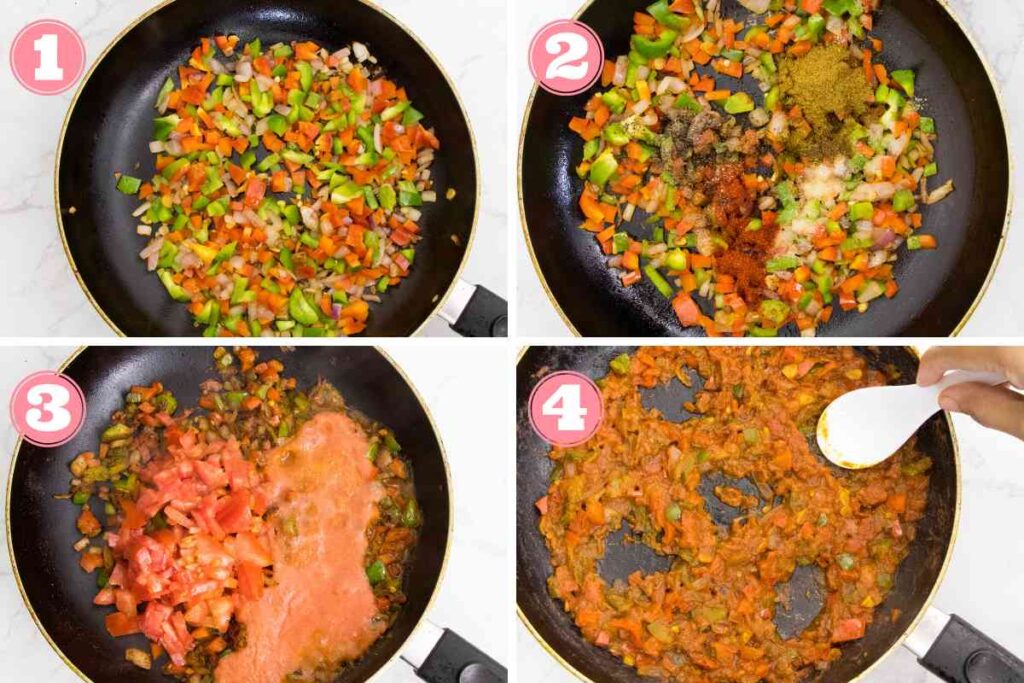 Cook the onion and bell peppers until soft and translucent over medium-high heat. 

Add minced garlic, and spice, and saute for a minute. Add the tomatoes and tomato sauce and mix them. Break the tomatoes with the spatula until you got a chunky mixture. 

Continue to simmer the sauce over medium to low heat, stirring it occasionally until the sauce thickens – this will take about 7 to 8 minutes. 

With a help of a spoon, create a small well in the tomato stew.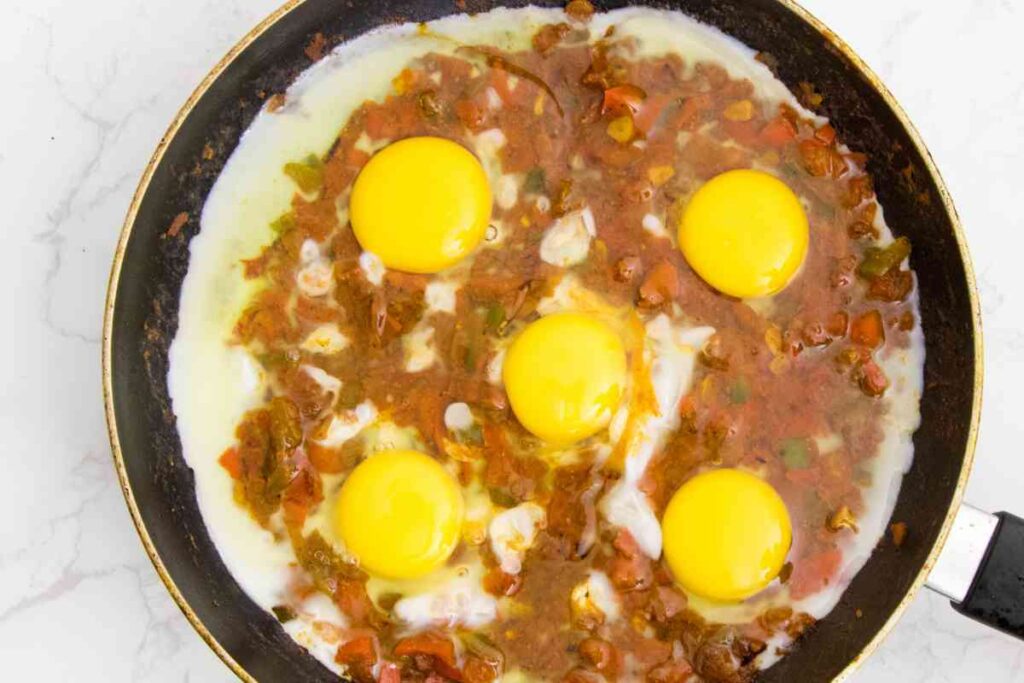 Then carefully crack the eggs into the well one by one. Allow the shakshuka with eggs to steam with the lid until the eggs cook to your liking. 

Remove the skillet from the heat and garnish the shakshuka with freshly chopped cilantro, red pepper flakes, and crumbles of feta cheese (optional).
How To Make  Shakshuka In The Oven
Making Shakshuka in the oven is a great way to prepare this dish if you want a hands-off approach to cooking. Here are simple steps to make Shakshuka in the oven:
In a large oven-safe skillet or cast iron pan, heat the olive oil over medium heat and make the tomato sauce and crack the eggs in and carefully transfer the skillet to the oven for about 8 to 12 minutes until the egg whites are set, but the yolks are still runny.
Remove the skillet from the oven and garnish with chopped parsley or cilantro.
Tips and Variations
You can use your preferred spices: this shakshuka recipe calls for the traditional spices, but you can easily tweak your recipe to make your version of it. 

    

Don't overcook the eggs: The eggs should be cooked until the whites are set, but the yolks are still runny. Overcooking the eggs can result in a dry and rubbery texture.

Using a nonstick skillet will help ensure that the sauce and poached eggs do not stick or burn while cooking.

Do not add the eggs immediately after the tomatoes are cooked; instead, wait until the sauce has simmered for a couple of minutes and thickened to a stew-like consistency before adding the eggs. The thick and rich texture of the sauce will support the eggs to poach nicely and enhance the flavor of the Shakshuka.

If you prefer runny eggs then make sure to reduce the sauce for a few more minutes before adding the eggs to it. And make sure to reduce the cooking time for the eggs to get the gooey yolk.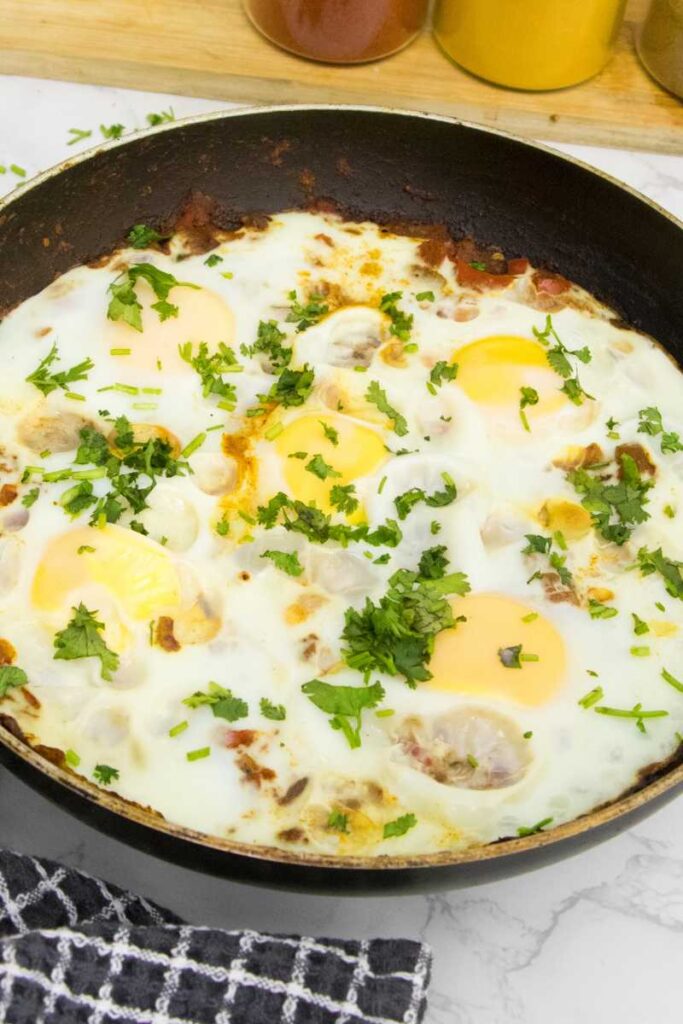 More Egg Recipes: