An easy homemade garlicky greek yogurt dip that goes amazingly well with chopped-up veggies, cheese crisps, wings, cutlets, fries, and other finger food.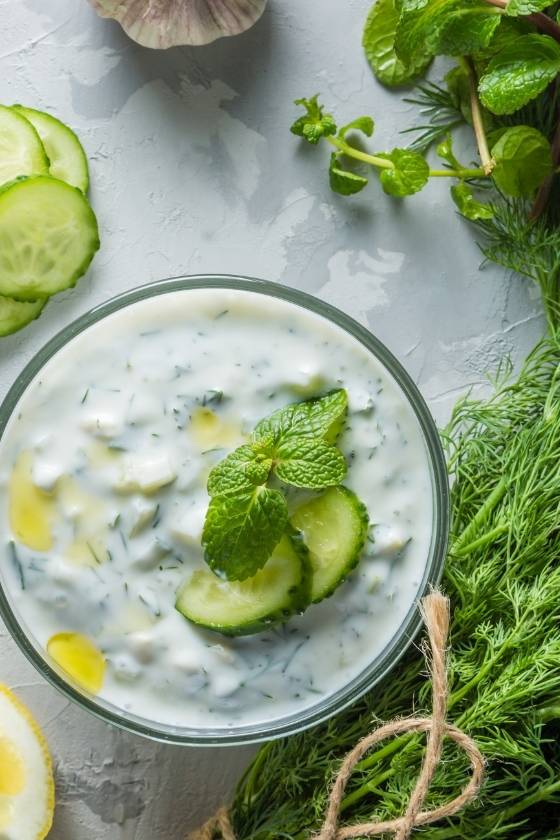 Easy 5 minutes Greek Yogurt Dip Recipe 
This is a light, refreshing, and very addictive dip that is low in calories and healthy as well. Dips Recipes don't get much easier than this, also it's healthy.
This is way better than using lots of sour cream and mayo which is not very healthy.
These are superb stir-ups for those last-minute visitors that stop by or for an easy and quick snack any time of day. I am very excited for you to give these quick yogurt dips a try!
I have begun to really love fresh-cut veggies. I like them raw, or maybe with a sprinkle of salt or black pepper. But having a delicious dip for them is amazing. 
This delightful greek yogurt dip is creamy and beautifully seasoned. I happened to prepare a new batch every few days because we finish them up really quickly.
Ingredients For Greek Yogurt Dip
To make this quick GREEK YOGURT dip you need very few ingredients. Here's a quick review of what you'll need, the exact amount is listed on the recipe card.  
Greek yogurt: Whole milk yogurt will yield a creamy texture in the dip, low-fat is not as creamy as whole milk yogurt and kind of tasteless. 
Fresh herbs: You can use either parsley or cilantro, make sure to finely chop them. 
Spices: Freshly ground black pepper, salt as per your taste, chili flakes or powder, cumin powder. Make sure they are fresh!
How to Make Greek Yogurt Dip:
It's easy! Refer to recipe card for detailed instruction. Here are some basic steps of the recipe-
Spoon the greek yogurt into a bowl. Then mix chopped herbs, vinegar, spices, and herb seasonings until everything is nicely combined.
I think it's essential to sample the dip and tweak the ingredients as per your taste or liking.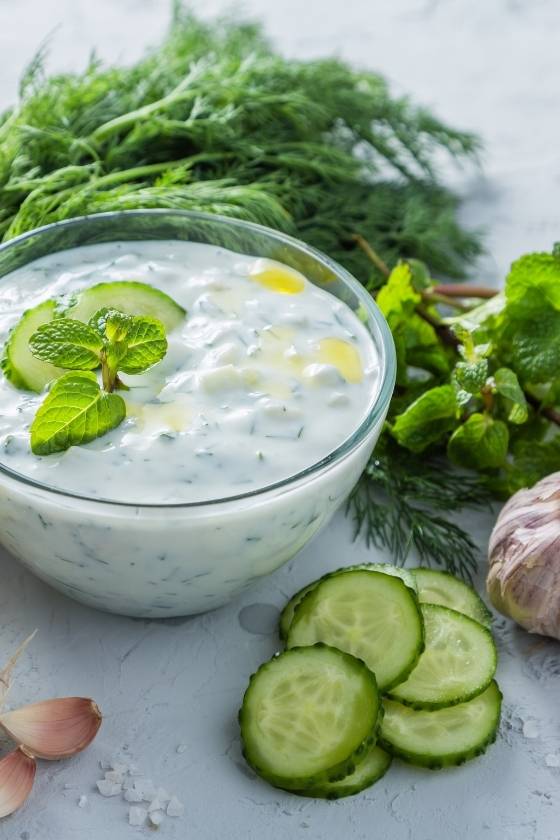 Here are a few things to keep in mind:
The flavors of this Greek yogurt will evolve as it chills. It may taste blah when you first mix it, it's going to become more delicious after a few hours, once the herb and spices meld with the yogurt. So make sure not to overboard with any specific ingredient!!  

But by chance, if you add a bit too much of something, you can't really pull out the excess. All you can do is add some more tablespoons of greek yogurt to try to balance the flavor. So when tweaking an ingredient, it's better to add a little bit at a time, then mix and taste before adding more of it.
The flavor requires a chance to evolve as the yogurt dip hangs out in the refrigerator for a few hours!
Greek Yogurt Ingredients Substitution
 If you prefer sour cream over greek yogurt you can use it. It's much creamier and flavourful with sour cream.
Even if you use full-fat Greek yogurt there is no clear difference. As I mentioned above sour cream is not that healthy if you're consuming it quite frequently. 
How to Season Greek Yogurt Dip
You can add any herb seasoning as per your taste. But if you dont have fresh herbs- cilantro, parsley, or mint- you can use dried herbs instead. 1/2 -1 tbsp per herb seems good.
I love roasted cumin powder and chili flakes, although paprika and oregano would be amazing too.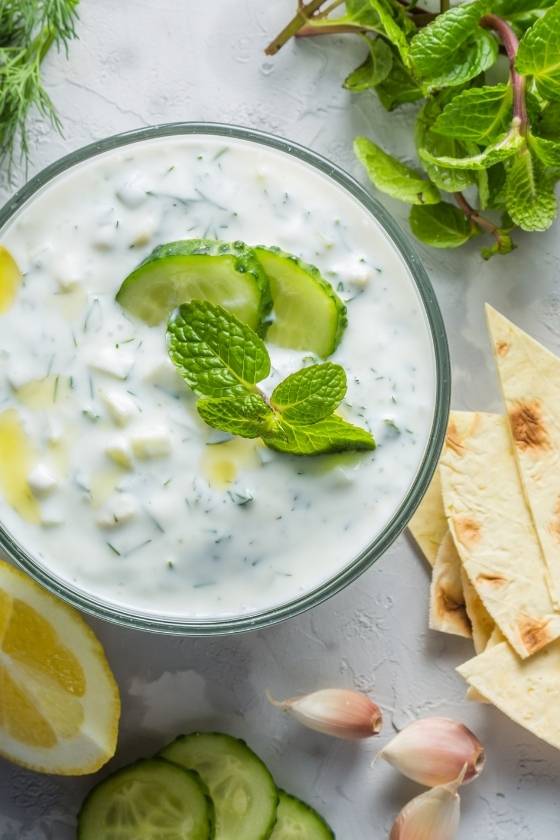 How to store the leftover Greek Yogurt dip:
These dips store well in the fridge, in an airtight container, for about 5-6days.
It's even a travel-friendly dip, you just have to pack it in a small container with an ice pack and it stays fresh for several hours.
Can I turn this Greek Yogurt dip into dressing?
If you want a greek yogurt dressing instead of a dip, this recipe can quickly be altered in order to pour it over salads or use it as a marinade. Just prepare the dip as directed.
Add 2tbsp of lemon juice and if you like 2-3cloves of finely chopped garlic. Then blend in ¼ to ⅓ cups of olive oil or milk until your preferred consistency is reached.
Don't forget to put it in the fridge before serving.  
And here it is! A fresh, tangy, and healthy dip that is great for snaking after work or by the pool. Or serving with raw veggies at the table. Or as the perfect complement for finger food at your next gathering!
What To Eat With Greek Yogurt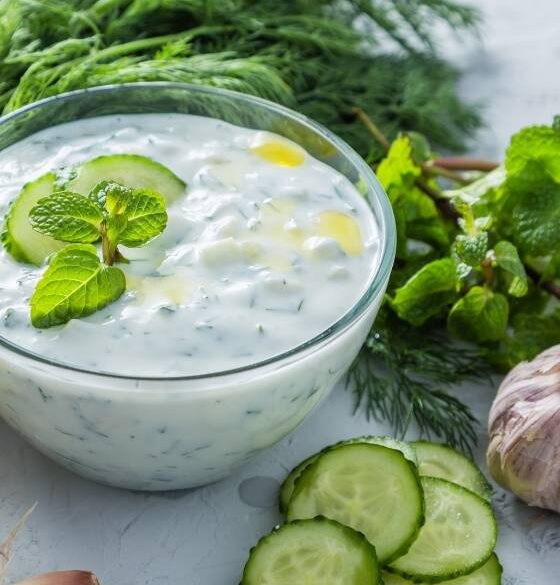 Ingredients
2 cups Yogurt or thick curd

4-6 Garlic cloves minced

3 tbsp Parsley finely chopped

1 tbsp Apple cider vinegar or use vinegar as per your preference

1 tbsp Onion powder

1 tbsp Salt

½ tsp Black Pepper

1 tbsp Chili flakes
Instructions
Mix all the ingredients together in a small serving bowl.

Cover and chill (for at least 3 to 4 hours, but ideally 8 hours or overnight) to let the flavor blend in together perfectly.

Served with additional freshly chopped herbs, if desired, and serve with veggies, chips, or wings.
Did You Make This Recipe?