Air fryer Crispy potatoes is an easy & quick healthy vegetable side dish. These potatoes wedges are crispy on the outside and fluffy and soft on the inside. You just need 10 minutes and just 6 ingredients and you are good to go!!
You can serve these crispy roasted air-fried potatoes wedges as a side or simply a quick evening snack with a delicious dip.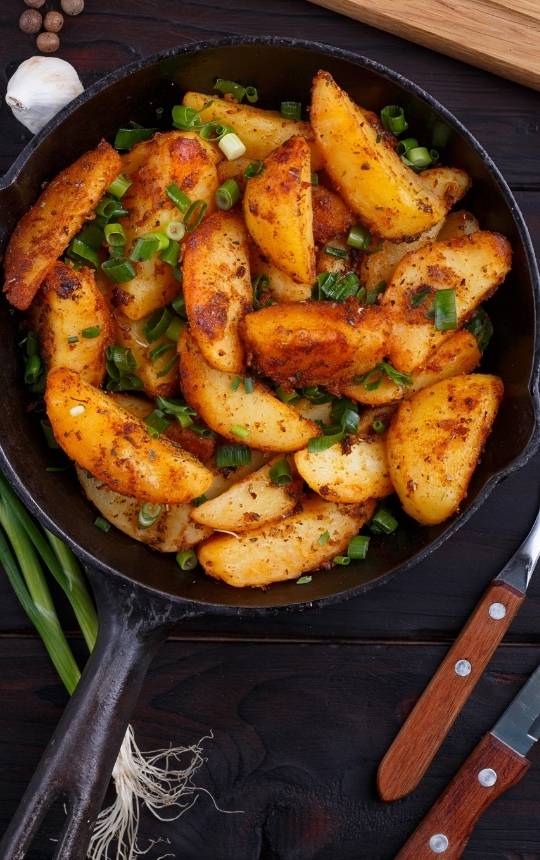 Air Fryer Potatoes
Today I am making the air-fried roasted potatoes. With Thanksgiving right around the corner, it will be a perfect side dish! These air fryer potatoes are buttery, garlicky, and super simple to make. If you are looking for a last-minute side dish recipe that your family will love, this air fryer potatoes is one of the best options you've got.
Why You'll Love Air Fryer Potato Wedges – 
Quick & Easy: These air fryer potatoes are super easy to make and I am sure your family and your friends will love them (and they taste great with homemade Greek yogurt). 
Quick as compared to the oven: Air frying the potatoes take half the time as compared to oven-roasted potatoes. 
Required less oil: They're very healthy and have a lower calorie count than the traditional oven-roasted potatoes.
These are versatile: These roasted potatoes are perfectly seasoned with garlic, pepper, and rosemary (optional). You can tweak the seasoning as per your taste preference, feel free to add more herbs or seasonings!
We are just addicted to these crispy air fryer roasted potatoes. Whether you make them for your dinner meal or as a holiday side, you will definitely love them!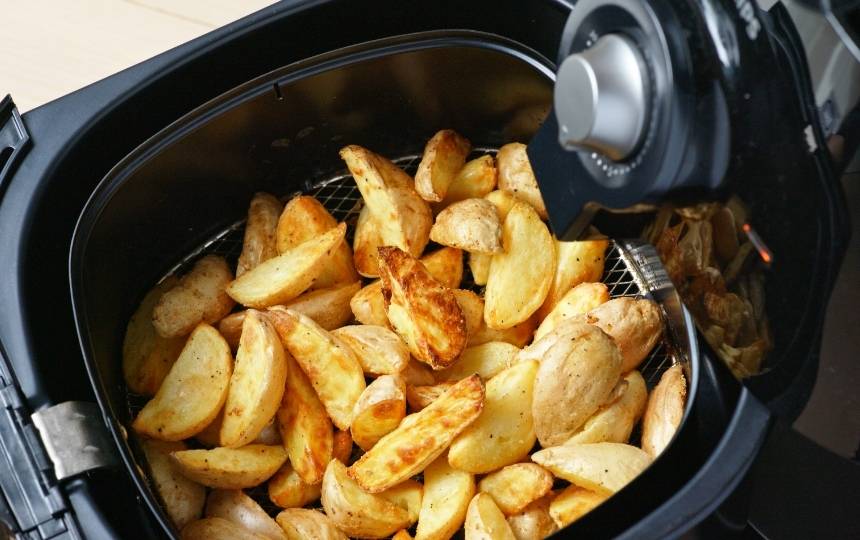 Simple Ingredients 
Potatoes: This recipe will work with any kind of potatoes. I have used the russet potatoes but you can use red, yellow, and baby potatoes. Scrub properly and cut them equally. 
Olive Oil: I recommend using olive oil, though this recipe calls for a little oil so any variation will work. If you do not like olive oil, you can also use sunflower, peanut, avocado oil and it will also taste great!!
Seasoning: all you need is freshly minced garlic or garlic powder, salt, pepper, & chili seasoning (optional) 
Fresh garlic: Minced about 4-6 cloves. You may substitute this with garlic powder, but you will get the garlicky punch from minced garlic.  
Optional: You may add some vinaigrette to the freshly air fried potatoes, it gives a bright and rich flavor to it.


Or


You may also add some fajita seasoning, chopped parsley, or chives to the melted butter and drizzle them over the air fried roasted potatoes, Yum!!!!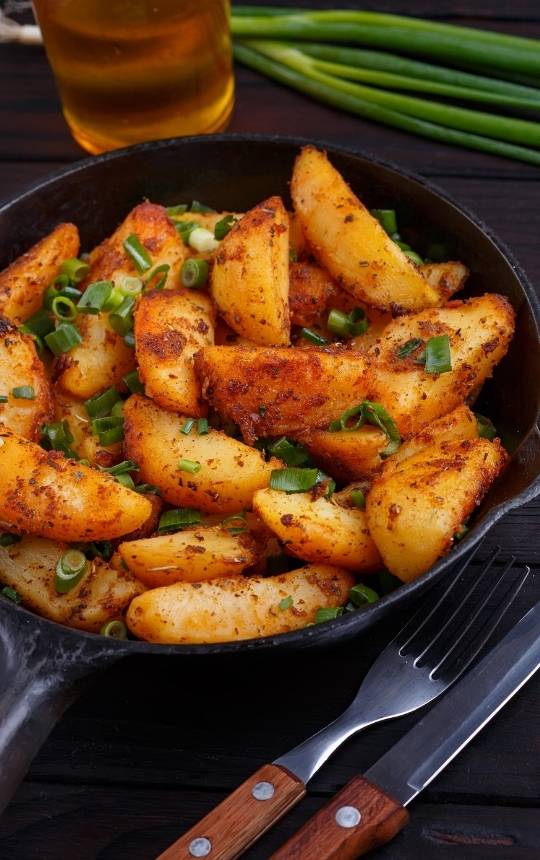 How to make Air fryer Crispy Potatoes
Cut and toss the potatoes wedges, oil, and seasoning: Take a deep bowl, combine the potatoes wedges with all the ingredients (do not add melted butter & chives). Toss or combine well to coat. 
Air frying the potatoes: place the potatoes in the air fryer basket in a single layer, make sure to not overlap the potatoes. If you are planning to cook a large batch of air fryer potatoes then cook it in small batches.


Make sure to toss or shake the air fryer basket halfway through.  

Serve warm: you can make a tangy vinaigrette or drizzle some herb butter (you may add herbs as per your choice). Squeeze some lemon over the roasted potatoes and enjoy it warm!
The secret to making Potato Wedges extra crispy
Reheat the air fryer: Make sure to preheat the air fryer before adding the potatoes. Pre-heating helps to cook the outer surface faster and makes the potatoes super crispy. 
Pat dry the potatoes: Do not forget to pat the washed potatoes before adding seasoning to them, as the oil will coat better to the dry potatoes. 
Make it Vegan: If you want to make vegan air fryer potatoes, then simply omit the butter, as this dish is already packed with rich and fresh flavors! 
Reheat the leftover potatoes: You can reheat the leftover air-fried potatoes just by air frying them for 5 -10 minutes (depending upon the air fryer brand).
More easy air fryer recipes: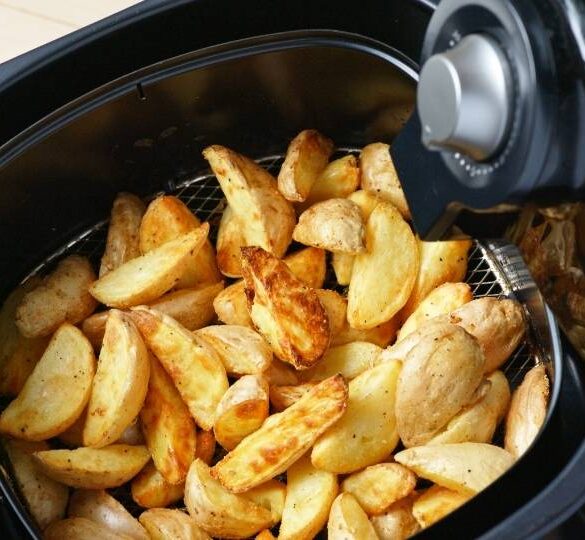 Ingredients
3 cup potatoes wedges (I have used russet potatoes)

½ tbsp Olive oil

½ tbsp Salt

½ tbsp Chili flakes

¼ tbsp Black pepper

½ tbsp Chili powder

½ tbsp Garlic Minced
Instructions
Take a deep bowl and toss the potatoes with olive oil. Season with salt, black pepper, and garlic.

Preheat the air fryer to 375° F for 5 minutes.

Place the potatoes in the air fryer basket in a single layer, and cook at 400° F for 10 minutes.

Shake the air fryer basket after 10 minutes, and continue cooking for another 8 to 10 minutes (total air frying time- 18 to 20 minutes).

The potatoes should be crispy and fork-tender.

Transfer the air fried potatoes to a bowl and drizzle some vinaigrette or herb butter mixture.
Did You Make This Recipe?
Simple Air Fryer Recipes: