Instant Pot Lentil Soup or Dal fry is one of the best plant-based signature Indian Main Course Dishes! It is amazingly aromatic, rich, and packed with protein, and the best part it all comes together in 30minutes!!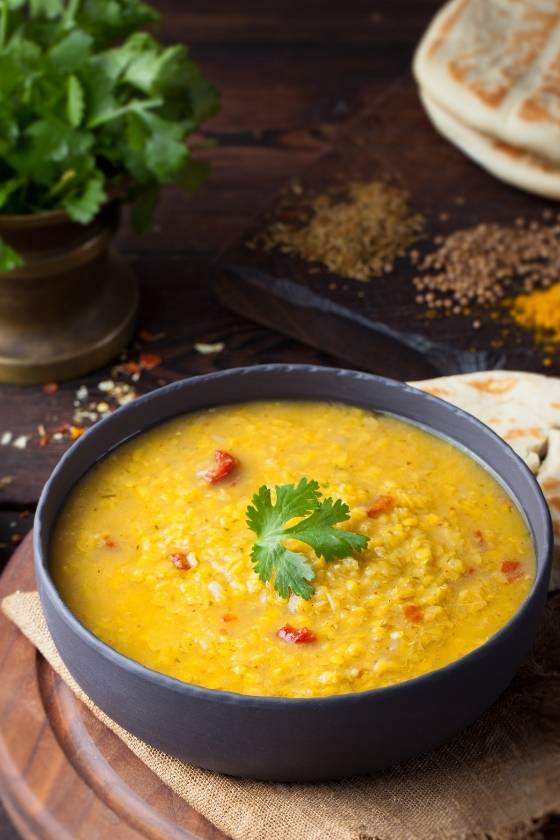 THE BEST YELLOW LENTIL CURRY RECIPE
This split pigeon pea lentil soup can easily be one of those must-haves in your dinner rotation list.
It is filled with protein and nutrition, it's perfectly filling and very easy to make. I have tried many variations of lentil soups but this one is just amazing and I can easily mark this the best!
It's one of my dad's absolute favorite dishes. Whenever we go out for a family dinner to any restaurant, he always ends up ordering yellow lentil or Dal Fry with Chicken curry paired with Roti or naan. 
You just can't resist ordering this lentil soup, it is smoky and spicy that perfectly goes with roti or naan. All you need is some pickled onion on the side and a wedge of lemon, and your meal is sorted!!
INSTANT POT YELLOW LENTIL INGREDIENTS
Olive oil or vegetable oil

Canned or fresh yellow lentil(pigeon pea lentil)

Canned or freshly chopped tomatoes

Dried herb – asafoetida (hing), Dried fenugreek leaves (Kasuri Methi), Mixed herb

Spice powder- Garam masala, Canney or chili powder, turmeric powder

Fresh lime juice


Scroll below for a printable recipe.
WHAT IS ASAFOETIDA?
Asafoetida is one of the most used spices in India, it is an outstanding spice, a pinch of it goes a long way in adding amazing aroma and flavor to the dish. It is made from the sap of an underground taproot.
In addition to its culinary use, it also has various medical applications. It has been used to fight the flu, aid digestion, antimicrobial, and is one of the most essential spices used in Ayurveda medicines.
It is commonly used in legumes and most lentil dishes to suppress the unfortunate minor side effects.
Note: Always try to keep it in an airtight container, for its longer shelf life and to preserve its aroma.
WHAT IS YELLOW LENTIL (SPLIT PIGEON PEA | TOOR DAL)
Pigeon pea or Arhar or Toor dal is the best lentil to use for Lentil stew or Dal Fry. It has a subtle taste, and cooks really fast, making for a thickened textured dish that is perfect for Lentil soup. 
HOW TO COOK LENTIL SOUP IN INSTANT POT
Turn on the saute mode in the instant pot, cook the onion until soft or translucent. 

Add chopped tomatoes along with mixed herbs and spices. 

Add lentil ( split pigeon pea), stir well, and combine everything properly. 

Set the instant pot to the manual mode (Hi) or high pressure for around 15 minutes, then let the pressure release naturally. 

 Stir the lentil soup and adjust the flavor and texture as per your preference. Serve it warm, with the desired dish, Enjoy!
You can find detailed instructions about the Instant Pot Spiced Yellow Lentil in the recipe card below.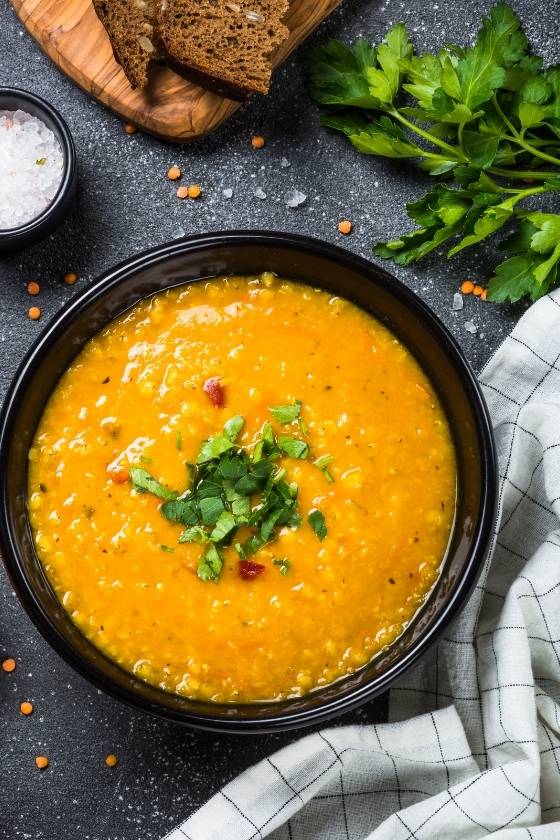 INSTANT POT LENTIL SOUP VARIATIONS:
TO MAKE IT VEGAN: As written it a vegan Lentil soup recipe, but if you do want to make it dairy-free then feel free to add Ghee instead of Olive oil.
TO MAKE IT GLUTEN-FREE: To make lentil soup gluten-free, skip the Asafoetida or you can use gluten-free asafoetida. 
LENTIL VARIATION: lentil soup can be made with a variety of lentils if you prefer to make instant pot red and yellow lentil or even green and brown lentil soup instead of only yellow or pigeon lentil, those combinations will also work!


I would suggest not to mix green or brown lentil with yellow and red, as red and yellow lentil tends to cook really fast as compared to the former. 

No instant pot? You may also try lentil soup on the stovetop and even with the crockpot, see the notes for more details or you also give this stovetop lentil soup a try!
HOW TO STORE INSTANT POT LENTIL SOUP
This soup does freeze and reheats well.
To Store: Place the leftover yellow lentil soup in an airtight container in a refrigerator for up to 3-4 days.
To reheat: You can gently reheat the soup on a stovetop over low to medium heat, adjusting the consistency by adding some water(as it thickens when it is stored) or you can even reheat in a microwave or an oven.
To Freeze: you can store the yellow lentil soup in an airtight freezer-safe container for around 2 months, make sure to thaw it in the fridge one night before reheating.


Are You a Curry Person??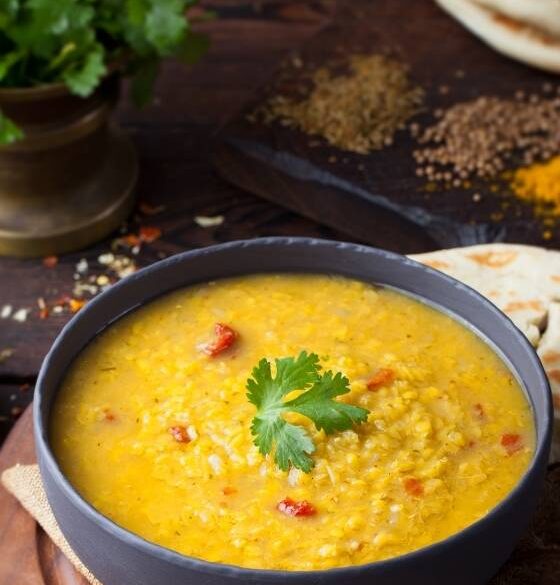 Ingredients
1 tbsp Ghee or Vegetable oil or Olive oil

1 tbsp Cumin seeds

½ tbsp Mustard seeds

6-8 Curry leaves

½ cup Onion finely chopped

½ cup Tomato finely chopped

1 cup Split pigeon pea (toor dal)

3 cups Water
Spices Or Masala
¼ tbsp Ground turmeric powder (Haldi)
¼ tbsp Coriander powder
¼ tbsp Homemade garam masala
¼ tbsp Chili powder
1 tbsp Salt
1 tbsp Ginger garlic paste
Instructions
Drizzle the oil into the Instant Pot. Set to SAUTE. Once the oil is hot, add the cumin seeds, green chili, curry leaves, and asafoetida.

Then add ginger garlic paste, saute for a few minutes or so, when it slightly turns brown add chopped onion. Continue to cook the onion, stirring often, until the onions are very soft and beginning to nicely brown and break down.

Add chopped tomatoes and the listed spices, stir and saute for 2 to 4 minutes.

Now, select the Cancel setting and pour 2 cups of water, using a spoon stir well.

Secure the lid and set the Pressure Release to Sealing. Select the Pressure Cook setting at high pressure and set the cooking time to 10 minutes.

Once the 10-minute timer has completed and beeps, allow a natural pressure release and then switch the Pressure Release knob from Sealing to Venting to release any remaining steam.

Garnish with cilantro and stir. Optionally, sprinkle the juice of half a lemon. Spiced yellow lentils ready to serve!
Notes
Black mustard seeds can be substituted with brown mustard seeds.

Vegan version: Swap Ghee with Olive oil 

Soaking: I do not prefer soaking the dal, but if you soak the dal for 1 or 2 hours then you can reduce the cooking timing to 3 minutes. 

If you prefer thick dal then you may reduce the amount of water to 1.5 cups 
Did You Make This Recipe?
More One Pot Recipes: