7 Common air fryer mistakes to avoid! Air fryers are very easy to use, and if you are new to air fryers then you are likely to commit some common mistake while operating an air fryer for the first time, or you could end up in the worst situation: a broken air fryer and burnt food.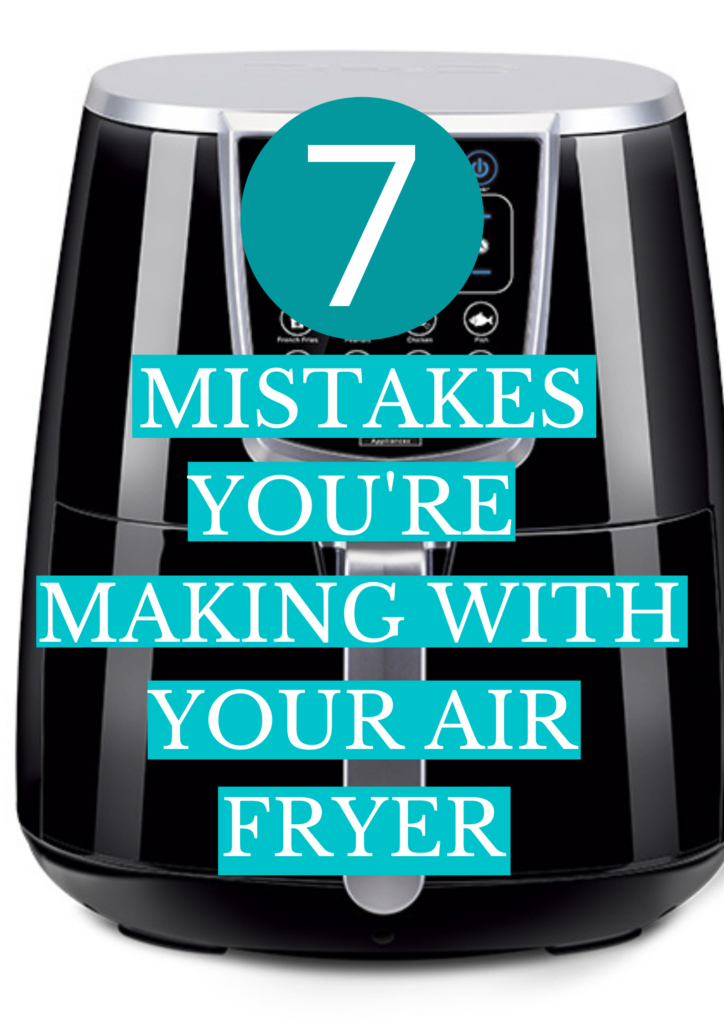 Are you planning to get a new air fryer for this Christmas? And you are a bit intimidated about using this new gadget for the first time? But you don't have to be! Air fryers are really very easy to operate, even for the first-timers, But you need to avoid certain common air fryer mistakes, and you are good to go!
I have already bought one, and I can tell you this, it has already changed the way of our cooking style! Air fryers are just amazing gadgets that you may see in a lot of kitchens, because of their ability to cook delicious food using less or without any oil. Especially it is popular among those who don't have time for traditional cooking or they want to cut oil consumption from their regular diet or want some easy-to-use method over stovetops or oven.
MISTAKE#1: NOT PUTTING WEIGH OVER LIGHT FOOD
Have you ever experienced flying food items inside your air fryer? I have experienced exactly the same issue when I tried to grill sandwiches or even potato wedges and ended up with flying items inside the air fryer after a few minutes. 
This is one of the major issues that people face while air frying light foods in an air fryer. But we have got the solution for this, for instance, if you want to grill your sandwich make sure to use that will helps to hold the ingredients together. For this, you can use a toothpick or a trivet. 
PRO TIP: most of the air fryer models provide a basket divider, you may also use that over the food items

MISTAKE#2: YOU COOK FATTY FOOD WITHOUT USING WATER
If you are going to cook something that renders off a lot of fat particularly food items like burgers, bacon, or meatballs, then add some water to the drawer underneath the basket. Because it might cause your air fryer to start smoking because the fat or grease that has been collected underneath the basket heats up. 
Adding water to the tray before you start cooking can prevent it from happening. 
Pro Tip: Make sure you gently clean the air fryer basket every time you use it. That makes sure the coating has a long life and the basket stays fresh.
MISTAKE#3: YOU DON'T PREHEAT THE AIR FRYER
It is true that a good quality air fryer heats very quickly but you cannot skip preheating it before placing the ingredients on the basket. Just like you cannot put wedges of veggies on a cold pan, it'll come out greasy and soggy when cooking through.
Preheating the air fryer will ensure that the food in your basket begins to cook immediately as you close the basket, crisping up the outside rather than slow steaming and turns out soggy. 
You can simply refer to your air fryer manual for the preheating time, as most of it suggests 10 to 15 minutes of preheating.
Pro tip: If you ever forget to preheat the air fryer, and in midway, you realize that, just add 2 to 3 minutes to the total cooking time the food should turn out good.

MISTAKE#4: YOU DON'T USE RIGHT AMOUNT OF OIL
Although you do not need much oil to use in an air fryer, you shouldn't hesitate to use it a bit to just coat over foods, as it will make the food crispier. Some food recipes don't use any amount of oil, but some recipes may call for 1 to 2 teaspoons of oil into it. 
When you are cooking frozen items, use a very little amount of oil (maybe just 1-2 teaspoon or you can simply spritz some oil over them) it will make the food crispier from the outside rather than soggy. For fresh veggies or meat coat the food with at least 1 tablespoon of oil, to ensure that it gets golden and crispier air fryer. 
Pro tip: You can use non-stick cooking spray or oil from a spray bottle that will just enough to coat your food. If you are using a spray, make sure to spritz over your ingredients before placing them in the air fryer basket, your basket will be easy to clean in this way.
MISTAKE#5: YOU OVERCROWED THE AIR FRYER BASKET
You may always want to throw all the incidents inside the air fryer at once and hoping everything cooks quickly, but you must avoid overcrowding the basket! The baskets have enough space to cook for 2 servings of fish or meat and 4 servings of raw chopped veggies- that is it! 
Though the air fryer works like the principles of a convection oven, it cooks the food by rotating hot air around the basket. So, to cook all the food evenly you need to bear some space for the food. If you have to cook a large portion size then divide the food and cook it in batches. 
Pro tip: You can shake the basket midway through cooking, it can reduce the chances of uneven cooking! Or if you still struggle with the basket size then, you must upgrade your air fryer with one XXL size that is ideal for a family with more than 4 members. 
I own this air fryer that can comfortably cook for 4 people, Or you may like this XXL air fryer by Philips that can easily fit enough food for 5 or more people.

MISTAKE#6: YOU DON'T GIVE IT ROOM FOR VENT
Have you ever noticed when you palace your laptop over a soft cushion and try to work for a longer time, it shuts down from overheating? This is the same as the air fryer, powerful motors need to have enough space for ventilation. 
You must place your air fryer on a level, heat resistance countertop and there must be a minimum of 5 inches of space behind the air fryer where the exhaust is located. 
Pro tip: I own these countertop mats and these are heat resistant and works really well with the air fryers.
MISTAKE#7: YOU DONT CLEAN THE AIR FRYER FREQUENTLY
One of the most common air fryers mistakes people make, they do not clean or wash the air fryer after every use. 
When you are cooking food inside the air fryer you may not notice but the basket is simultaneously collecting the debris and oil or grease from every cooking session.  
There are crumbs, the debris of food particles, and oil splash left behind the air fryer after the cooking sessions. These can burn the next time you use the fryer to emit smoke and foul smell. 
So make sure to wash the fryer fully after every use, so that the non-stick coating will last for a longer time. 
Pro Tip: You can use non-stick oil sprays over the basket, and wipe the basket after every quick cook and hand wash with warm water and soap after longer cooking sessions.
More Air Fryer recipes :