In search of a quick, nutritious, and deeply satisfying meal? Look no further than our Red Lentil Soup. With its rich flavors and easy preparation, this vegetarian soup recipe is your ticket to a comforting and wholesome weeknight dinner!

Red Lentil Soup
Red lentils are the stars of this soup recipe and are a nutritional powerhouse. They're packed with plant-based protein, which is an excellent choice for vegetarians and vegans.
These lentils are also loaded with fiber, helping your digestion and keeping your blood sugar steady. Plus, they cook up quickly, perfect for when you're short on time. 
Red lentils have a mild, earthy taste, so they work well in lots of dishes. In this recipe, they turn into a creamy soup that's both comforting and good for you.
Why You'll Love This Soup Recipe
This vegetarian soup is incredibly

easy to make

and can be prepared in under 30 minutes, making it a perfect weeknight dinner meal.

Red lentils are packed with protein, fiber, and essential nutrients, making this soup a

healthy choice for vegetarians and vegans

.

You can customize the spices, and seasonings, and add protein to suit your taste preferences, making it a

versatile and adaptable recipe.

Lentils are affordable and readily available, making this soup a

budget-friendly meal option

.
Ingredients 
The Red lentil soup ingredients are quite basic, but the flavors are not! The soup comes together in just one pot and tastes delicious!
Vegetable oil– You can use whatever oil you have like olive oil coconut oil or avocado oil. 

Veggies– onion, red pepper, and carrot (or add any veggies of your preference like potato, celery, zucchini, etc.)

Garlic– finely chopped fresh garlic

Ginger– Use fresh ginger  

Red lentils– They tend to cook faster so you dont have to soak them before cooking. Rinse them in cold water and remove any dirt.

Vegetable broth– Cooking the lentils in broth adds flavor but that totally optional you can use water.

Lemon- it adds an extra lively flavor to the lentil soup. 

Cilantro– so fresh!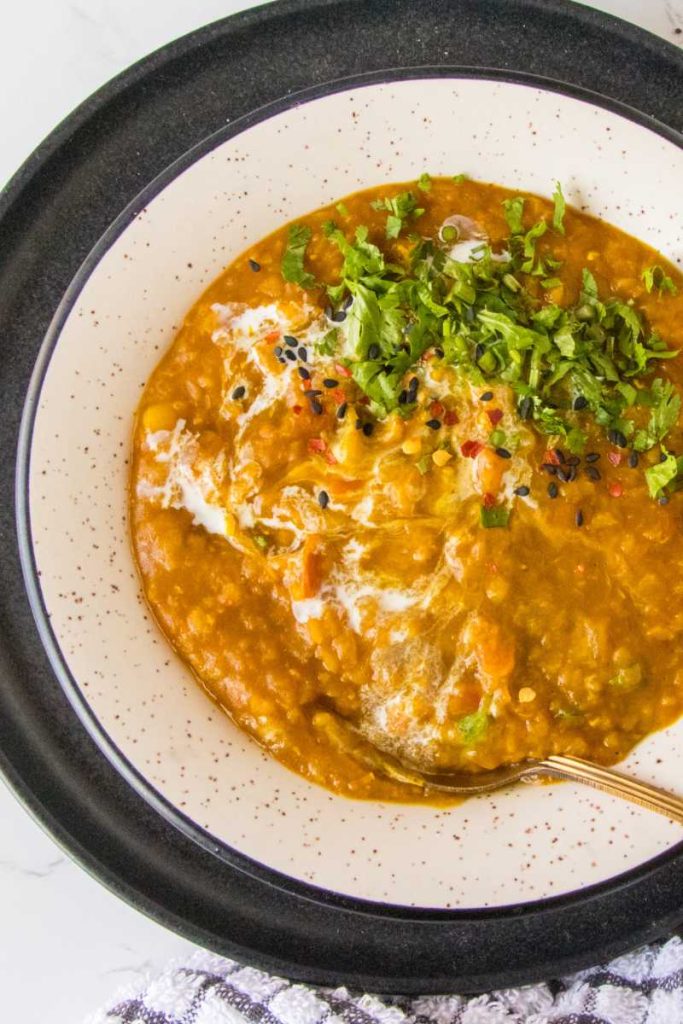 How To Make Red Lentil Soup 
1. Saute the veggies and spices.
Take a large pot and put it on the stove. Heat it up, and then add some olive oil. Once it's hot, toss in the chopped onion, and minced garlic, and saute for about a minute or until the onion turns translucent and fragrant. 
Then add chopped veggies, and let them cook for about 5 minutes until they get soft. 
Now, add in the ground cumin, ground coriander, and smoked paprika (if you want a little smoky flavor). Cook them for another 1-2 minutes, and allow the flavors to blend together.
Add in red lentils you've rinsed, water, and the can of diced tomatoes (including the juicy stuff) to the pot. Mix everything up well and add salt and pepper to make it taste just right.
2. Simmer. 
Bring the mixture to a boil, then reduce the heat to a gentle simmer. make sure to stir well as the water heats up, so the lentils and veggies don't stick to the bottom of the pot.
Cover the pot with a lid and let it cook like this for about 20-25 minutes. We want those lentils to become nice and soft.
You can keep the soup chunky if you like that, or use an immersion blender to make it smoother. If you go for the blender, make sure the soup isn't too hot when you use it.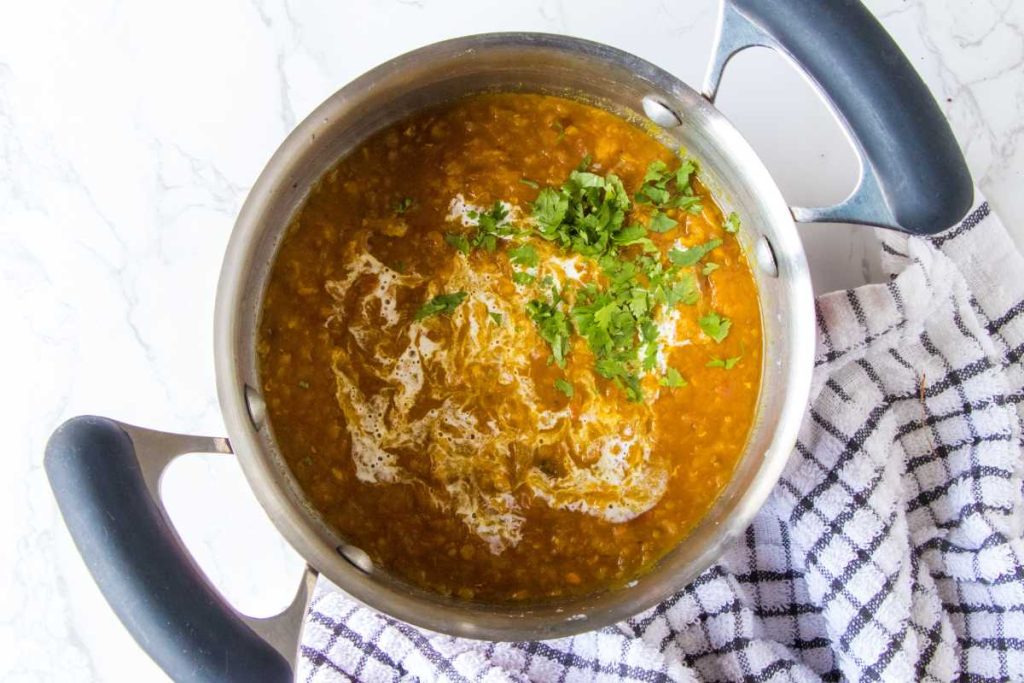 3. Enjoy!
Before you serve it up, squeeze in some fresh lemon juice. This gives the soup a zesty, fresh flavor that's so good.
Serve the red lentil soup with a sprinkle of some freshly chopped cilantro or parsley. If you want, add a tiny bit more olive oil for extra flavor. 
Now your homemade red lentil soup is ready to enjoy!

Possible Variations and Tips
Creamy Texture:

For a creamier consistency, add a splash of coconut milk or heavy cream.

Texture Variation:

Keep some cooked lentils aside and add them back to the soup after blending for a chunkier texture.

Red lentil soup pairs wonderfully with crusty bread, pita, or a side salad.
How to Store Red Lentil Soup
Store any leftover red lentil soup in an airtight container in the refrigerator for up to 4-5 days. You can also freeze it for longer storage.
To reheat the red lentil soup, simply warm it on the stove over low heat, adding a little water if needed to reach your desired consistency.
What To Serve Along With Red Lentil Soup?
Red lentil soup is a complete meal on its own, but you can also serve it over cilantro lime rice, or naan bread with a side of easy cucumber and onion salad. 
You can also try a simple side salad with fresh greens and a vinaigrette dressing complements the soup nicely.

More Easy Lentil Recipes
Lentil Meatballs

Lentil Curry

Vegan Lentil Tortilla Soup
More Vegetarian Soup Recipes 
Vegetable Soup

Cabbage Soup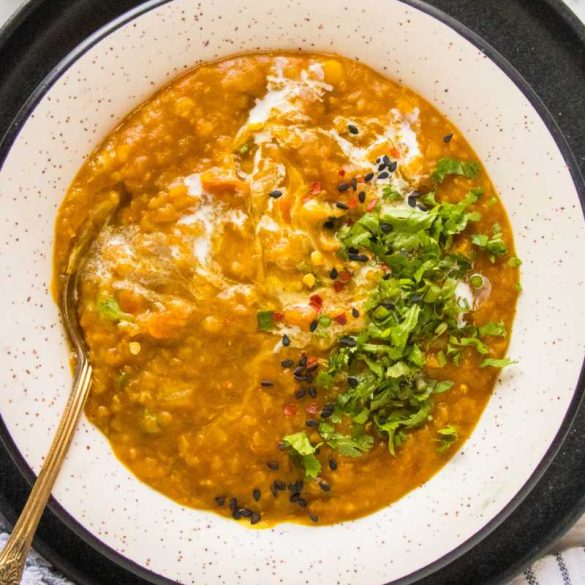 Ingredients
1 tablespoon Olive oil

½ Onion (diced)

2 Large Carrots (peeled and diced)

5 Garlic cloves (minced)

1 tablespoon Fresh ginger (peeled and grated)

1 teaspoon Ground turmeric

¼ teaspoon Cayenne pepper 

1 ½ cups Dry red lentils (rinsed)

4 cups Vegetable broth (homemade or store-bought)

2 cups Water

2 tablespoons Fresh lemon juice 

1 teaspoon Salt (or to taste)

¼ teaspoon pepper (or to taste)

1 teaspoon fresh cilantro (for garnishing)
Instructions
Sauté the Aromatics:

Heat a large soup pot over medium heat and add a tablespoon of olive oil. Add the chopped onion and garlic. Sauté for about 2 minutes until the onion turns translucent. Then add the diced carrot and saute for about a minute or until the carrots are a bit soften.

Add Spices:

Stir in the ground cumin, turmeric, and cayenne pepper (if using). Cook for an additional 1-2 minutes to toast the spices, releasing their flavors.

Add Lentils and Liquid:

Add the rinsed red lentils, vegetable broth, and water to the pot. Stir well to combine. Season with salt and pepper to taste.

Simmer:

Bring the mixture to a boil, then reduce the heat to low and cover. Let the soup simmer for about 18 to 20 minutes or until the lentils are tender and cooked through.

Blend or Mash:

You can choose to leave the soup chunky or use an immersion blender to partially blend the soup for a smoother consistency. If using a blender, allow the soup to cool slightly before blending in batches. Stir in the fresh lemon juice, then add any additional salt and pepper to taste, if required.

Serve:

Serve the red lentil soup in bowls and garnish with fresh cilantro or parsley. You can also drizzle a bit of olive oil on top for extra richness.
Did You Make This Recipe?