Cilantro Lime Rice is packed with vibrant flavors from lime juice and fresh cilantro. This fragrant and tangy rice pairs perfectly with a variety of Mexican and Tex-Mex dishes, and it's incredibly easy to prepare. Best of all, this rice recipe is a breeze to make, whether you choose to use the instant pot, stovetop, or even a rice cooker!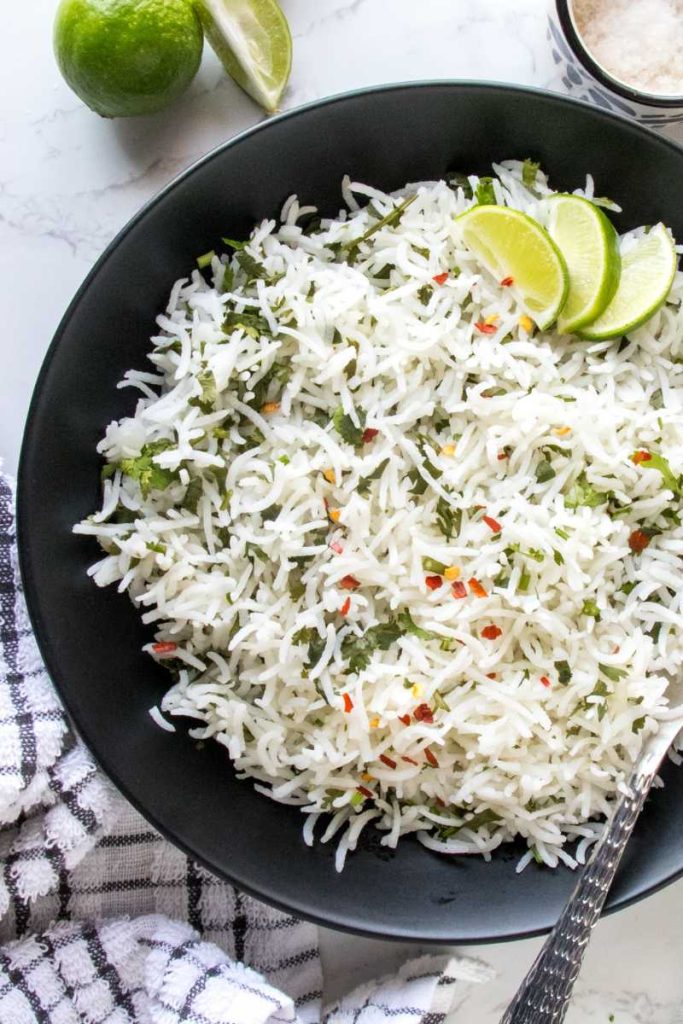 What is Cilantro Lime Rice?
Cilantro lime rice is incredibly versatile, like a best friend in the kitchen. It pairs well with a variety of dishes, including Indian, Mexican, and even Asian cuisines. It's especially handy when you're craving an effortless burrito bowl.
Just add some beans, fajita veggies, your choice of protein (chicken or tofu), and your preferred salsa (like pico de gallo or corn salsa). And there you have it—a delicious and satisfying meal, perfect for busy weeknight dinners!
What Type of Rice to Use
Choosing the right type of rice is crucial for achieving that perfect, fluffy texture in your Cilantro Lime Rice. I would recommend using long-grain white rice (like basmati) for the best results. Its light and fluffy nature allows it to absorb the flavors of the cilantro and lime beautifully.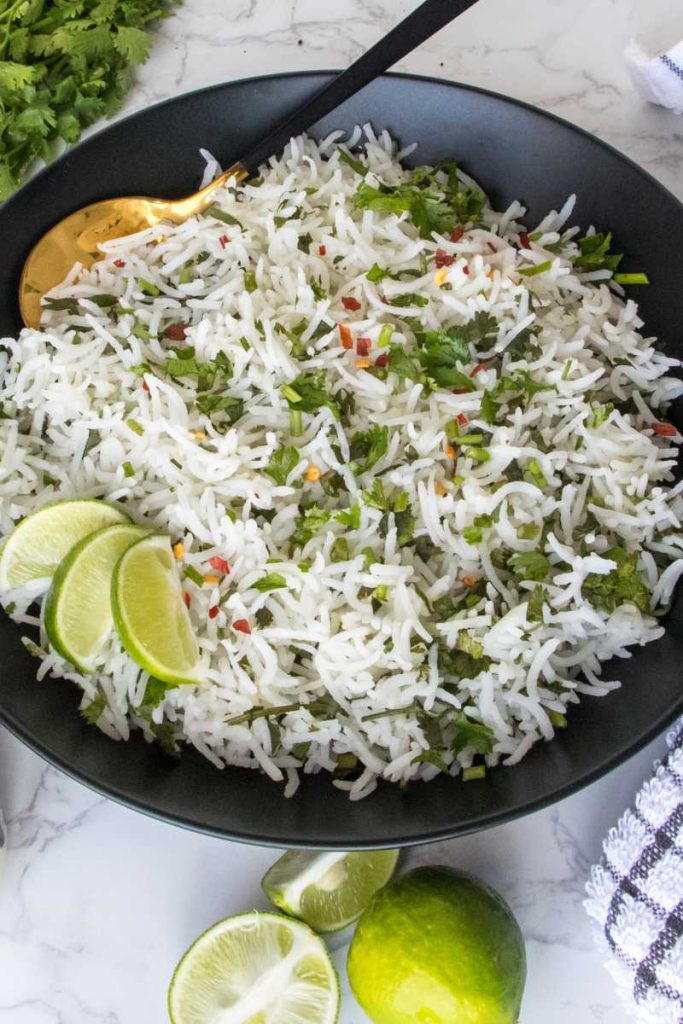 Ingredients For Cilantro Lime Rice 
White Rice:

I love to use basmati rice (long-grain white rice) for this recipe, you'll need to look for long-grain white rice for better results. 

Lime Juice and zest:

Fresh lime juice is better than bottled. You'll need 2 to 3 juicy limes (use about 2 to 3 tablespoons), or you can adjust the amount as per your taste preference.

Cilantro:

You can use the whole cilantro (leaves and stems) to get the perfect fresh flavor to the rice. 

Water
Salt: to season the rice.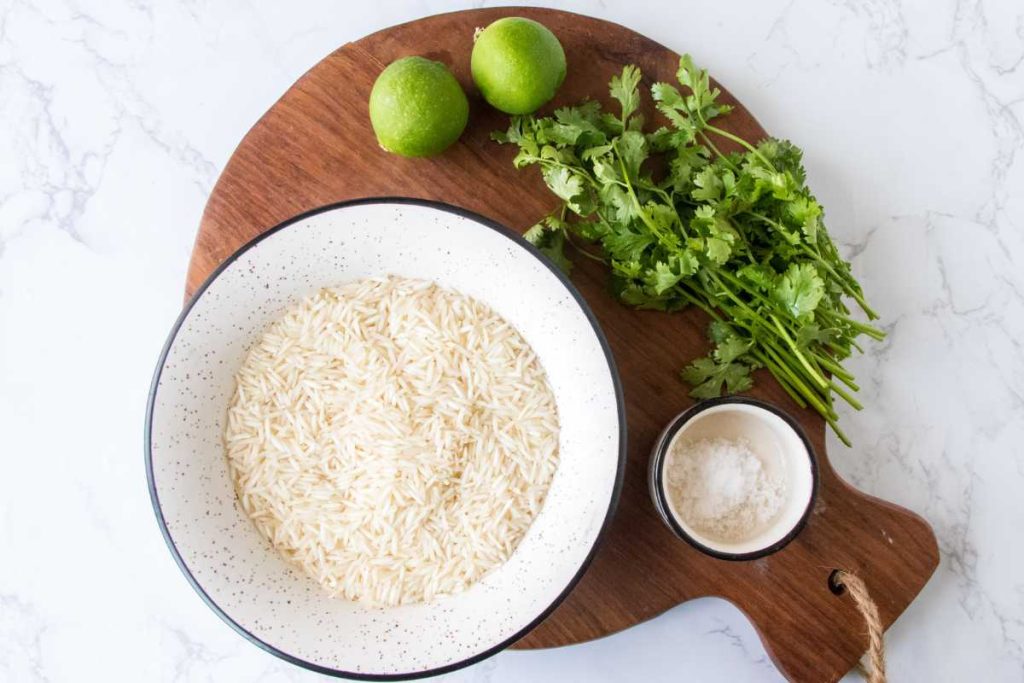 How To Make Cilantro Lime Rice
Cilantro lime rice is really easy to make with a few easy steps. Apart from cooking the rice, the rest of the dish is simple to assemble.
Always remember to rinse the rice thoroughly in a fine-mesh strainer under cold running water and keep it aside. This helps remove excess starch and prevents the rice from becoming too sticky.



Take a large saucepan or skillet and heat the olive oil over medium heat. Add the minced garlic and sauté for about 1-2 minutes until it becomes fragrant and just starts to turn golden.

Stir in the rinsed rice and salt, then sauté for an additional 2-3 minutes before adding water to it.

Pour in the 2 cups of water, add a pinch of salt, and bring the mixture to a boil. Reduce the heat to low, cover the saucepan with a tight-fitting lid, and let it simmer for 15-20 minutes, or until the rice is tender and the water is absorbed.


Remove the saucepan from the heat and let it sit, covered, for an additional 5 minutes. Then, fluff the rice with a fork to separate the grains.


Stir in the lime zest, lime juice, and chopped cilantro.



Your homemade Chipotle-inspired Cilantro Lime Rice is ready to be served! It's the perfect accompaniment to your favorite Mexican dishes.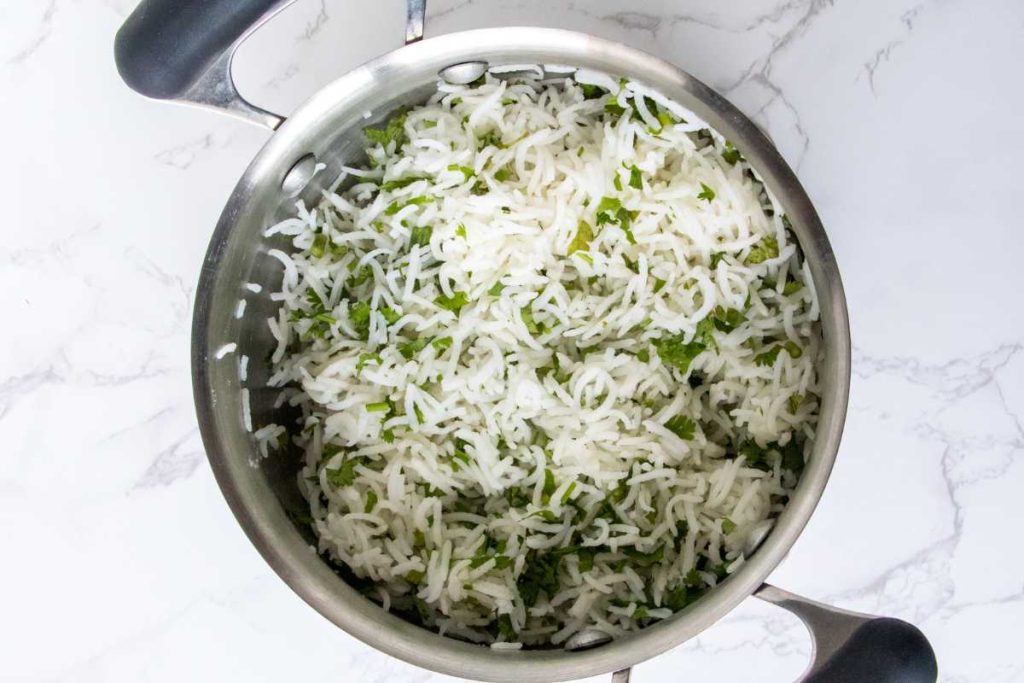 Can I Make This Rice in my Instant Pot or Rice Cooker?
Absolutely! Making Cilantro Lime Rice in an Instant Pot or rice cooker is a breeze. Simply follow the same steps for sautéing the garlic and rice, then transfer everything to your Instant Pot or rice cooker, add the water, and cook according to the manufacturer's instructions. Once it's done, fluff the rice and add the cilantro and lime as instructed above.
Storage Tips 
If you have leftovers (though it's hard to resist finishing it all!), store your rice in an airtight container in the refrigerator. It should stay fresh for up to 3-4 days. When reheating, add a splash of water to maintain its moisture and fluffiness.
And if you want to freeze this, you can keep the rice in a freezer-safe container for up to 3 months. When you are ready to eat, just thaw it in the refrigerator overnight. And reheat it in the microwave for about 2 minutes.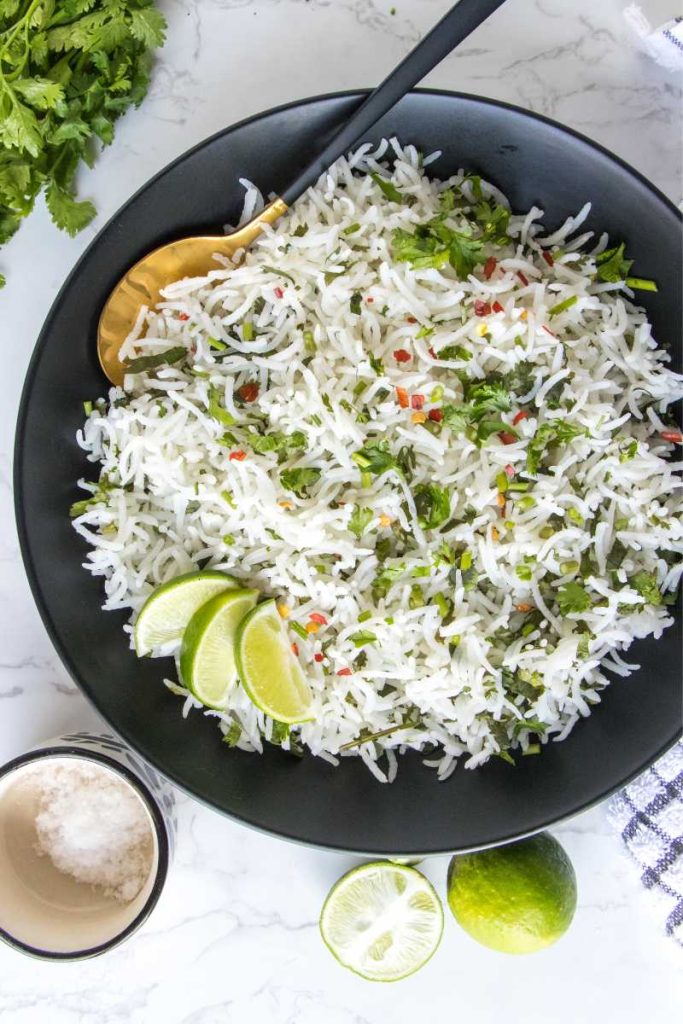 What to Serve with Cilantro Rice
Cilantro Lime Rice is incredibly versatile and pairs well with various dishes. Here are a few suggestions:
Burritos: Use it as a filling in your homemade burritos like a vegan burrito or shrimp burrito bowl.  
Tacos: Serve it alongside your favorite tacos like chicken tacos, or vegetarian tacos. 
Grilled Chicken: Pair it with grilled chicken or air fryer shrimp for a refreshing, balanced meal.
Bowl: Create an easy rice bowl like a shrimp bowl, chicken rice bowl, or Fried egg rice bowl. 

Fajitas:

Like

chicken fajitas

or

vegetarian fajitas 
If you love the cilantro lime flavor here are some more recipes
Cilantro lime shrimp 

Cilantro lime Cauliflower rice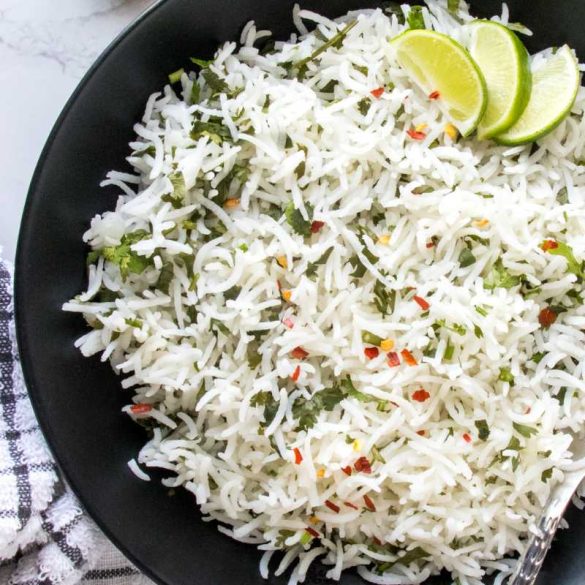 Ingredients
1 tablespoon olive oil

1 clove garlic

1 cup white rice (long-grain like basmati)

½  teaspoon salt

1 ½  cup water

1 lime, juice and zest

½  cup fresh cilantro, finely chopped
Instructions
Rinse the rice until the water runs clear, then drain it well and set it aside.

In a large saucepan, heat the oil over medium-high heat. Add the minced garlic and sauté for 30 seconds or until it becomes aromatic. 

Stir in the rice and salt, toasting it lightly for about a minute. Then, add the water.

Bring it to a boil, cover, and reduce the heat to low. Let it simmer for 12 to 15 minutes until the water is fully absorbed, and the rice becomes tender.

Remove the pot from heat (keep it covered) and let it steam for 5 minutes.

Finally, add the lime juice and zest, and freshly chopped cilantro. Give everything a good mix, and it's ready to be served immediately! Enjoy!
Did You Make This Recipe?