This Sticky Sesame Chickpea is a crowd pleaser! Quick, easy, and delicious, this easy chickpea recipe is an epic 15 minutes simple vegan recipe! It's a great quick family dinner recipe for those busy nights your family will love to have on repeat!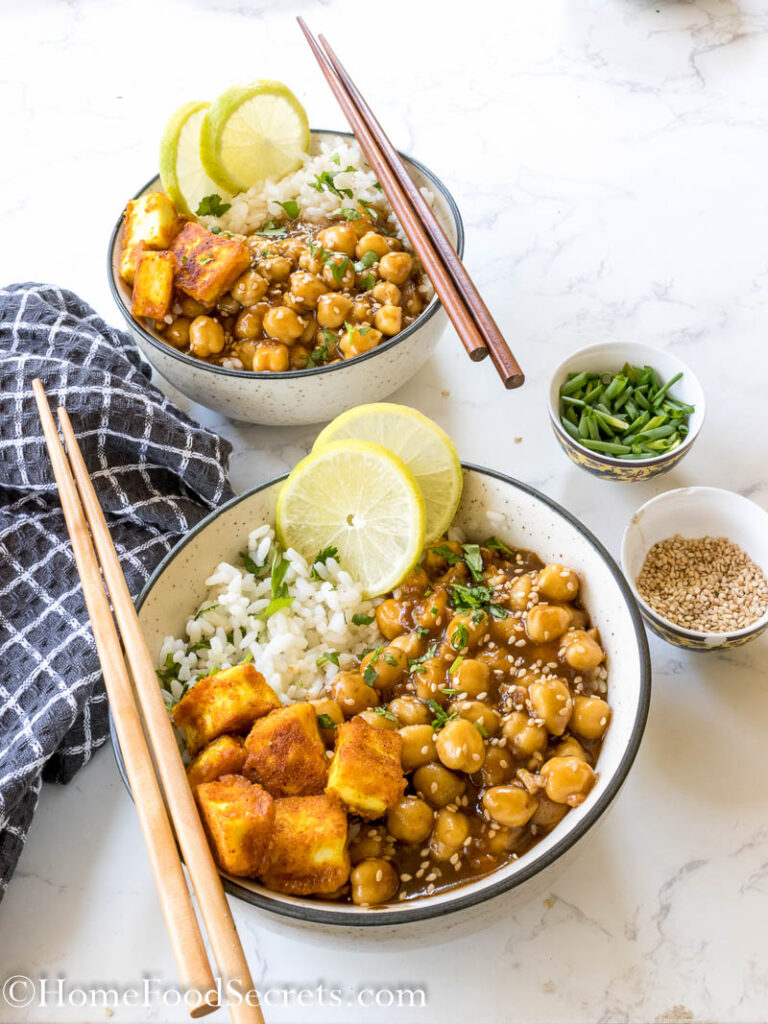 Vegan Sticky Sesame Chickpea Recipe
I can't get over how easy and quick this vegan sticky sesame chickpea recipe is! It took me no time to put everything together, and it tastes incredible, and everyone in my family loves honey sesame chickpeas. 
Though I think we can all agree that you cannot go wrong with the sticky sesame sauce, there isn't much room for the outcome to not be delicious! 
This sticky sesame sauce is so delicious and versatile that you can use this sauce on so many things. From chickpeas to tofu, chicken, salmon, shrimp, cauliflower, or even dressing over any Power bowls. 
But if you want to try some more protein-rich bowls recipe, I would love to encourage you to consider these healthy and easily customizable recipes. So many delicious vegan recipes to try!
These vegan sticky chickpeas do not require much kitchen skills, and you likely have many of these ingredients already in your pantry or fridge.
Why You'll love Sticky Sesame Chickpeas
Ingridents for vegan sticky Chickpeas 

How to make vegan sticky sesame chickpeas 
First, drain and rinse a can of chickpeas until there is no bubble. Set the chickpeas aside and start preparing the sticky sesame sauce. 
For homemade sticky sesame sauce, mince some garlic cloves ( you can use a garlic press for even pieces) and add to a saute pan with 1 tbsp olive oil. Saute until the garlic is slightly brown or fragrant, just like my Kung pao tofu recipe and Kung pao cauliflower recipe. 
Now, take a small bowl and add cornstarch (or tapioca starch or arrowroot powder) and 2 tbsp water or vegetable broth, whisk it until smooth and set it aside. The cornstarch slurry will be used to thicken the sesame sauce. You can add chicken stock if you want to make it a bit flavourful.
To the pan with sauteed garlic, add sesame oil, soy sauce, or tamari (for GF version), maple syrup (or coconut sugar), chopped ginger, rice vinegar, and water or remaining vegetable broth. Mix them properly. 
Now, whisk cornstarch slurry to ensure no lumps remain at the bottom of the bowl and add to the pan with the rest of the sauce. Whisk everything together. 
Make sure to cook over low flame until the sauce starts to bubble. 
Once the mixture starts bubbling in the middle, give it a nice stir and add the rinsed chickpeas (or boiled chickpeas), and carefully cover the chickpeas with the sesame sauce until nicely coated. 
The sticky sauce will start to thicken; keep it stirring, so the sauce covers the chickpeas. Let the chickpeas cook until the sauce turns dark and nicely thick. The chickpeas may turn dark as well as they start absorbing the sauce. 
Also, check out my other Canned Chickpeas Recipes!!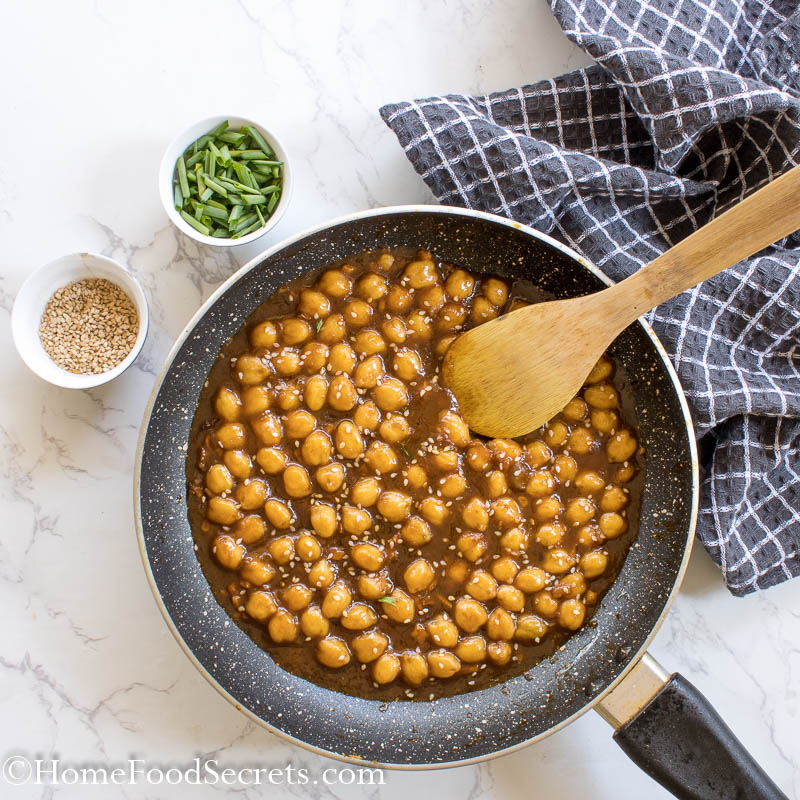 Tips and Variations 
More Easy Dinner Recipes!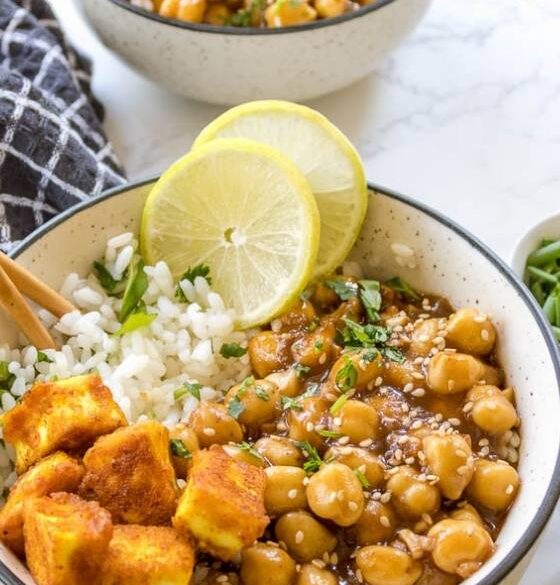 Ingredients
2 cans (28 ounces) chickpeas 

6 cloves garlic (minced)

 ½ tbsp ground or grated ginger 

2 tbsp extra virgin olive oil 

2 tbsp rice vinegar

2 tbsp toasted sesame oil 

6 tbsp vegetable broth (divided) 

⅓ cup soy sauce or tamari (low sodium)


1 ½ tbsp corn starch or arrowroot powder 

3 tbsp honey or maple syrup
Instructions
Start with cleaning the can chickpeas, drain and rinse the chickpeas until no bubble remains, and set them aside. 

Heat a saucepan over low to medium heat and add olive oil. And add minced garlic and ginger, and saute for a few minutes or until fragrant. 

Take a small bowl and mix cornstarch or arrowroot powder and 2 tbsp water or vegetable broth and mix properly until no lumps remain. 

Add soy sauce and sesame oil to the saucepan with the garlic, maple syrup or honey, rice vinegar, and add three tablespoons of vegetable broth and whisk everything together. 

Stir the arrowroot mixture into the saucepan and combine everything. 

Simmer the sauce over a low flame, and when the bubble starts to form, add the drained chickpeas and stir until they are properly coated. 

Cook the sticky sesame sauce and chickpeas on low heat until the sauce thickens up a bit for about 5 to 8 minutes. Stir the mixture. 

Now, turn off the heat and let the chickpeas sit in the sticky sesame sauce to allow the chickpeas to soak up all the flavor. 

Serve the delicious sticky sesame chickpea with roasted tofu, instant pot white rice, quinoa, or steamed veggies.
Notes
You can use honey or maple syrup for sticky sesame sauce, but honey does get a bit of a sticker, which is excellent for this sauce. 

The cornstarch can be substituted with arrowroot starch or tapioca starch. If you do not have any of these three, you can use rice flour; it will also work. 

 Do not overcook the garlic, as garlic does not take much time to cook; it takes only 40 sec to 1 minute. Burnt garlic tastes bitter and spoilt the overall flavor of the sticky sesame chickpea. 

The leftover sticky sesame chickpea will last in the fridge for up to 3 to 4 days if stored well in an airtight container. To extend the shelf life, I would recommend freezing it; you need to keep the sticky sesame sauce and chickpea in a separate airtight container, and it will last anywhere from 3 to 4 months. 

You can quickly reheat the chickpeas, toss everything into the saucepan and add a few tablespoons of vegetable broth or oil, so it gets perfectly saucy and sticky. 

This recipe is naturally vegan and gluten-free, but use certified gluten-free tamari if you want to make a gluten-free sticky chickpeas recipe.

This sticky sesame is an excellent addition to any buddha bowl or a burrito bowl; you can make your own using this sticky chickpea. Add rice or quinoa, roasted veggies, tofu, and sticky sesame chickpeas. Enjoy your buddha bowl along with a refreshing drink!
Did You Make This Recipe?
More Chickpea Recipes: 
I hope you love this recipe- be sure to give it a review below! To get more easy and quick recipe delivered straight to your inbox, sign up for my email newsletter. Happy Cooking!! ♥♥