General Tso's Chicken is the perfect combination of spicy, sweet, tangy, and sweet with deliciously crispy chicken bites! Make this healthy version at your home for a sweet and spicy treat! It's a famous Chinese takeout dish served over rice for an excellent meal.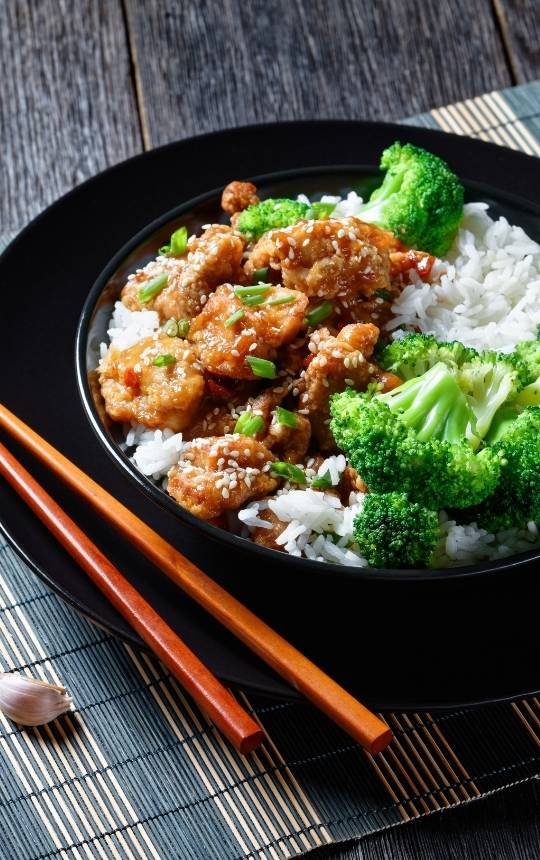 General Tso's Chicken
General Tso's Chicken was one of my usual late-night Chinese food delivery orders! It's crispy on the outside with a hint of sweetness and a spicy kick. Tender chicken is nicely coated and deep-fried, then tossed in a savory sauce! 
This chicken recipe is quite similar to the sticky sesame chicken recipe, but the General Tso sauce has more heat and a complex savory flavor. It often serves as a side dish to Lo mein or steamed broccoli (a healthy main option).
General Tso's chicken can sometimes have recipes that are difficult to follow with various breading steps and lots of techniques. Make the homemade version of General Tso's that's bursting with delicious authentic flavor.
 This recipe applies marinade to the chicken before lightly coating it with cornstarch and deep-frying. You can go for the thicker typical breading I have used in the orange chicken. 
Are you looking for more Asian or Chinese takeout recipes for your next lunch or dinner?
Hers's a list of delicious meals waiting to be made!
Why You'll Love General Tso's Chicken
A healthy homemade version of Classic takeout

Store well as a leftover, making it a great make-ahead or meal prep 

Perfect for potluck, birthday, holidays, and celebration

A crowd-pleasing recipe // Kids and picky eaters approved 

Warming, comforting and satisfying 

Great meal prep and weeknight dinner 

A hearty meal that's perfect for a cozy weeknight dinner 

Ingredients and Possible Variations
General Tso's Sauce/ Marinade
Here's what you need for the Homemade General Tso's sauce:
Soy sauce: Grab the low-sodium, light, or all-purpose (do not use dark, it has way too much strong flavor and will make the sauce too dark) 
Rice Vinegar: Add the signature touch of tang to General Tso's Chicken. It is different from the other vinegar; it's less sour. You can also substitute it with White wine vinegar. 
Hoisin Sauce: It's a relatively sweet and salty sauce; you can find it in the Asian section with the soy sauce and other authentic Asian sauces.
Brown Sugar: for a touch of sweetness to the sauce. Sub: honey or maple syrup
Sesame oil: To add sesame flavor 
Chili: The sauce's spiciness can use your preferred type of chili paste (but make sure to use Asain, If you find any!)
Chicken stock: gives a depth of flavor to the sauce and makes it enough to coat the chicken bites properly.
Cornflour or cornstarch:  Thickens the sauce. You can also use tapioca starch or arrowroot starch.
Meat – Chicken 
Unlike other crispy fried chicken recipes, like crispy sesame chicken, the chicken is not coated with the cornflour batter but is instead tossed in cornstarch to make it extra crispy. It's similar to how orange chicken (panda express copycat!) is made. 
Boneless and skinless – they stay juicy from the inside even if you overcook them a bit. Chicken thighs or breasts and cut into one-inch cubes. 
How to Make General Tso's chicken
Don't get terrified about making your own General Tso's chicken! It is one of the easy Asian Chicken dishes, and you'll love how quickly it gets ready. It takes only 20 minutes or less to whip off.
1. Sauce or Marinade for the chicken
We need to prepare this recipe in two parts- First for the chicken marinade and the second for the sauce. 
1st part: First, mix all the ingredients for the sauce (do not add – sugar, chicken stock, cornflour, or cornstarch) and use this mixture to marinate the chicken. 
2nd part: Then add sugar, cornflour or cornstarch, and chicken stock to create the final sauce for the dish. – these are final sauce-specific ingredients we do not want to add to the chicken marinade.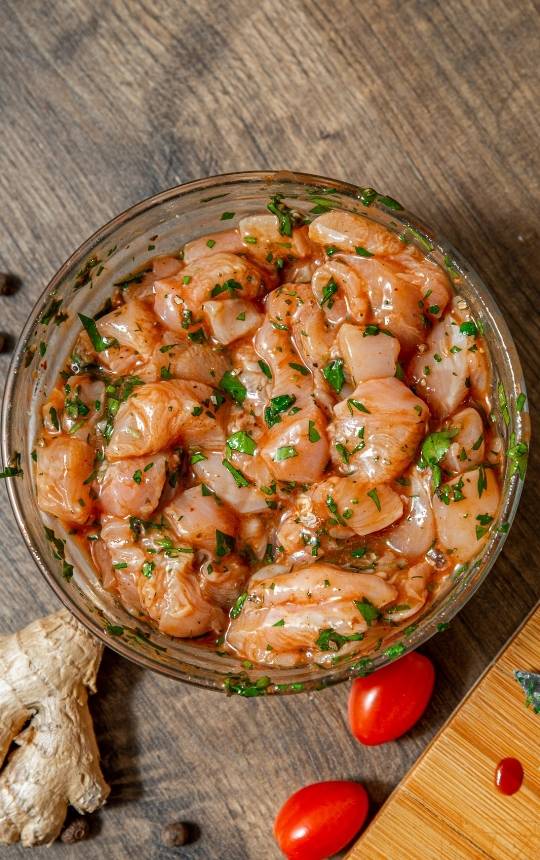 Marinate Chicken: Use 2 to 3 tablespoons of the 1st part of the sauce mixture to marinate the chicken for a minimum of 30 minutes, or you can leave it overnight in the refrigerator. Add fresh ginger and garlic (finely chopped and minced) to the marinade to add more flavor to the chicken.
2. Prepping the Chicken
Coat the chicken: add cornflour or cornstarch to a bowl and coat all the chicken evenly. Make sure all the pieces are separate and fully coated with the flour. 
Shake off all the excess flour from the chicken; you do not need a thick layer of flour on the chicken; it will make the chicken bites powdery and rubbery.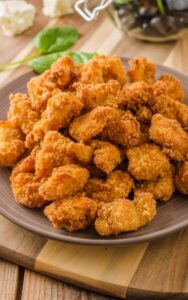 3. Cook the Chicken
You cook the chicken using your preferred amount of oil – you can either deep fry or shallow fry it.
Deep fry – is when you cook in a pot with enough oil, so the chicken pieces float around the oil.
Shallow fry- is when the chicken pieces are sitting on the pan, and the oil level is just halfway up the chicken. 
If you prefer using less oil, you can cook it in an air fryer or cook it in a thin layer of oil in a pan and rotate each chicken piece multiple times to get the crispy texture.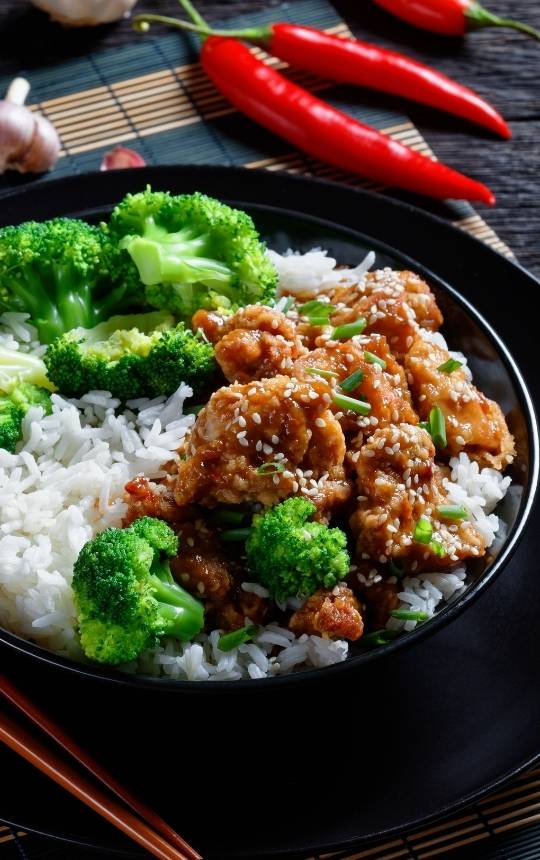 Time to Make the Sauce! 
Now, the chicken is done, so next, we have to make the sticky sauce for the fried chicken pieces. And this part takes less than 5 minutes!
Heat oil in a pan over medium flame, and add minced garlic, ginger, and chili flakes. Saute until the garlic turns aromatic or golden. 

Pour the sauce, bring it to simmer, and stir it frequently or until it gets thick enough. 

Toss in the fried chicken bites to the sauce. 

Quickly toss the chicken to coat – the quicker you mix them, the crisper the fried chicken stays! Serve it with a bowl of rice or over veg Lo mein.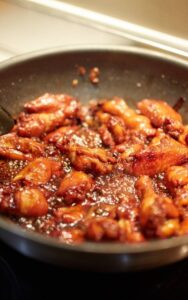 How to Make Crispy Fried Chicken – THE CRISPY FACTOR!
By coating the chicken pieces with cornflour, you can never get the crisper result compared to how the batter is involved, such as with the Sticky Asian Chicken or Honey Glazed Chicken, in which the fried chicken bites stay crisper for hours even with the coated sticky sauce.
If you do not have time and want crispy chicken bites, use the batter method to coat the chicken pieces in Sticky Asian Chicken and General Tso's Chicken Recipe (just 5 minutes!).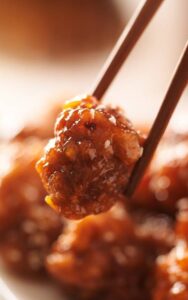 Alternate Cooking Method – 
General Tso's Chicken in Air Fryer: 
Cooking general Tso's chicken bites in an air fryer is easy and mess-free! Instead of deep-frying or pan-frying the chicken, air-fry the chicken pieces in batches for 8 to 10 minutes; flip all the chicken pieces halfway through.
Then mix the air-fried chicken with the homemade General Tso's chicken and air fry it for 10 to 12 minutes, flipping it halfway through.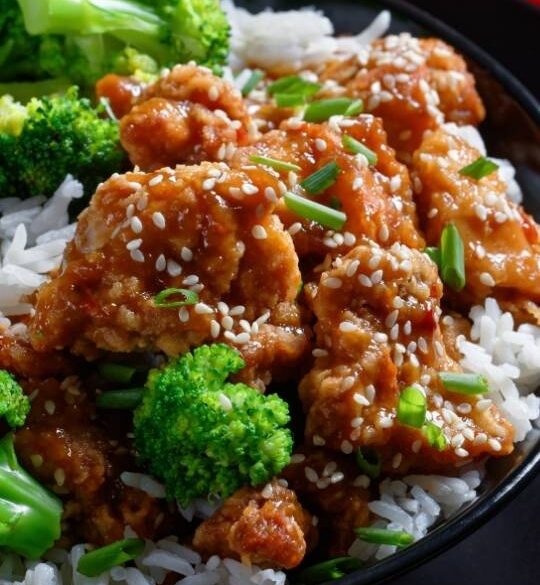 Ingredients
General Tso's Sauce
3 tbsp soy sauce - light or all-purpose 

2 tsp chili paste

1 tsp sesame oil 

1 tbsp hoisin sauce

1 tbsp cornflour/cornstarch

3/4 cup chicken stock/broth

1 tbsp rice vinegar 

3 tbsp brown sugar
Chicken 
500g chicken thighs

, boneless skinless

1 tsp ginger, chopped 

1 - 4 cups oil, for deep frying

1 tsp garlic, minced

1 cup cornflour/cornstarch
Stir Fry
2 tbsp Olive oil

or vegetable oil 

3 tsp ginger

, finely chopped 

6 cloves garlic

, minced

1/4 tsp red chili flakes
Instructions
Make the sauce - mix vinegar, soy and hoisin sauce, chili, and sesame oil in a small bowl and whisk until combined. 

Marinate Chicken- take 2 to 3 TBSP of the sauce, mix it with the chicken pieces, and add chopped cilantro. Add chopped ginger and minced garlic, mix, then marinate for 30 to 45 minutes. 

Add cornflour to the marinade chicken and toss to coat, ensuring all the pieces are fully coated and separated. Shake off excess cornflour. 

Add sugar and cornflour to the remaining sauce/marinade: Mix chicken stock to the sauce. 

Heat oil in a skillet or a large pot ( to 200 to 220 degrees C) 

Cook the chicken pieces for 3 to 4 minutes, turning halfway until the pieces turn golden and crispy. Keep the chicken bites on a kitchen towel or tissue paper.  

In a new skillet or pan, heta oil over medium heat. Add minced garlic, ginger, and chili flakes. Saute until the garlic turns aromatic or golden. 

Pour the sauce, bring it to simmer, and stir it frequently or until it gets thick enough. 

Toss in the fried chicken bites to the sauce. 

Quickly toss the chicken to coat - the quicker you mix them, the crisper the fried chicken stays!
Did You Make This Recipe?