Gnocchi with Pomodoro sauce is a simple Italian gnocchi recipe that is a tasty meatless meal with a bold, creamy flavor that comes in under just 30 minutes. It's a quick one-pan meal with the goodness of rich tomatoes, herbs, and al Pomodoro sauce coating fluffy potato pasta that is topped with crispy cheese makes this dish extra delicious!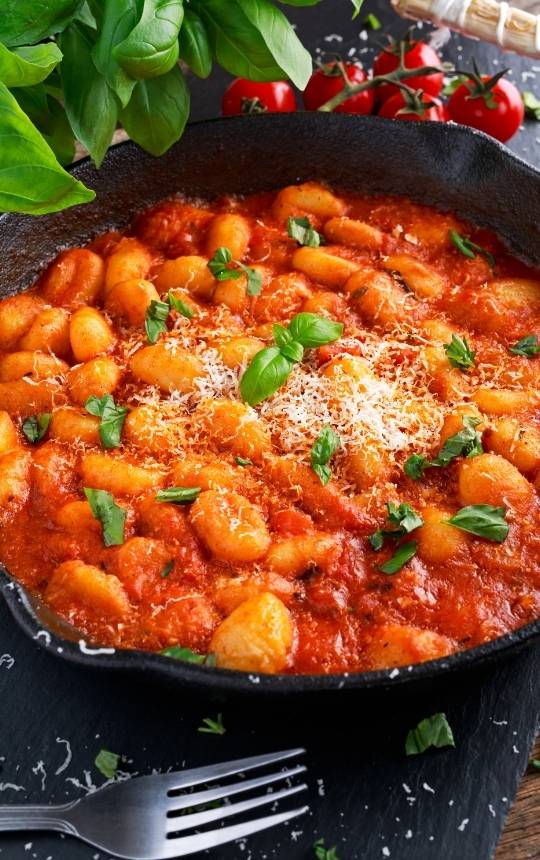 Gnocchi with Pomodoro sauce 
I have been dreaming of this recipe since last week, and now I am happy to finally see it come to a delicious execution! This easy dinner idea tastes so refreshing and packed with bold flavor, yet it's easy to pull out with only six ingredients. 
I had a version of this Gnocchi al Pomodoro at an Italian restaurant in Pune last year, and I've been dying to make it at home ever since. This recipe just ticks all the boxes; it's quick and easy, jampacked with flavors, and a one-pan dinner meal recipe! A great recipe with minimal prep work; what else would you want!
Gnocchi is just like pasta or noodles in terms of serving with sauce or even with soups. Yes, they have a different texture, are relatively softer than pasta, and do not take long to cook. And I think if you haven't tried Gnocchi, I think Gnocchi in tomato sauce will be a perfect start!
Why You Will Love This Recipe
Rich, creamy, saucy, and packed with flavor 

Quick and easy to make pasta recipe // ready in under 30 minutes

Stores well as leftovers, making it a great make-ahead or meal prep recipe

A satisfying yet healthy comfort food

A crowd-pleasing gnocchi recipe // Non-vegan approved and kid-approved!

Necessary simple pantry ingredients that you probably already have in your kitchen pantry.    

A perfect dinner recipe for busy weeknights.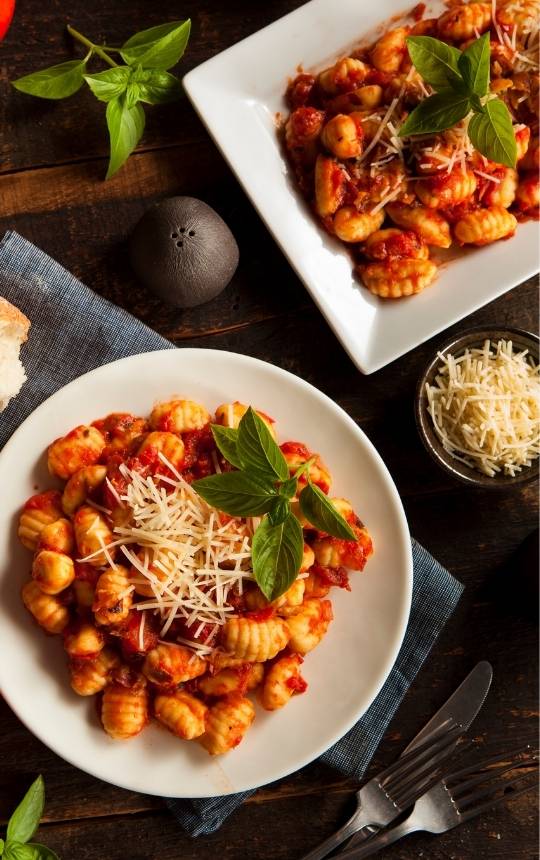 What is Gnocchi?
Gnocchi means "lumps" in Italian, they are small dumplings made with some combination of mashed potatoes, flour, and sometimes eggs and cheese. They are ultra fluffy, soft, and slightly chewy when made correctly.
They take a few minutes to cook, and when they do, they float on the top of boiling water. Gnocchi is versatile; like pasta, you can pair it with any sauce or pesto. No matter which Gnocchi you choose to cook with (dry, fresh, frozen, or chilled), you'll love Gnocchi in butter sauce, Gnocchi in marinara sauce, or gnocchi cream sauce… Okay, I just Gnocchi (in every possible form!).
Gnocchi with Tomato Sauce Ingredients – 
This Gnocchi with tomato sauce and mozzarella recipe requires simple and readily available pantry ingredients (no fancy stuff!), So, here's what you'll need to make this easy Gnocchi with Pomodoro sauce recipe: 
Potato Gnocchi: You can use store-bought (dry, fresh, or frozen), or  If you have some extra time, make it from scratch at home. 
Basic Spices: dried oregano, salt, and crushed black pepper
Tomatoes: You can use fresh diced tomatoes, canned tomatoes, or tomato puree. 
Onion, Minced garlic, and vegetable oil (or olive oil) 

Heavy Cream

Cheese: Mozzarella and parmesan or pecorino (for the non-vegan version)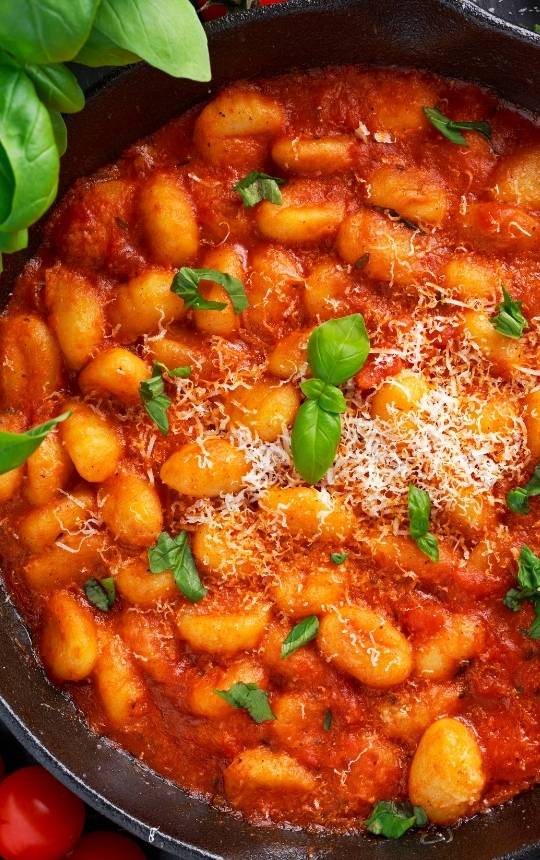 How to Cook Gnocchi with Pomodoro Sauce
Starting with Pomodoro sauce – heat oil in a large skillet and add fresh herbs to give the sauce a subtle flavor of freshness. Then add onion and garlic and saute until soft and fragrant. 
Do not burn the garlic, just saute until it turns golden brown in the oil, or else the sauce will taste bitter. Then add crushed or fresh diced tomatoes (you can also use canned tomatoes) and add a generous amount of salt, crushed black pepper, and red flakes.
Let the homemade Pomodoro sauce simmer for about 10 to 15 minutes or until the sauce reduces and becomes thick. Finally, stir in heavy cream to give it a more creamer and rich flavor.
Then the fluffy potato gnocchi is stirred into the sauce, topped with mozzarella balls, and finished with grated parmesan.
What is vegan Gnocchi made of?
If you want to make a vegan or dairy-free version of Gnocchi with the Pomodoro Sauce recipe, you can just replace the cheese with vegan mozzarella or simply cut it out completely. Or you can also try some vegan gnocchi recipes like – Gnocchi in marinara sauce, Creamy Pesto Gnocchi,  or my favorite creamy spinach and Gnocchi.
It will taste delicious even without cheese in it; leaving cheese makes it a low-calorie gnocchi recipe, which you can have without any guilt! 
How do you fry Gnocchi without it sticking?
Boil the Gnocchi (following the package instructions) and cool down before frying them in the skillet so they are firm.
We would recommend patting the boiled Gnocchi with a kitchen towel and coating them with a tablespoon of olive oil before cooking to reduce the risk of sticking to the pan.

Can I substitute Heavy cream in the Homemade Pomodoro sauce recipe?
You can leave heavy cream if you do not have it on hand or if you want to make this a low-calorie gnocchi recipe. But if you substitute heavy cream with milk, it won't make the sauce thick and creamy.
How to store Gnocchi Al Pomodoro
If you finish up with some leftovers from this easy Gnocchi with tomato sauce, I recommend storing them in an air-tight container in the refrigerator for up to 3 days. This easy gnocchi recipe is not suitable for freezing. 
How to Reheat Gnocchi with tomato sauce
You can simply reheat the leftover Gnocchi Al Pomodoro on a stover over medium to low heat. Do not reheat the Gnocchi with tomato sauce in a microwave; otherwise, you'll end up with rubbery Gnocchi.
What to Serve with Gnocchi Dishes
Since this easy gnocchi recipe is packed with bold and rich flavors, I love to pair it with some sample side dishes. Here are a few easy and simple side dishes that I love pairing with this gnocchi recipe: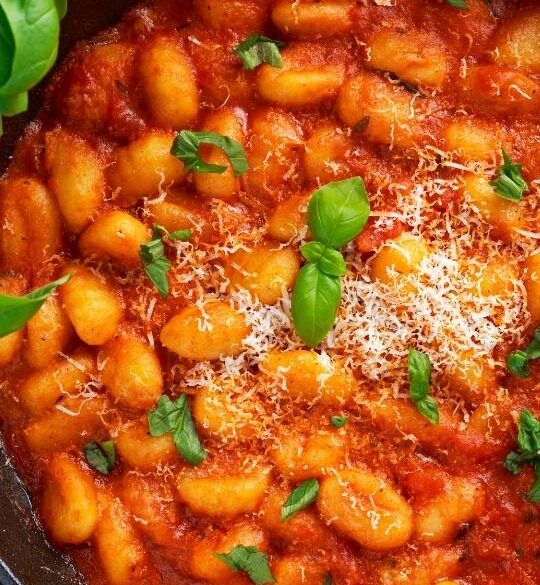 Ingredients
16 ounce (500 gm) Potato gnocchi

3 tbsp olive oil

½ cup yellow onion (finely chopped) 

6 garlic cloves (minced)

1 tbsp dried oregano

1 tbsp dried basil

¼ tbsp crushed red pepper flakes

1 tbsp salt (as per the taste) 

¼ tbsp ground black pepper 

¼ cup heavy cream 

2 tbsp grated parmesan cheese 

8 oz mozzarella cheese shredded or small balls
Instructions
Cook the Gnocchi: 
Fill a pot or saucepan with water. Bring it to a boil. Add gnocchi, boil for about 2 to 3 minutes or until gnocchi starts floating on the surface of the boiling water. 

With a slotted spoon,

remove all the gnocchi from the cooking water to drain and toss with 2 tablespoons olive oil to keep it from sticking.

Melt butter in a large pan over medium heat and add minced garlic and saute for about 1 minute or until fragrant. 

Add boiled gnocchi and dried herbs, and again saute them for about 2 to 4 minutes or until gnocchi begins browning on the edges. 

Transfer gnocchi to a bowl and set it aside.
Make the Pomodoro sauce for Gnocchi: 
Take a large skillet and heat it over medium heat, add diced tomatoes or canned tomatoes and bring it to a simmer.

Stir in heavy cream, crushed red pepper flakes, salt, and crushed black peppers. Simmer it for around 4 to 5 minutes or until sauce is reduced and creamy in texture. 

Add gnocchi to the cooked sauce and mix so that they're well coated. 

Top the gnocchi with shredded mozzarella cheese and sprinkle with grated parmesan or Pecorino Romano cheese.

Give it a Broil for 4 to 6  minutes or until the cheese melts and the tops become crispy. Garnish with herbs and serve it immediately.
Did You Make This Recipe?