The best and easy-to-cook Mexican recipes for Cinco De Mayo! I've got Burrito bowls, the best tacos recipes, best salsa and dip recipes, and Mexican-style salad recipes loaded with fresh flavors. And some amazing colorful margaritas! This recipe list is covered with everything that you need for your Mexican food fiesta.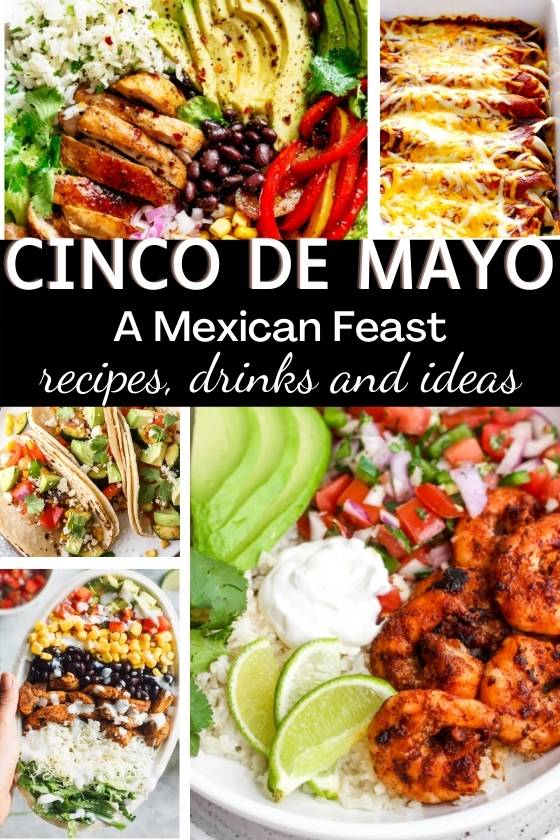 Is it even Cinco De Mayo without some delicious and epic Mexican Recipes? Yes, it's not possible! :p
While some of the obvious choices for celebrating Cinco De Mayo might be an old taco night with a big bowl of creamy guacamole, for the ultimate spread.
But we recommend you try out some new and easy-to-cook Mexican recipes to just lit up your 5th May celebration with family and friends.
Today, I am sharing over 30 of the best and most popular Mexican recipes including all the classics from enchiladas, fajitas, tacos, nachos, and creamy dips, and some Mexican street-style food recipes, and many more.
What is Cinco De Mayo?
Cinco De Mayo (which literally means "5th of May") is a holiday in Mexico that is also referred to as the Battle of Puebla day.
But the interesting thing is, Cicco De Mayo is not a Mexican Independence day (as some believe). Rather it's a commemoration of the Mexican army's victory over the French Empire at the Battle of Puebla in 1862.
The Fifth of May represents a historic victory of the indigenous Mexcian Army (or people) over European invaders and highlights the power and strength of Mexcian culture. 
It is not widely celebrated in Mexico, but in the U.S., Cinco De Mayo has morphed into a heritage and cultural celebration of Mexico.
So, what better way to celebrate this amazing day than with the best classic Mexican Recipes, Fiestas, and maybe with some margaritas.
Easy Mexican Recipes for Cinco De Mayo 2021
When it comes to celebrating the fifth of May, everyone loves to have some classic Mexican dishes – including enchiladas, tacos, salsa, tacos, and more- which are some of the most famous classic Mexican recipes!
That's why we have rounded up some of the most popular Classic Mexican Recipes which are best for the Cinco De Mayo party.
From classic main dishes like chilaquiles and taquitos to tasty sides and appetizers like Mexican street corn (aka elote), black bean salad, and nachos (and some essential Mexican salsa and dip recipes, of course!). Below is a list of my Mexican or Mexican-inspired recipes! 
The Best Classic Mexican Recipes  
Looking for some authentic Mexican Recipes for your next Mexican Feast or Cinco de mayo feast? Well, it's your lucky day! I have compiled over 30+ Mexican recipes which are easy to prepare and need fewer ingredients.
Full Recipe on Cafe Delights
The best Mexican-inspired juicy cilantro lime chicken recipe that marinates in no time, thanks to the rich and flavourful sauce. Perfect for a chicken marinade for grilling, baking, or sauteing and freezes well, too.
Full Recipe on Gimme Some Oven 
This chicken enchilada recipe is my favorite, it's easy to make, fully customizable with your preferred fillings, and made with my fav homemade enchilada sauce. It's a crowd-pleasing dish, perfect for meal prep and it freezes well, too!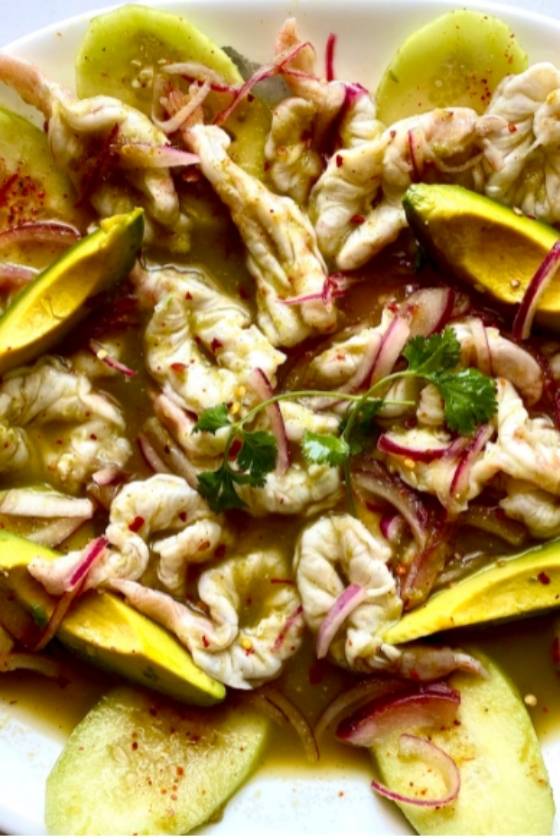 Full Recipe on – All Recipes 
It a flavourful Mexican appetizer, mostly similar to ceviche, where shrimp is marinated in lime juice, and with chiles and cilantro. A simple yet delicious Mexican side dish that is low-carb and keto-friendly.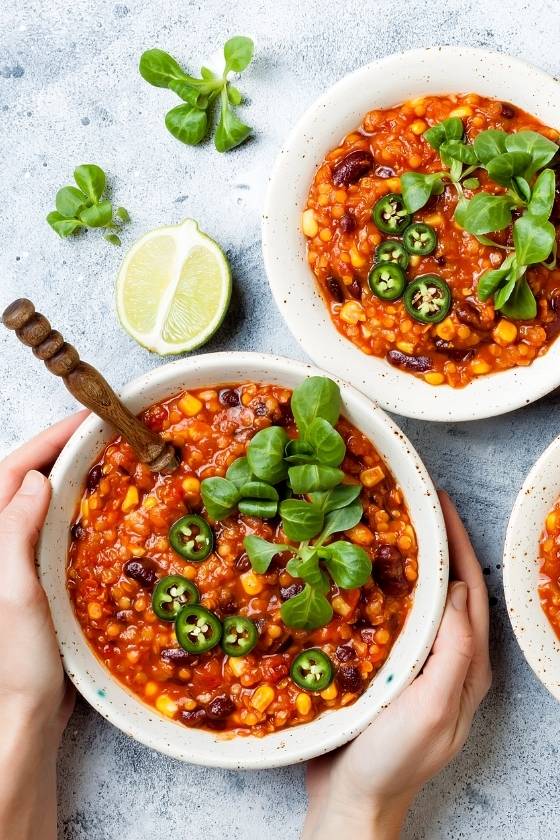 Full Recipe on – Magenta Streaks
Whether you need a quick healthy dinner on the table in the next 30 minutes or you're looking for an easy & budget-friendly recipe, this Vegan 3 bean Chili has got you covered! This vegan 3 bean chili is a perfect easy weeknight meal, it's a one-pot recipe with all the benefits of a good nutritious vegan meal, and the best part is everything comes in under 30 minutes or maybe less!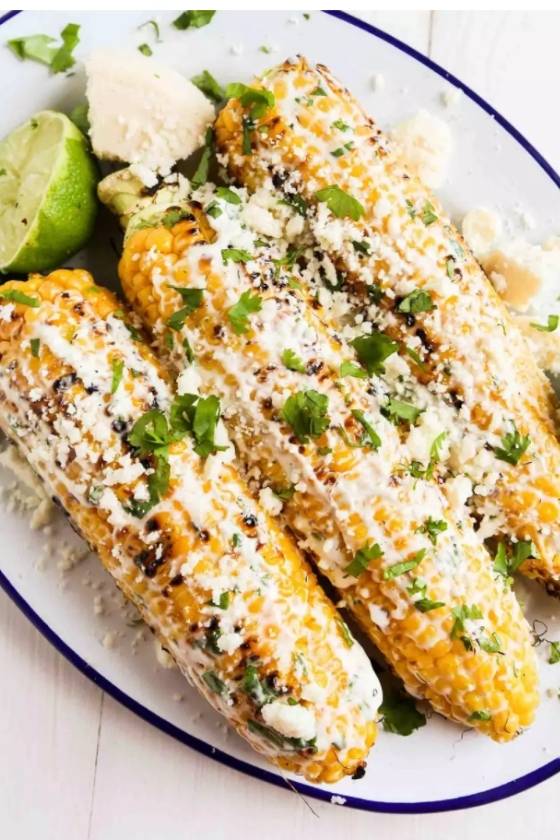 Full Recipe on – Simple Recipes
Mexican Street corn aka Elote is a staple of summer which is really easy to make at home, with minimal ingridents! The top charred grilled corn on the cob with a tangy, creamy sauce, sprinkle with crumbled cheese, and it just tastes amazingly delicious! Make this for your Cinco De Mayo Feats or your backyard cook-out.
Out-Of-This-World Mexican Tacos Recipes 
It's not a Mexican fiesta without some ultimate taco spread! Now that you know some basics of how to cook chicken and shrimp which are listed above, these tacos are easy-breezy to make with warm-up up corn or whole what flour tortillas and a few other toppings ingridents. Here's are some delicious tacos recipes –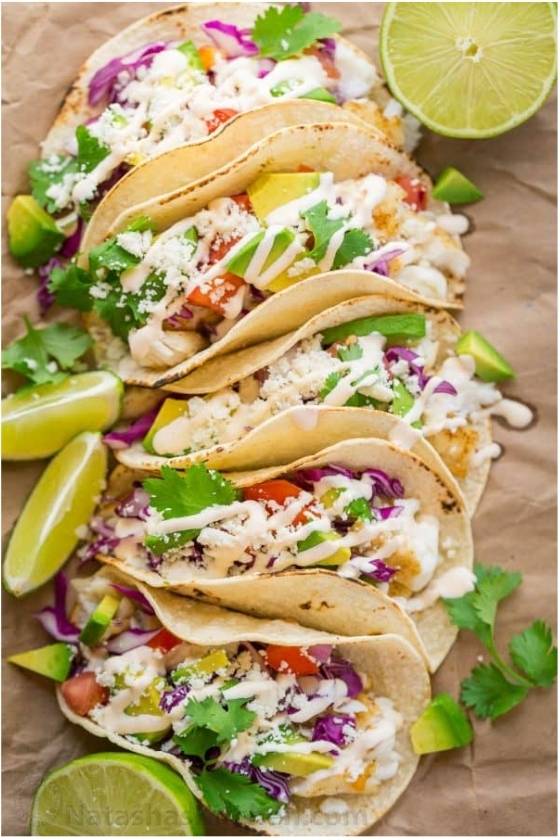 Full Recipe on – Natasha's Kitchen 
Delicious and flavourful, easy-to-make Fish tacos with lime and crema are made with seasoned fish, cabbage slaw, and creamy lime sauce. And everything comes in under 30 minutes to prep and serve.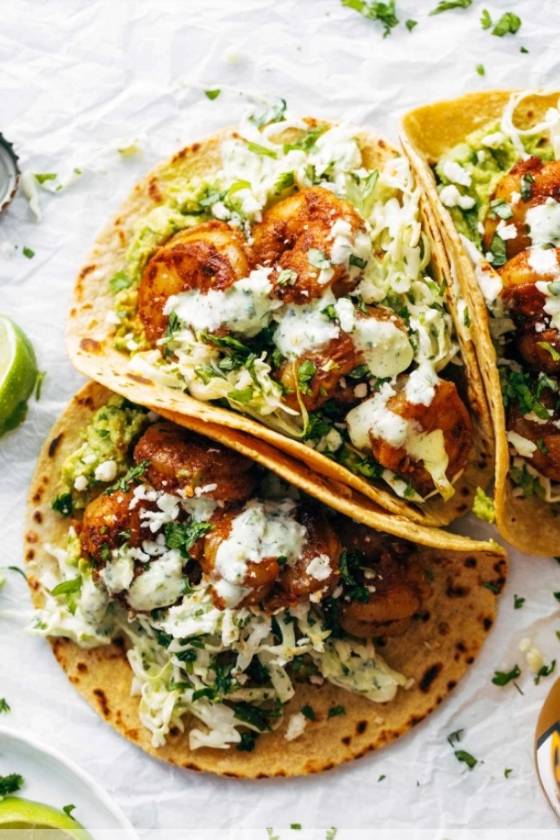 Full Recipe on – Pinch of Yum
This easy-to-cook Mexican-inspired shrimp tacos recipe is made with spicy and zesty shrimp, cilantro-avocado slaw, and homemade creamy lime sauce. Topped with crumbled cotija cheese and wrapped in a homemade corn tortilla with a wedge of lime squeezed over the top.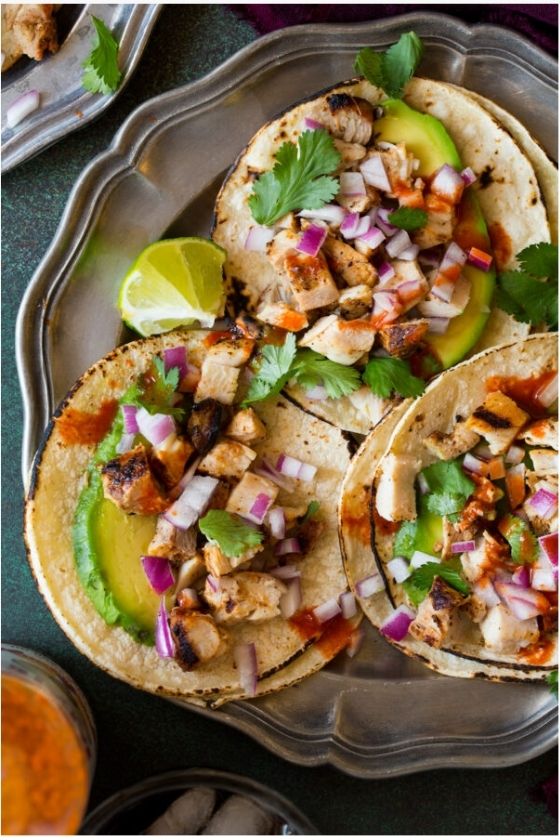 Full Recipe on – Cooking Classy
Tender and charred grilled chicken thighs spiced with a special blend of homemade tacos seasoning can be grilled, baked, or cook on the stovetop. It's Pairs well with tacos, burrito bowls, or on salad, and the best part its freezes really well!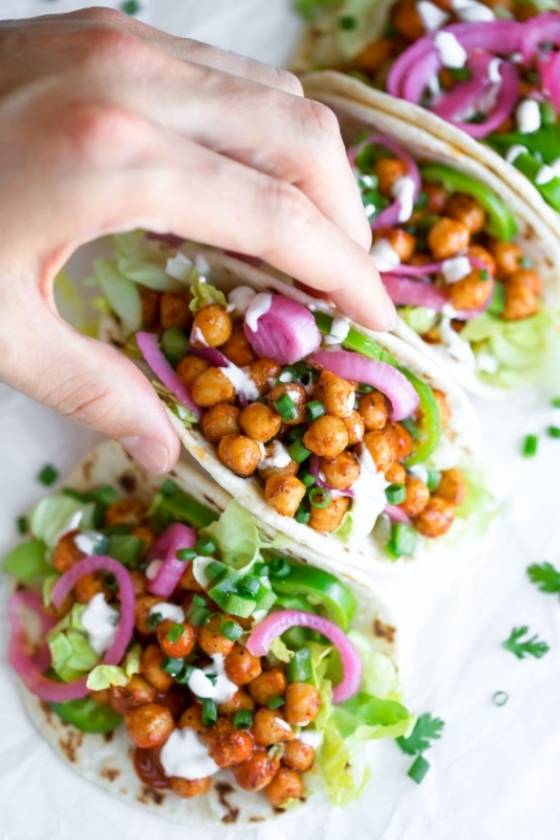 Full Recipe on – Peas and Crayons 
These flavourful roasted chickpeas tacos are the ultimate low-effort, meatless, mid-week meal. Best for your next Mexican feast or Cinco De Mayo Feast. It's easy to prepare, a great weeknight meal, make this with air fryer roasted chickpeas to make it more healthy (or an oil-free version of vegan chickpeas tacos).
Full Recipe on – Completely Delicious
Healthy and protein-rich black bean, roasted veggies, avocado, loaded with flavor, and easy to prepare and the tacos filling only need 5 minutes to cook!  These meatless tacos will please even the most adamant carnivores in your life.
Delicious Mexican Burrito Bowl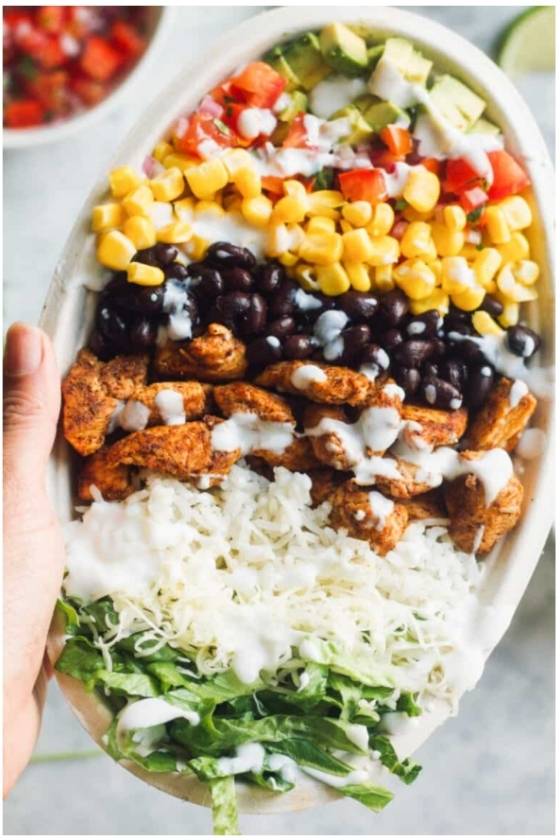 Full Recipe on – Easy Chicken Recipes 
A chipotle-inspired chicken burrito bowl is the ultimate Mexican fiesta feasting platter. It's bursting with flavors and spices and is a more delicious (and easier on the wallet) homemade chipotle copycat recipe. Plus it's really tasty and best for meal prep and easy lunch!
Want some more Chipotle Inspiration, then try this recipe!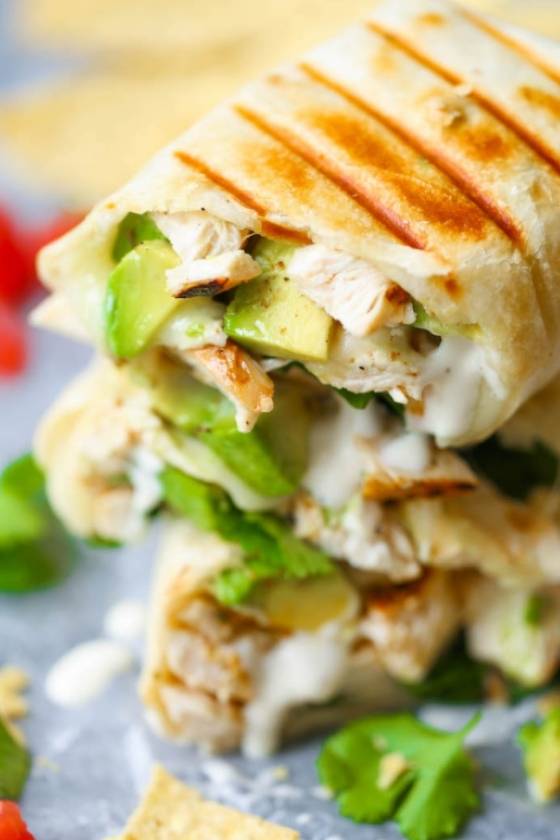 Full Recipe on – Damn Delicious
A great Mexican recipe with grilled chicken and avocado, these are incredibly delicious and easy to make. If you haven't made this yet- put it on the list of Mexican recipes to try now! So flavorful!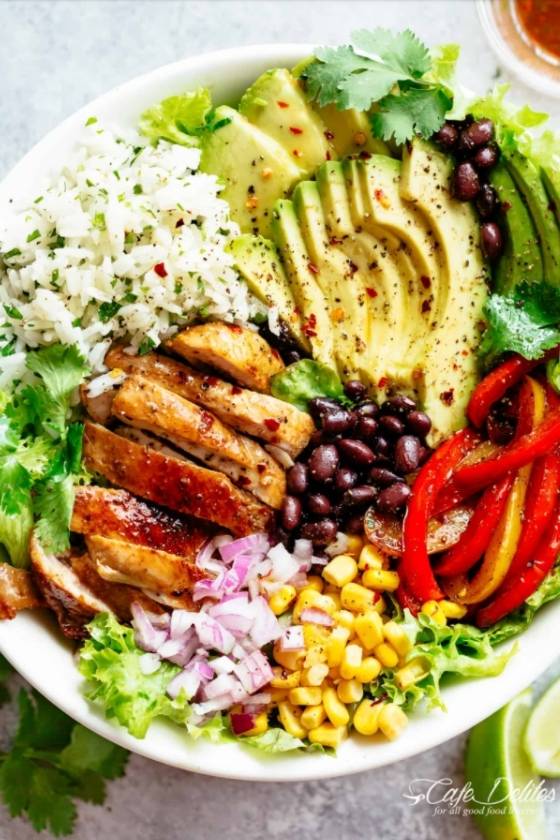 Full Recipe on – Cafe Delites 
A classic Mexican dish loaded with fajita chicken, bell pepper, black beans, sweet corns, red, onions, and cilantro lime rice with a generous drizzle of cilantro-lime dressing. This chicken burrito bowl recipe is super easy and versatile, perfect for meal prep dinner or lunch. This bowl is my new favorite Mexican recipe!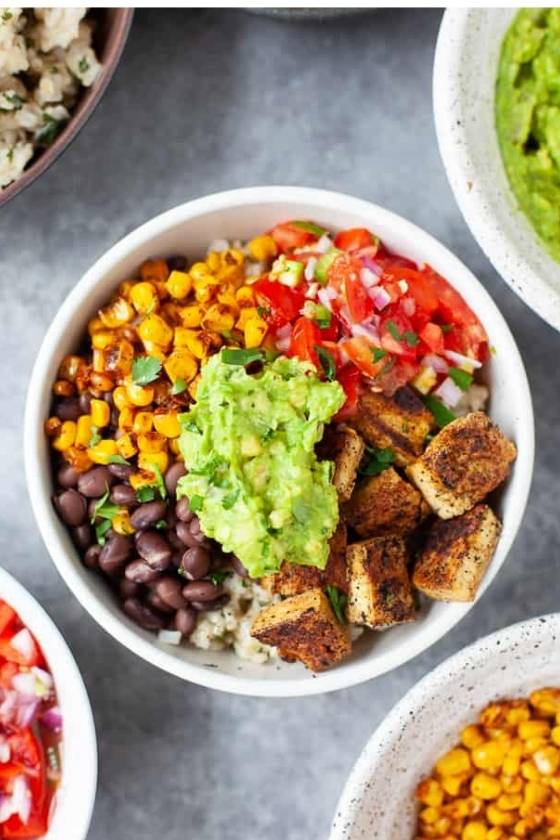 Full Recipe on – Kara Lydon
Can anything beat a bit of Tex-Mex? This easy and healthy vegetarian black bean burrito bowl with green rice is loaded with flavors! It's filled with plant-based protein, naturally vegan, and gluten-free makes it a great vegetarian Mexican Meal! If you haven't made this yet- put it on the list of Mexican recipes to try now! So delicious!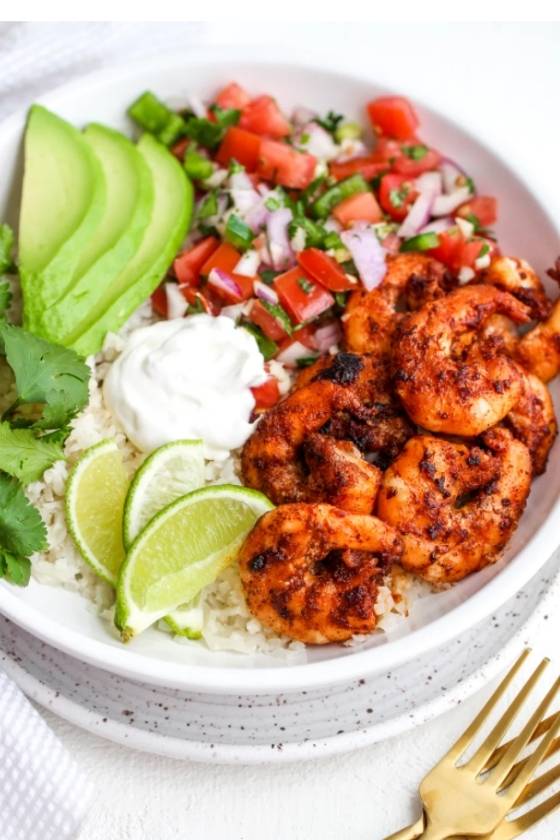 Full Recipe on – The bettered Blondie
The best Mexican Shrimp burrito bowl made with spiced shrimp, corn, black bean, tomatoes, and chilies, toasted with a  honey-lime glaze. They are low carb, Paleo, and Whole30 but taste like you got it from your favorite restaurant. Easy, Healthy, and full of delicious Mexican Flavor!
ESSENTIAL MEXICAN SALSAS AND DIPS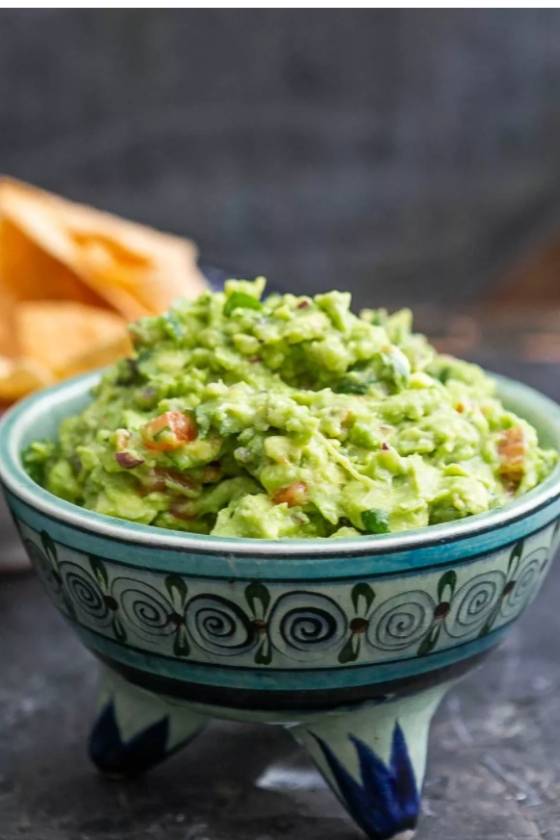 Full Recipe on – Simple Recipes 
The best and flavourful guacamole keeps it's simple and easy- you just need ripe avocados, salt, a nice drizzle of lime, onion, chiles, cilantro, and some chopped tomatoes. Serve it a dip at your next potluck or Mexican feast or just spoon it on top of tacos for any easy dinner upgrade. An amazing flavorful Mexican appetizer that is vegan, gluten-free, and healthy.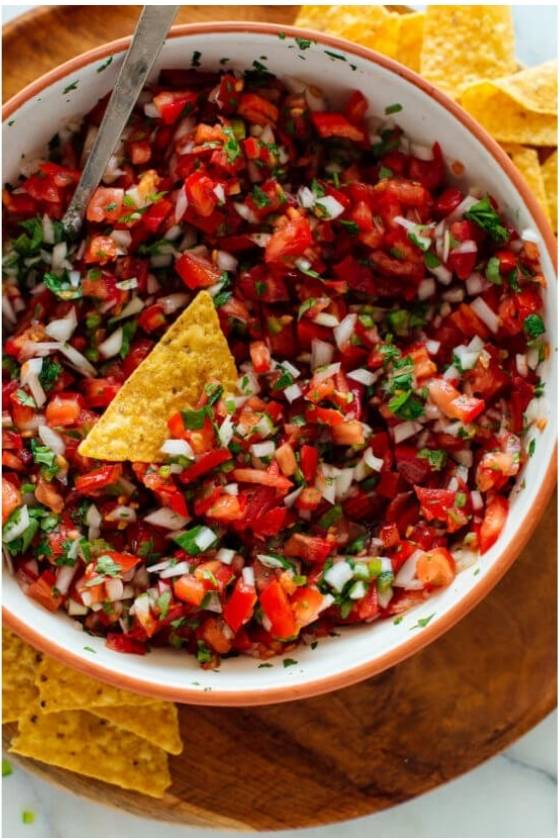 Full Recipe on – Cookie and Kate 
What Mexican Feast would be complete without pico de gallo?  Pico de Gallo is a popular Mexican salsa. It is also known as "Salsa Fresca," or "Salsa Cruda." which adds a fresh, healthy, low-calorie boost of flavor to just about any Mexican meal.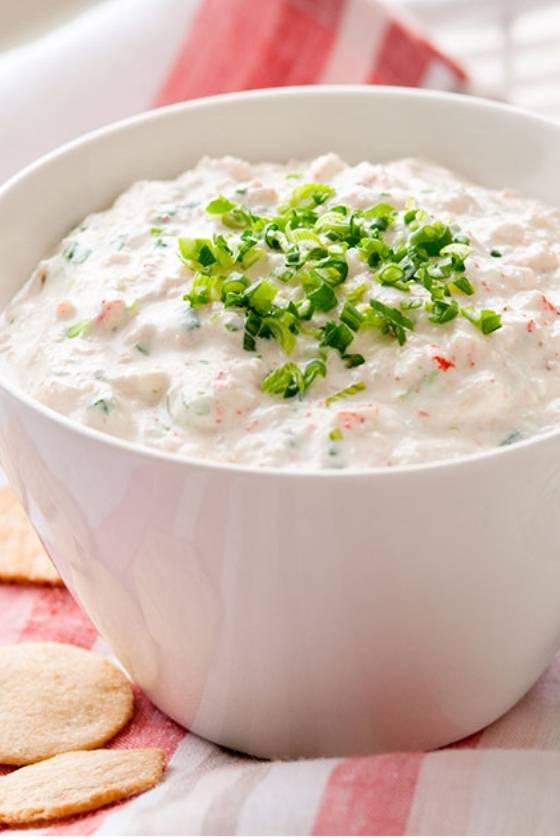 Full Recipe on – Smiths Brand 
A Mexican-inspired creamy pico de gallo is a perfect dipping recipe for those who love creamier dipping sauce with less spicy salsa. And it couldn't be easier to make! It's just the authentic juicy Pico De Gallo with greek yogurt. This version is not a traditional Mexican dipping recipe but it sure a tastier variation.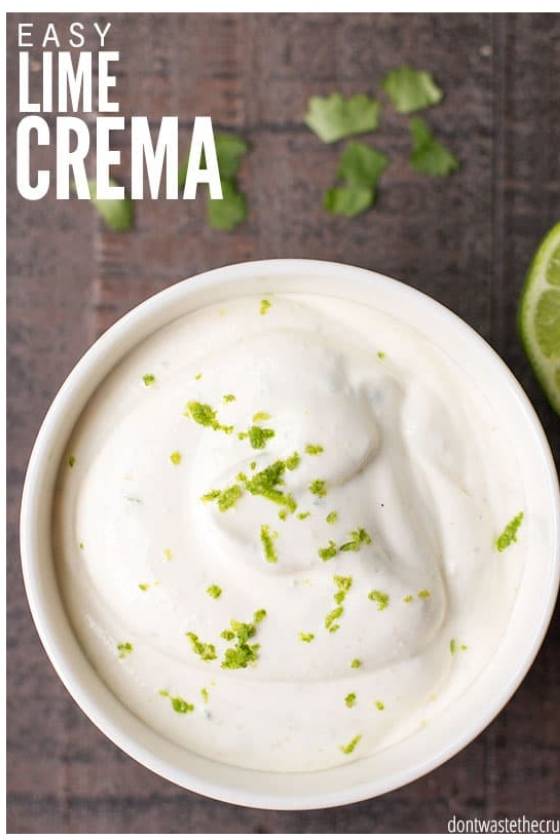 Full Recipe on – Dont Waste the Crumbs 
Lime crema is a zesty, tangy cream that is a delicious and tasty alternative to plain sour cream! A simple blend of mayonnaise, cilantro, sour cream with a nice drizzle of fresh lime juice, turns into a zesty sauce that can be added to almost everything! This authentic Mexican recipe is made with everyday ingredients! You will love it!
Quick and Easy Mexican Salad Recipe:
This Mexican street style Black bean and corn salad is loaded with nutritious ingridents, creamy dressing which makes it a perfect summer side dish to bring to a BBQ or Potluck. Tossed in a flavourful sour cream and mayo-based dressing with a touch of chili and lime juice.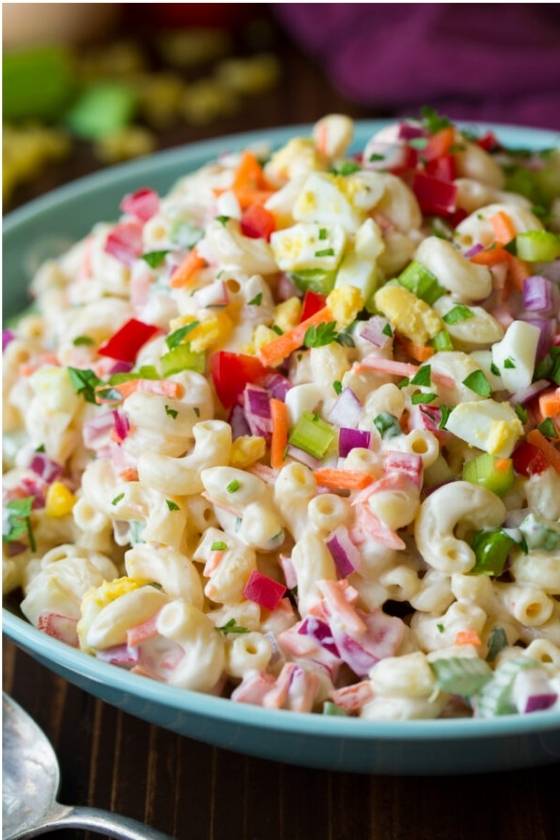 Full Recipe on –  Cooking Classy 
This is a classic Mexican Macaroni salad Recipe. Creamy Macaroni salad with eggs and crispy veggies dress in simple and creamy mayo-based dressing, this is guaranteed to be a hit at every Mexican feast or potluck this year.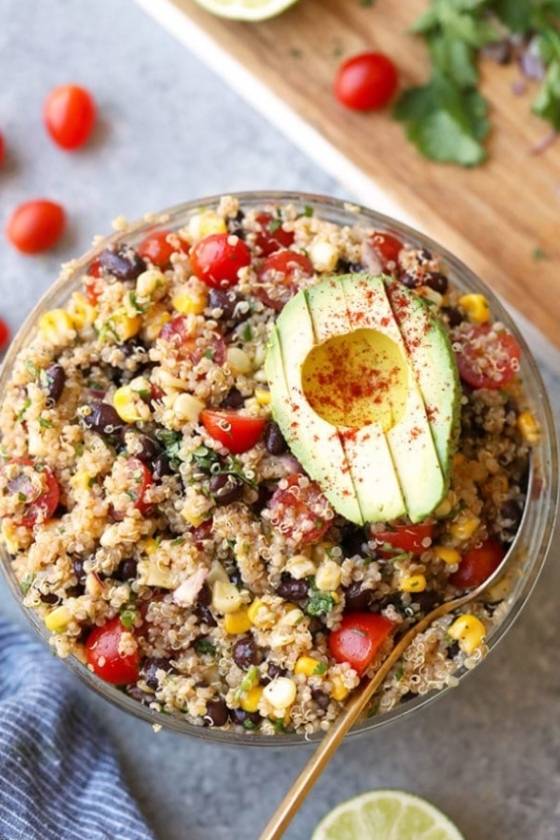 Full Recipe on – Fit Foodie Finds 
This healthy Mexican Quinoa salad is a quick and easy-on wallet delicious dish! Healthy avocado, protein-rich black beans, cilantro, and a little heat make this Mexican quinoa recipe more healthy and delicious! Tossed in a speedy homemade chili lime dressing, this fiesta quinoa bowl is full of flavor!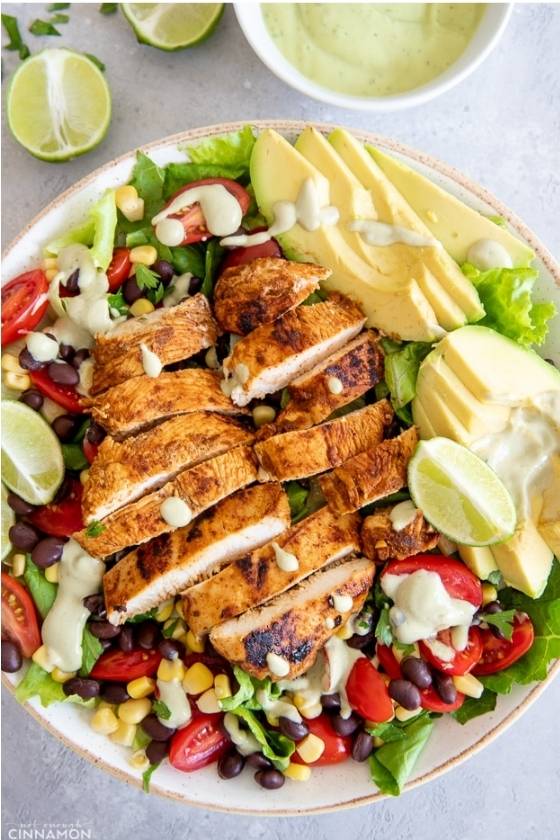 Full Recipe on – Not Enough Cinnamon 
This easy Southwestern Chicken Salad recipe is a healthy and easy alternative to restaurant takeouts!  This colorful salad is full of interesting flavors. The creaminess of the avocado, peppery arugula, sweet mango, cilantro, and lime make for a nutritious, flavor-packed salad. It will remind you of hot summer days!
If you make any of these Mexican recipes, let me know how it turned out! I'd love to hear what you think in the comments below.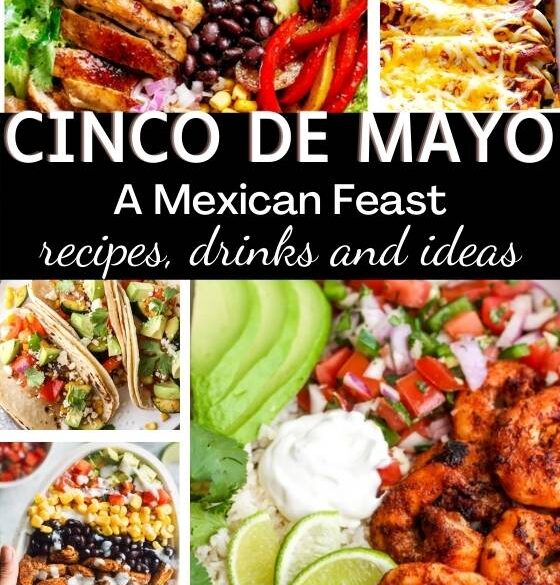 Ingredients
rice

beans

tortillas

tomatoes

avocado

cabbage

salsa

black bean 

grilled chicken 

lime crema
Instructions
Make a list of ingridents which you can easily get from your nearby stores, keep it simple and only pick out few recipes. You don't want to be exhausted with cooking that you cannot enjoy the get-together!
Make whatever you can ahead of time, maybe a day before the party. 
Enlist some friends to make or bring some sides.
Do not forget to make some amazing classic Mexican condiments (most of them can be made ahead of time). 
Plan everything on time, start cooking and arranging the feast just 2 hours prior to the party, take a glass of drink and relax. 
If you are feeling exhausted and your legs are tired, from cooking and cleaning, just take 10 minutes and lay down on the floor on your back with your legs up the wall! It will help you feel relaxed and fresh! 
If you dont want to make any fancy Mexican dishes then just whip up some burrito bowls or tacos! They are easy to make and need very little time and ingredients. Just Grill some chicken or shrimp and prepare the rest ingredients, guests can assemble their own tacos and bowls.
Notes
Whether you are celebrating Cinco De Mayo or having a close family and friends gathering at home, these easy-to-make and delicious Mexican recipes are fun to make, packed full of healthy veggies with authentic flavors. 
Did You Make This Recipe?
[convertkit form=2234436]