This Mexican street style Black bean and corn salad is loaded with nutritious ingridents, creamy dressing which makes it a perfect summer side dish to bring to a BBQ or Potluck. Tossed in a flavourful sour cream and mayo-based dressing with a touch of chili and lime juice. This healthy Mexican salad holds up really well in hot summer and it can be made year-round with any kind of corn (fresh, canned, or frozen) with unlimited variations!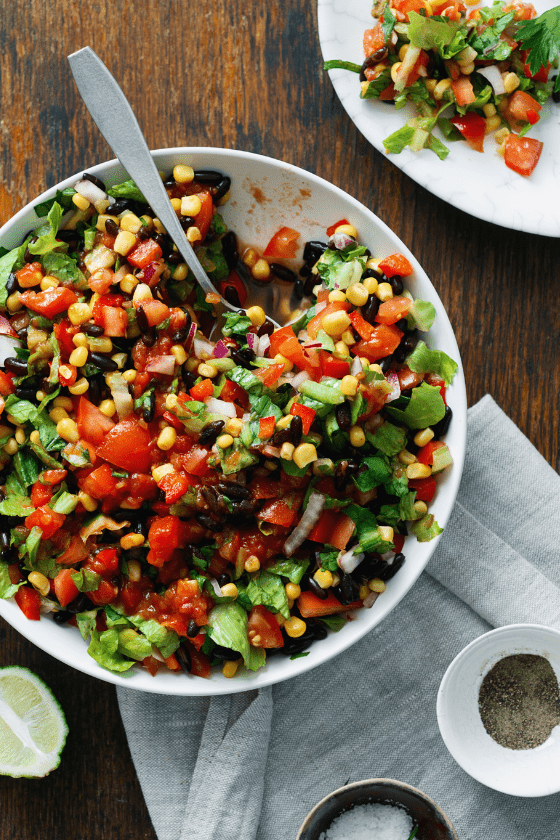 This Mexican style salad pairs amazingly well with grilled chicken, and fried fish and it's the best way to eat lots of chopped veggies at once – to help meet the recommended intake of essential nutrition of veggies for the day.
It also makes an incredible chip dip, if you want to serve it as a party appetizer. Or you can also serve it over some chicken or shrimp tacos. Countless options here!
This is just one of those must-have side dish recipes, which is good in so many ways!
What is Black Bean and Corn Salad?
It's a beautiful time of the year when you get to have your hands on these golden yellow and juicy corns! This is why I am trying to come up with more and more healthy and quick recipes featuring this wonderful vegetable.
So, it's time to say Hello to one of the best summer salad recipes, that I have ever made – Mexican street corn salad! It's so easy, calls for minimal ingredients, and the best part about this Mexican salad is you can easily make it ahead of time as it stays really well in the fridge. 
The reason why I love this beautiful salad is you can add any type of corn – it can be frozen, charred, canned, boiled, or even grilled corn. 
I have already posted some of my favorite corn recipes- Mexcian street corn pasta salad, Southwest Pasta Salad, and grilled corn on the cob with garlic lime butter. But I wanted to come up with more side dish recipes for the upcoming Cinco de mayo or for our next backyard BBQs and get-togethers this year!
So I thought why not add this Mexican style street corn salad to the menu. And I know it won't disappoint anyone, it is a super filling and perfect side dish for vegetarians who want some extra plant-based protein. 
You'll Love Black Bean Salad Recipe
Vegan, Gluten-free, Dairy-free, and Grain-free; a healthy salad recipe 
Perfect for hot summer days or BBQ and Potluck Side dish 
A satisfying yet healthy comfort food 
Quick and easy to make with minimal and easily available ingridents 
A healthy, wholesome, Protein-packed meal 
Great for meal prep, lunch, or busy weeknight dinners!
Ingredients For Black Bean & Corn Salad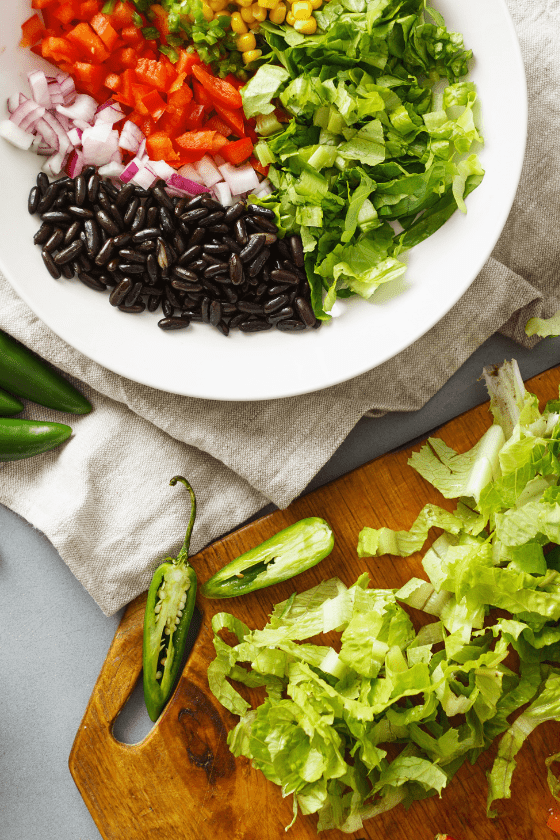 A complete list of ingredients with amounts is located in the recipe card below.
Corn: you can use fresh or frozen (refer to notes for more information). Cut the corn from the cob, drizzle olive oil or avocado oil, coat with, Mexican spice mix or the Fajita spice mix to give the corn a deep flavor. Grill or roast it to perfection.
Pasta: (OPTIONAL)You can use any kind of pasta you like, it's totally up to you! I love to use penne pasta, though a bowtie can be a perfect choice. If you want to make gluten-free pasta salad I would recommend using this pasta.


If you have any other great and affordable gluten-free pasta recommendations, I'd love to hear them in the comments! 

Red onion: I am using only a little bit of it just for crunch, but if you love you can add more. 
Bell pepper: you can use red, green, or yellow, it adds a nice crunch to the salad and makes it colorful. 
Black Bean:  you could also use dry and cooked black beans.
Tomato – I used finely chopped tomatoes here but most mild-sweet types will work fine.
Fresh Cilantro: Freshly chopped cilantro or parsley adds freshness to the Mexican salad. You can also add the green onion (scallions) for more fresh options.
Creamy Mexican Dressing: This creamy dressing is basically a simple mayo-based salad dressing with – sour cream, chili powder, fresh lime juice, salt, mayo, and ground black pepper.
Ingredients Needed for the Dressing
Olive Oil: You can use either regular or extra virgin olive oil. 
Lime: use freshly squeezed lime juice and not bottled. 
Garlic: Use 2 to 3 minced garlic cloves to get a strong kick of garlic flavor. 
Cumin and Chili powder: Just use a pinch of chili and cumin powder, so it doesn't overpower those fresh chopped veggies and black beans. 
Cilantro: Do not skip this, this adds a lot of key flavor to the black bean and corn salad. 
Honey: it helps to bring out the natural sweetness of tomatoes and corn. It's a nice pairing to the acidic lime as well and helps emulsify the dressing.
Salt and black pepper: as per your taste preference. 
What kind of corn should I use for the Mexican salad Recipe?
Fresh Corn:

You can find Fresh corn mostly during spring and summertime, if corn is in the season where you are, you can definitely use corn on the cob! It tastes better than the canned corn. I used 2 ears of fresh corn for this summer salad recipe, which will yield about 1 to 2 cups.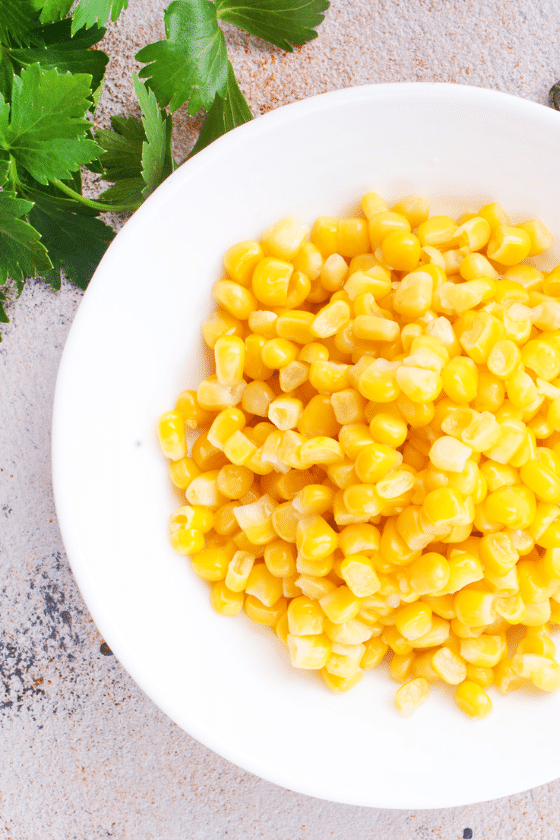 Frozen Corns:

If you want to save your preparation time then you can definitely use frozen corn, as you do not need to thaw them. Just add 1 to 2 minutes extra cooking time when sauteing the frozen corns in the iron skillets. You need to use 1 to 2 (10oz) bags that should yield the same amount required for this Mexican corn salad recipe. 

Canned Corns:

if you are using canned corn make sure to drain and rinse to wash the canned corn before using it, to get rid of extra salt and preservatives. I would recommend using 1 to ½ cans of corn, it's a great substitute for fresh corn.
How to make Mexican Black Bean and Corn Salad 
Grilled or roasted corn can be used for this Mexican street corn. Detailed instructions about preparing corn (frozen or fresh) are provided on the recipe card below. 
In a small bowl place all ingredients of creamy Mexican salad dressing and mix well to combine. 
Place all the Mexican salad ingredients in a large mixing bowl. 
Pour the creamy Mexican salad dressing over the corn and veggies. 
Mix everything properly to combine. 
Let the chopped corn salad sit for a couple of hours before serving it, this will intensify the flavors of this healthy corn salad.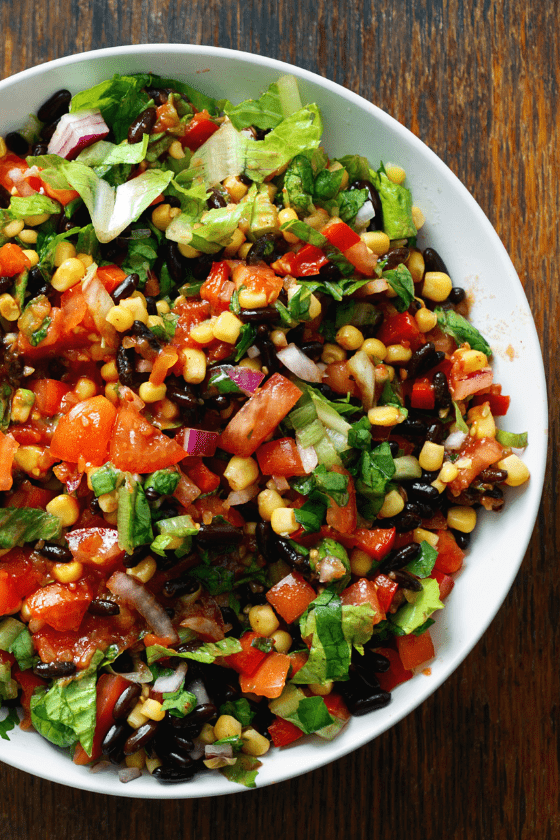 Tips and Variations: 
Make sure to cook your pasta in moderately saltwater, as this is the first step to season your pasta perfectly. Cook the pasta until al dente, or cook the pasta just 1 or 2 minutes less than the time recommended on the pasta package. 
If you want this vegan Mexican salad more filling or want to make it a main dish then simply add some grilled chicken or shredded chicken to it.
You can add any type of corn to this classic elote salad recipe, use frozen roasted or charred anything will work great. If you are using canned corn then make sure to drain it properly.
To make it Vegan: simply sub cotija cheese with vegan cheese 
To make it Gluten-free: Use certified gluten-free pasta. 
You can add any type of veggies to this elote salad recipe, you can add broccoli, cherry tomatoes, baby spinach, or anything leftover vegetable you want to use.
Want some more Mexican Inspired dishes for Cino de mayo or for your next Mexican feast? 
More Healthy Salad Recipes: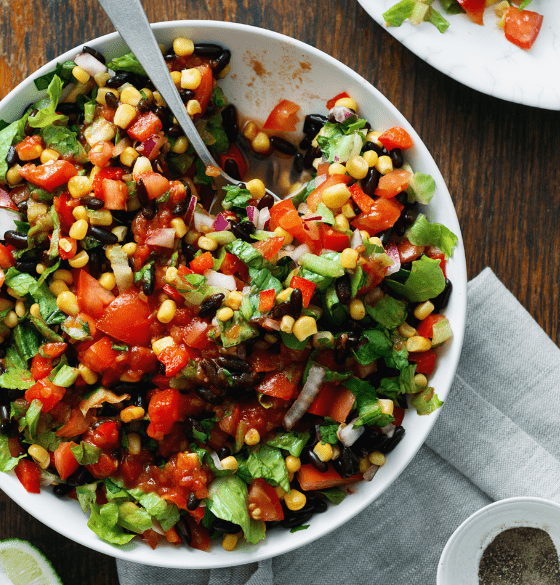 Ingredients
1 (14.5 oz) can black beans, rinsed and drained well
1 cup fresh or frozen corn (thawed according to package instructions)
1 cup chopped tomato 
1 cup seeded and chopped bell pepper
1/2 cup diced red onion
1 medium avocado (optional)
1 small jalapeno, seeded and minced (optional)
Dressing
4 tbsp olive oil
3 tbsp fresh lime juice
1/3 cup chopped fresh cilantro
2 clove garlic, minced (1 tsp)
1 tsp honey
1/4 tsp each ground cumin and chili powder
Salt
Black Pepper
Instructions
In a small bowl place all ingredients of Mexican salad dressing and mix well to combine. 
Place all the Mexican salad ingredients in a large mixing bowl. 
Pour the Mexican salad dressing over the corn and veggies. 
Mix everything properly to combine. 
Let the chopped corn salad sit for a couple of hours before serving it, this will intensify the flavors of this healthy corn salad.
Did You Make This Recipe?