The Classic Quinoa Tabbouleh Salad is light, and refreshing, and makes a perfectly healthy side dish for the summer! It's an easy salad recipe filled with fresh herbs, veggies, aromatic parsley, hearty and fluffy quinoa, chickpeas, and a lemon dressing. This Quinoa salad is naturally vegan and gluten-free! It's super easy & quick and takes only a few simple ingredients to make.

Quinoa Tabbouleh Salad
If you've never heard of the Tabbouleh recipe before, it's a vegetarian salad dish that originated in Lebanon. The traditional Tabbouleh salad is made with bulgur, cucumber, chickpeas, and a few other veggies or simple ingredients.
Since I wanted to make the gluten-free tabouli but was inspired by the traditional recipe, I've used quinoa instead of bulgur. This healthy grain salad is naturally vegan and gluten-free, so you cannot go through the summer without trying this easy salad recipe!
Why This Recipe Is a Must-Try!
Vegetarian, gluten-free, vegan, dairy-free and soy-free

Light & fresh yet filling & satisfying

Surprisingly easy || minimal ingredients required

A healthy, wholesome, protein-packed meal

Great for meal prep, lunch, or dinner!

Easy to make and ready in 30 minutes

Why Use Quinoa for Tabbouleh?
Using quinoa in a Tabbouleh recipe is a fantastic alternative to the traditional use of bulgur wheat. Quinoa offers a range of benefits that make it a great choice for this classic Middle Eastern salad:
Nutrient-rich:

Quinoa is packed with protein and essential amino acids, making it a valuable source of plant-based nutrition.

Gluten-Free:

Unlike bulgur wheat, quinoa is gluten-free, making it suitable for those with gluten sensitivities.

Fiber Boost:

Quinoa's high fiber content supports digestion and helps control hunger.

Textural Delight:

Its nutty crunch adds a pleasing texture to the salad.

Versatile Flavor:

Quinoa absorbs dressing and herbs, integrating well with Tabbouleh's taste.

Diet-Friendly:

It caters to vegetarian, vegan, and plant-based diets.

Enhanced Nutrients: Quinoa often offers more vitamins and minerals than bulgur.
Ingredients for Quinoa Tabbouleh
Okay, so here's the deal with this summer salad – it only requires 8 ingredients and less than 10 minutes to make, if you have cooked quinoa on hand.
If you're already ready to get started, just scroll down below to get the detailed recipe!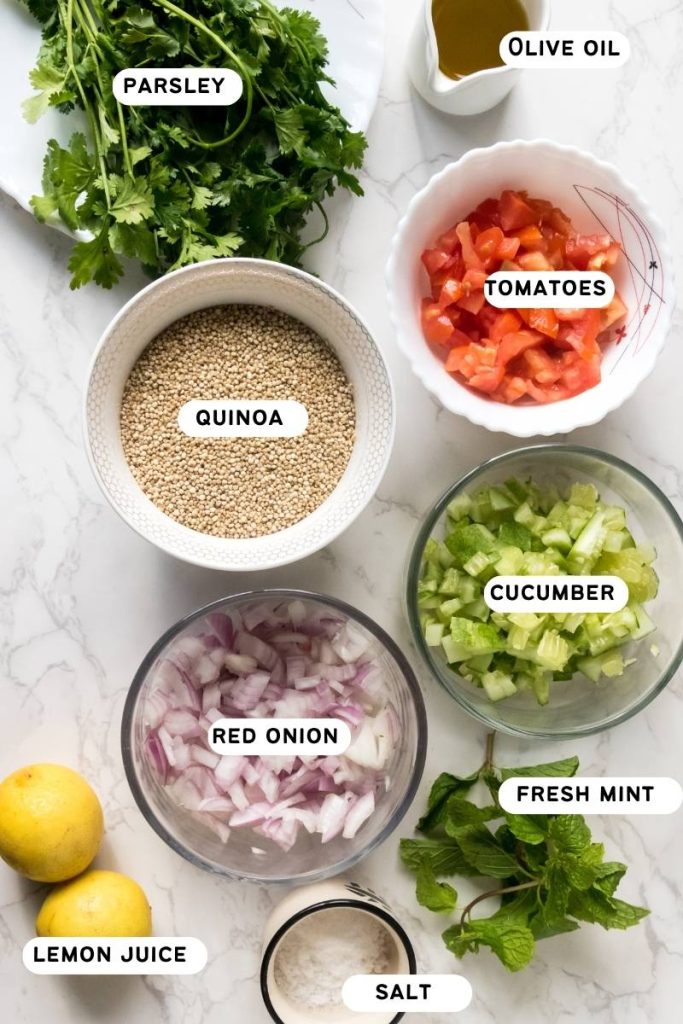 Quinoa: Cooked, cooled quinoa. You can use any variety (white, black, or red) of quinoa you love. Chill the grain before making the tabbouleh to keep this salad refreshing and cool. I find that quinoa adds a nice texture with a basic flavor to the salad and allows other ingredients to pop! 
Olive Oil: This helps to elevate the flavors and texture of the salad. My preferred cooking method for quinoa is by gently toasting it in a pot with olive oil and then simmer on low with water, with a pinch of salt. The quinoa absorbs the oil and highlights the flavor.
Cucumber: It adds a refreshing crunch and bright green color to the dish. 
Tomatoes: Make sure to add the juiciest tomatoes you have, the sweeter the better! I prefer cherry tomatoes, but any size will work. Chop them into small pieces. If you cannot find cherry tomatoes you can also substitute them with some bell pepper.
Mint and parsley: These two herbs are must-haves in the traditional tabbouleh salad recipe. The mint provides a bit of a shape taste, while the parsley is super fresh and bright! Do not use dried herbs, and go for freshly chopped green herbs. 
A simple lemon dressing: Whisk some lemon justice, olive oil, salt, and pepper. And that's all you need for the salad dressing. This provides the necessary acidity to the salad.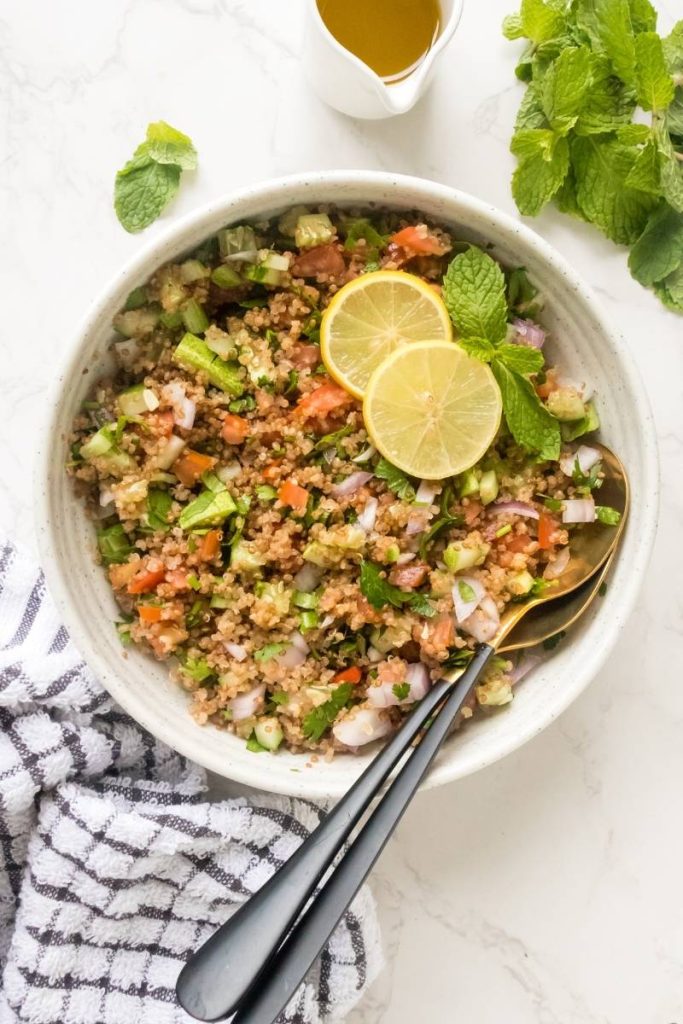 How to Make Tabbouleh with Quinoa
If you've had tabbouleh before it was probably at your favorite restaurant paired with some other delicious plates of falafel, hummus, and pita. But, today we're going to make it from scratch. 
The traditional tabbouleh salad includes bulgur or couscous, and as I said I wanted to make a gluten-free version of Tabouli. So, let's make a bit healthier version of tabbouleh with quinoa.
Here are the step-by-step instructions:
Step 1: Cook the quinoa –
If your quinoa is not already pre-rinsed (read the package info), make sure to rinse it using a fine-mesh strainer. And keep it in a bowl to get rid of excess water from it. 
To cook quinoa, heat olive oil in a pot over medium heat. When the oil is hot, add 1 cup of rinsed quinoa and toast it in the oil for about 30 to 40 seconds or until the quinoa is dry and smells a little toasty.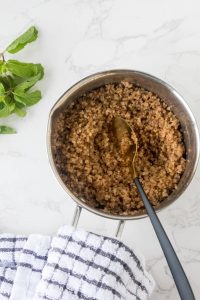 Then add 1 ¾ water or broth along with ½ tsp salt and stir it well. Bring to a simmer, stir it properly, and then cover it. Reduce the what to low and cook for about 20 to 22 minutes. 
After 20 minutes, remove the pot from the heat and take off the lid. Allow the steam and heat to release for about 5 minutes before fluffing it with the fork. Set it aside to cool.
Step 2: Prep the veggies and herbs
While the quinoa is cooking, let's prep the veggies for the salad. Roughly Chop cucumber, tomatoes green onion, fresh parsley, and mint. Set these ingredients aside until you're ready to serve the salad.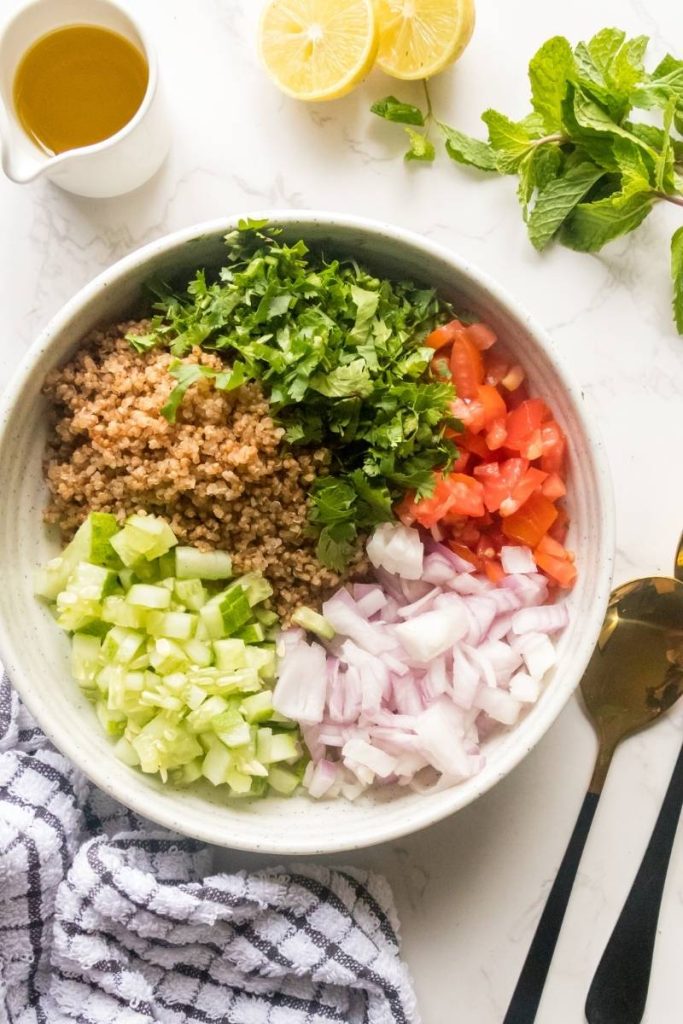 Step 3: Prep the Lemon salad dressing
Take a small bowl and add lemon juice, olive oil, salt, and pepper, whisk it properly and keep it aside.  Drizzle a few tablespoons of this lemony salad dressing when you're assembling the salad.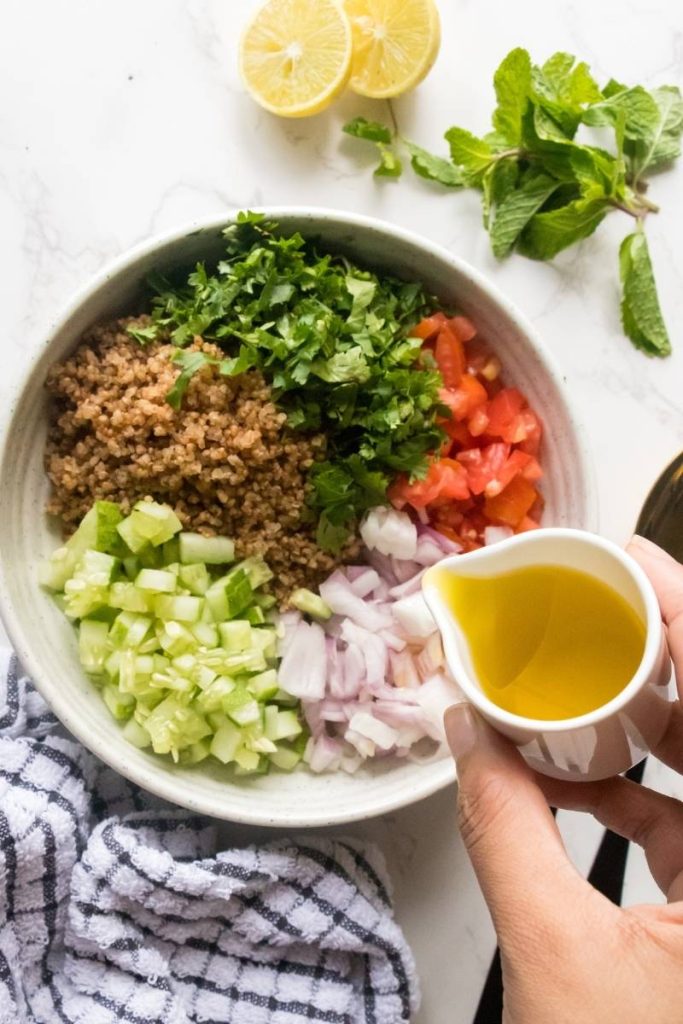 Step 4: Assemble the tabbouleh salad
Fluff the quinoa with a fork, transfer it to a large bowl, and add all the chopped veggies and the lemon salad dressing. Toss everything together until properly mixed, taste, and adjust the salt and lemon dressing as per your taste preference. 
Serve it immediately or transfer it to an air-tight container and refrigerator to chill before serving it.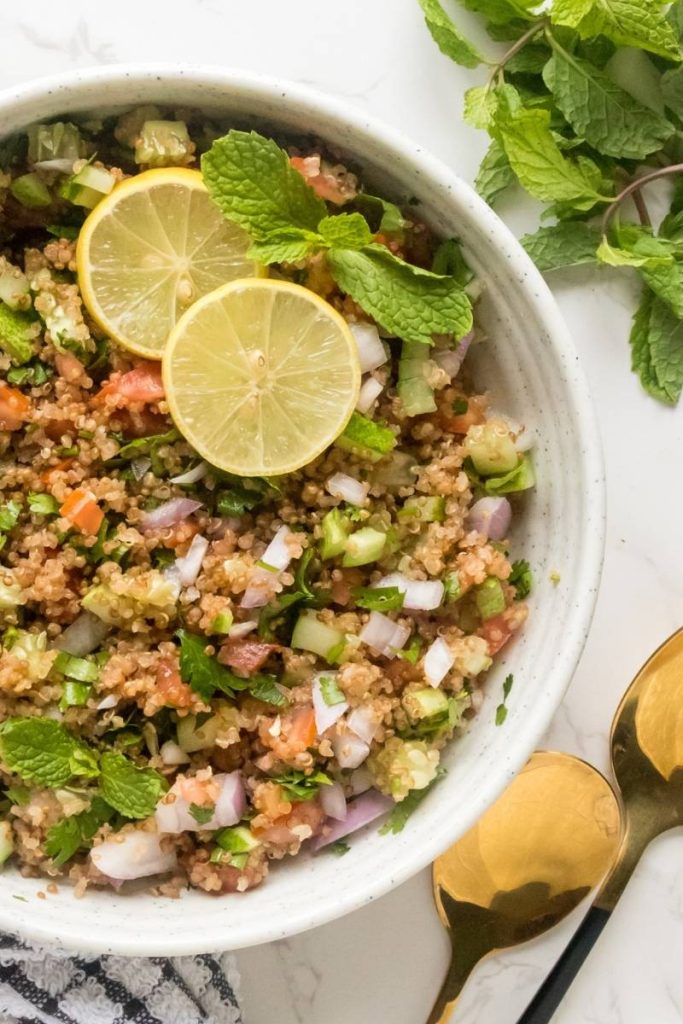 FAQs About Quinoa Tabbouleh without Bulgur
Spicy Quinoa Tabbouleh
If you prefer some spice to this herby salad dish, you can add a dash of chili salt or canny powder to it. If you cannot find either of these you can also add some crushed red chili flakes and increase the quantity of black pepper.
Adding protein to the salad
You can turn this healthy quinoa tabbouleh salad recipe into a full meal by adding some extra protein of your choice. You can add Crispy baked chickpeas, and crispy tofu, or if you're not making this vegan or vegetarian you can add grilled chicken thighs or air fryer chicken, or any different cooked protein to it.
Is Tabbouleh salad healthy?
Tabouli salad is an amazingly healthy and fresh summer salad recipe that includes lots of colorful veggies for vitamins, antioxidants, and fiber, and quinoa adds extra protein to the dish and makes it a well-balanced meal or a side dish that you can have any day!
Does Tabbouleh have gluten?
 Traditional tabbouleh or tabouli does contain gluten because of the bulgur, but in this recipe, we have used quinoa which makes it a healthy gluten-free salad recipe!
How long does quinoa tabbouleh last in the fridge?
You can make this vegetarian salad ahead of time. Store it in an air-tight container in the refrigerator for up to 3 days. However, the herbs and veggies may wilt a bit under the weight of the lemony dressing.
If you want to prepare this quinoa salad as a meal prep salad, here's what you can do- 
Cook the quinoa 

Prepare the lemon dressing 

Chop all the veggies and keep them in separate air-tight containers 
Store all containers in the refrigerator, and toss and mix them just before serving them.
More Salad Recipes You Might Like: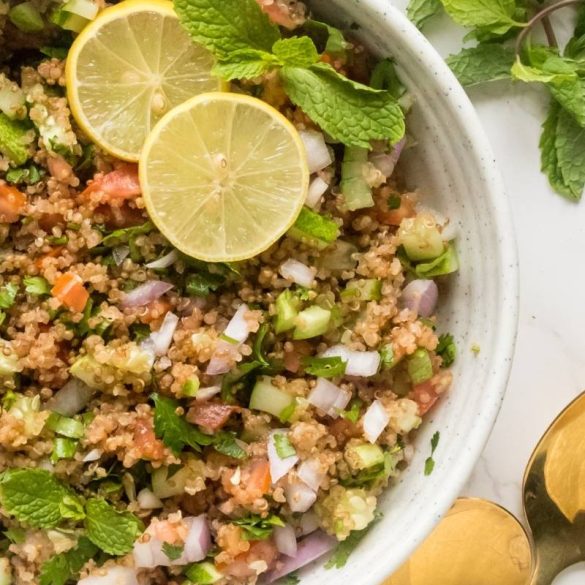 Ingredients
For Salad: 
1 cup quinoa

1 tbsp Olive oil 

1 cup water or vegetable broth 

½  tsp sea salt

1 cup chopped parsley (fresh)

1 cup diced cucumber 

1 cup sliced cherry tomatoes
For Lemon Salad Dressing: 
⅓ cup

olive oil

1 clove garlic (minced)

½ tsp sea salt

3-4 tbsp lemon juice

2 tsp dijon mustard

1 tsp

maple syrup

or honey

¼ tsp black pepper
Instructions
Wash 1 cup of quinoa under running water

using a fine-mesh strainer. And keep it over a bowl to get rid of excess water from it. 

Add water to a saucepan and bring it to a boil and add quinoa, cover and let it simmer, and reduce the heat to low. Stir it occasionally and cook until the liquid is fully absorbed. 

Turn off the heat and take off the lid and let it sit for 5 minutes. Allow the steam and heat to release for about 5 minutes before fluffing it with the fork. 

For the lemon salad dressing - take a small bowl add lemon juice, olive oil, salt, and black pepper, dijon mustard, honey, minced garlic cloves and whisk it properly and keep it aside. 

Add quinoa to a large mixing bowl along with all the chopped veggies - tomato, cucumber, pepper, parsley, mint, and lemon dressing. 

Toss everything together until properly mixed, taste, and adjust the salt and lemon dressing as per your taste preference. 

Serve.
Did You Make This Recipe?