This Baked buffalo wings recipe is a meal all by itself, or you can easily make a salad, tacos, wrap, or sandwich out of it to make a flavor-bursting meal ever! It's wonderfully juicy on the inside and has all the flavor of your favorite wings.
Let's see how to bake buffalo chicken wings perfectly – that will always be a hit at any party or get-together!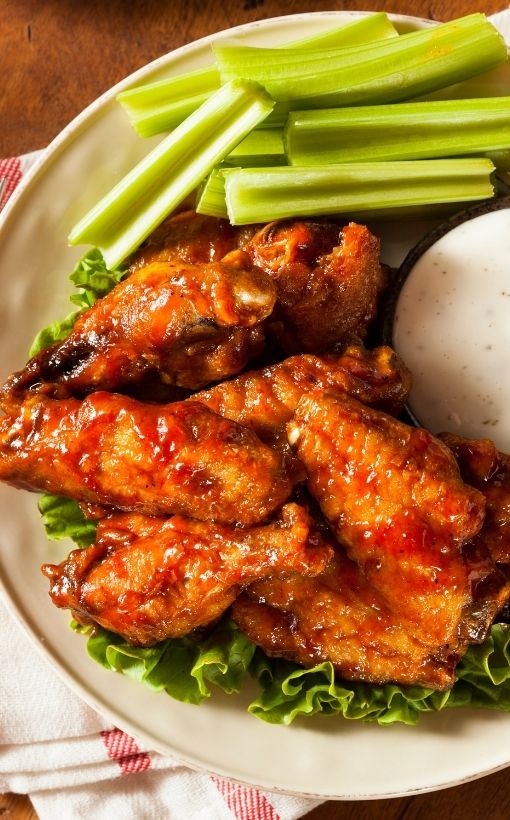 Baked Buffalo Wings: The Perfect Appetizer!
What are Buffalo Chicken wings? In simple terms, baked buffalo wings are crispy chicken wings nicely tossed in buffalo sauce. You can use homemade buffalo sauce, but this baked wings recipe is just as delicious as store-bought.
We're all about healthy and delicious appetizers, snacks, and desserts here at Magenta Streaks. This Crispy Buffalo Chicken is by far one of my favorite healthy appetizer recipes (our healthy Buffalo Cauliflower Wings are a close second!).
It's not because of my love for chicken wings, but because this recipe is really easy as well as healthy, and you can have a delicious appetizer ready in about 45 minutes. It's baked and not fried and has loads of flavor!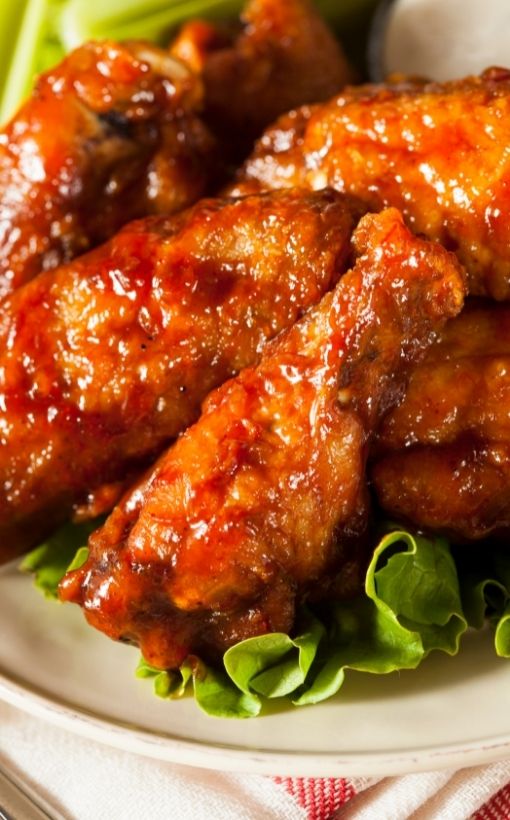 If you love buffalo as much as I do, check out my Air Fryer Buffalo wings and Sticky hot chicken wings recipe.
Why You Will Love This Recipe
Easy and Quick: You just need some simple kitchen ingredients to make this chicken wings recipe, and it's ready to serve in less than an hour.
Healthy: Perfectly healthy meal, loaded with protein and nutrition. 
Great keto-friendly meal, low in carbs, and easy to make! 
No prep required: lots of chicken recipes need marination time, but these can go straight into the grill.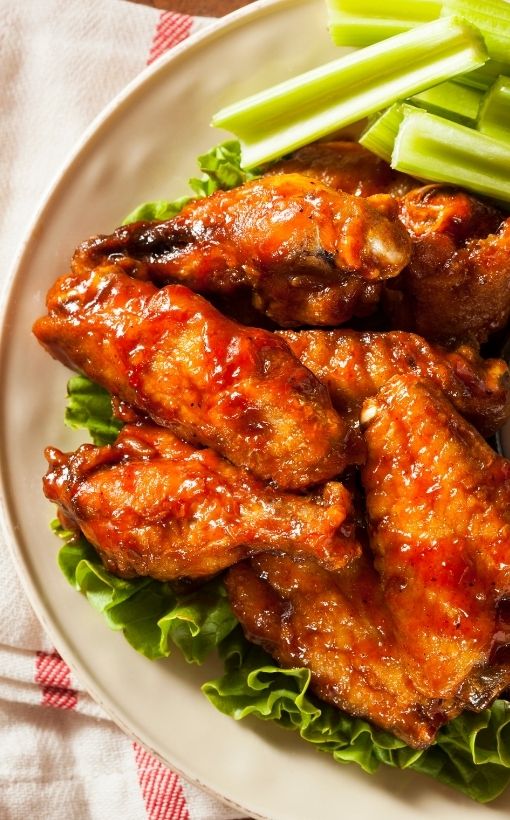 Ingredients 
Chicken Wings:

I use 3 pounds of them to even thickness and size so that they all bake evenly

All-Purpose Flour:

For coating the chicken and helping the other coatings stick.

Baking powder: It's the secret to ultra-crispy baked chicken wings.

Baking powder helps to draw moisture to the surface of the skin and make it crispier. 

Salt and Pepper:

For flavor.

Buffalo Sauce (homemade or store-bought): For coating the chicken and making the dipping sauce.
How to make Baked Buffalo Wings
Be sure to see the recipe card below for full ingredients & instructions!
Prepare the oven and pan:

Preheat the oven to

425°F. Set out a baking sheet, line it with parchment paper or aluminum foil, and keep it aside. 
Combine:

In a medium-sized dish, combine the flour and the seasonings (measurements in the recipe card) and rub them all over the chicken wings.

Dredge:

Dredge them (as per the recipe below) and allow them to sit. 

Bake:

Bake until golden brown

on each side until cooked through.

     

Mix and serve: Toss with buffalo sauce and bake one more time. And serve with crumbled blue cheese, chopped green onion, and ranch or blue cheese dressing.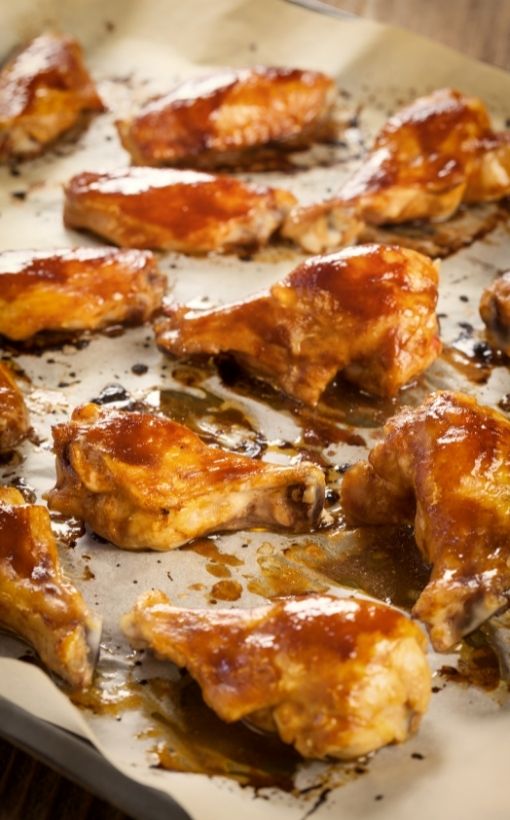 Baked Buffalo Wings Recipe FaQs
How long do you put wings in the oven? 
Keeping in mind that every oven is different, we would recommend baking these chicken wings for about 45minutes. 
And we remove them at 20 minutes mark, flip and bake for an additional 15 minutes. We prefer doing this so that the sauce is hot and tangy!
Can baked chicken wings be healthy? 
Yes, chicken wings can be healthy if you try baking them instead of deep-frying! Chicken is an excellent source of protein, and if you lower the sugar content in whatever sauce you use, it can be a regular meal option. 
Can you make this recipe with chicken Breast?
If you prefer chicken breast, you can totally make this recipe with those instead. They will call for a bit less cooking time than chicken wings and be sure they are cooked evenly from the inside.
More Chicken Recipes :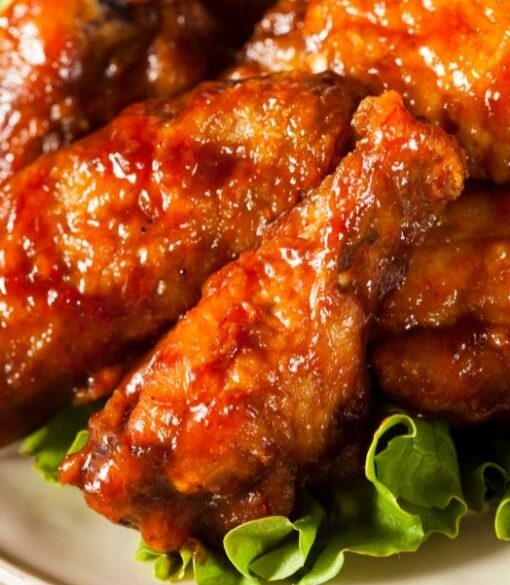 Ingredients
3 pounds party style chicken wings (split and tips removed)

1 tbsp baking powder do NOT use baking soda

1 tsp salt

1/2 tsp pepper

1/2 tsp garlic powder

1/2 tsp onion powder

2 tablespoons flour

1 ½ cups buffalo sauce store-bought or homemade
Instructions
Preheat oven to

425°F.

Prep dry rub by stirring together garlic powder, baking powder, pepper, and salt into a small bowl.

Line a pan with aluminum foil and place a piece of parchment paper on the foil. Now, place the chicken wings in a single layer on the baking sheet. 

Bake the chicken wings for 20 minutes, flip and bake an additional 15 minutes. 

In a small bowl, whisk together the hot sauce, butter, and honey. (skip if you are using store-bought buffalo sauce). 

Remove the chicken wings and pour the sauce. Mix the sauce until nicely coated. Slide the parchment paper from the pan.

Turn the oven to broil and broil the coated wings for another 10 minutes or until golden brown. (OPTIONAL STEP)
Did You Make This Recipe?