Banana and oat Waffles are easy to make (with just 3 ingredients!) and are the perfect breakfast option for busy mornings. These healthy waffles are just breakfast delights, crispy on the outside, and soft on the inside. This recipe comes under 20 minutes and is vegetarian, vegan, and easily gluten-free! This oat banana waffle is going to be your next breakfast staple in your house.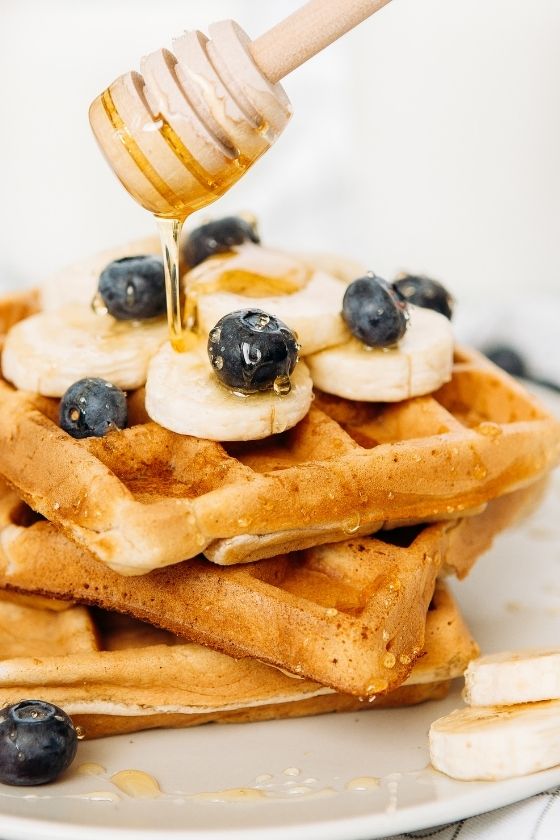 Healthy Banana & Oat Waffles
These healthy waffles are easy to make with just 4 ingredients, oat flour, banana, plant-based milk (for a vegan recipe), and a little bit of vanilla extract all simply whipped up in a food processor or a blender. You can serve them with fresh fruits with a drizzle of maple syrup or honey over them.   
These healthy and quick banana oat waffles are the best breakfast recipe for busy morning routines! Honestly, you cannot make a healthy as well as delicious breakfast during a rushed morning. But now you can easily do it. Because these healthy banana oats waffles take only 15 minutes, yes I am not kidding!! You can start by heating up the waffle maker and side by side just whip up the required ingredients in a food processor to speed up the process. Simply pour the batter into the waffle maker, and start chopping some fresh fruits or prepare some topping for it.
And here it is, a healthy and filling breakfast is right in front of you!! 
Are Waffles healthy?
Everything depends on what recipes or ingredients you are using, I have seen waffles recipes with all-purpose flour, with lots of refined sugar and artificial additives. They may taste good but they are not ideal for an everyday breakfast routine. 
But in the end, everyone has a distinct definition of "a healthy meal". For me, when it comes to waffles or a breakfast recipe I would like to have something that has high nutritional value, high fiber, and which doesn't make me feel like crawling back to bed!
How to make Oat banana waffles:
These healthy oat banana waffles are just like eating a bowl of overnight banana flavor oatmeal in waffle form. This waffle recipe is easy as well as pantry friendly, you need some 4-5 ingredients to make these vegan & gluten-free oatmeal waffles. 
Start by adding all the ingredients to a food processor or a blender- oats flour, ripped banana, milk ( I have used coconut milk), a pinch of cinnamon & salt, a few drops of vanilla extract. 

Now, just blend until the batter becomes smooth and everything is combined properly. The batter should be thick, make sure to add milk little by little. 

Pour the batter into the waffle iron, and bake it for 5 minutes. (refer to the instruction manual for better results).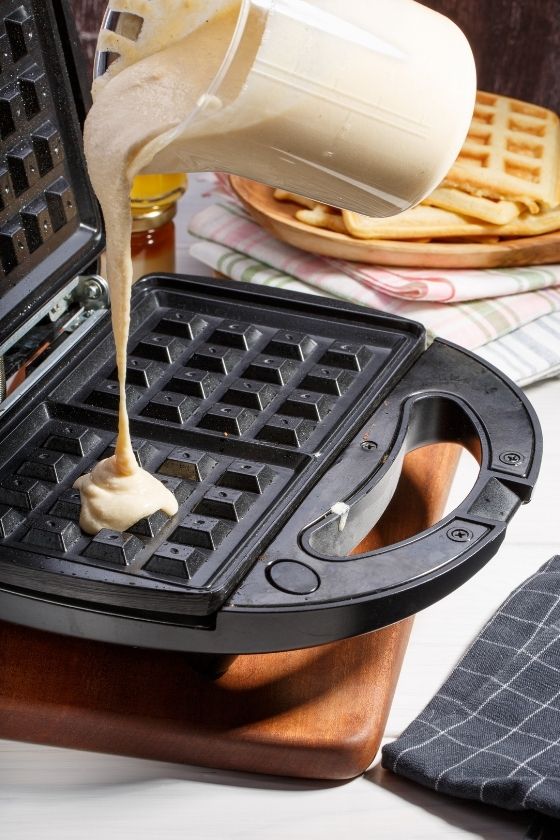 Tips for perfect Gluten-free Oat Banana Waffles:
For a consistent result, make sure to let the waffle batter sit for a minimum of 10 minutes. The resting time helps the oat flour to soak moisture from the milk (or the liquid) which results in crispy edges and fluffy waffles. 
You may use a blender or a food processor, either way, it works better for this oat banana waffles recipe. 
Make sure to read the manual of your waffle maker for better results. You can try cooking the waffles for around 5 minutes or until there is no steam coming from the waffle iron. If you want a crispy crust, leave them for a minute before removing them from the iron. 
If you want to make this recipe a gluten-free version make sure to use gluten-free certified oats flour. 
I do not use oil or butter before pouring the batter into the waffle iron. Some waffle iron may not come with a non-stick coating. So to lessen the chances of sticking the waffles into the iron, make sure to properly grease with an oil spray or butter before pouring the waffle batter into it.
You may also like: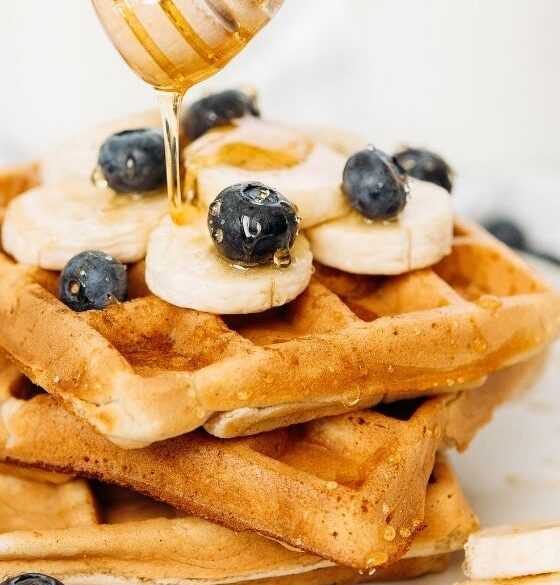 Ingredients
2¼ cup Rolled oats

¾ cup Banana mashed

2-3 tbsp Coconut sugar or brown sugar as per your taste preference

1 tbsp Baking powder

½ tbsp Cinnamon powder

¼ tsp Vanilla extract

¾ cup Coconut milk

2 tbsp Maple Syrup or honey

¼ tsp Salt
Instructions
In a blender add rolled oats, banana, maple syrup, vanilla, baking powder, milk, and salt. Blend it until smooth.

Heat the waffle maker, once it gets warm spray some oil or butter with a help of a silicon brush on both sides. Pour in a few tablespoons of waffle batter.

Cook until the waffles are golden brown and fully cooked through (Make sure to refer to the user manual for proper guidelines)

Gently remove the waffles and place them over a wire rack for a few minutes. Serve them with toppings of your choice.
Did You Make This Recipe?
Simple Air Fryer Recipes: