Whether you are making deep-fried, sauteed, pan-fried, grilled, or simple curries, there's no recipe we can't satisfy your cravings for shrimp this summer.
I've rounded up the best shrimp recipes that are totally easy to make, filling, and perfect for lunches, busy weeknights, or your next dinner party!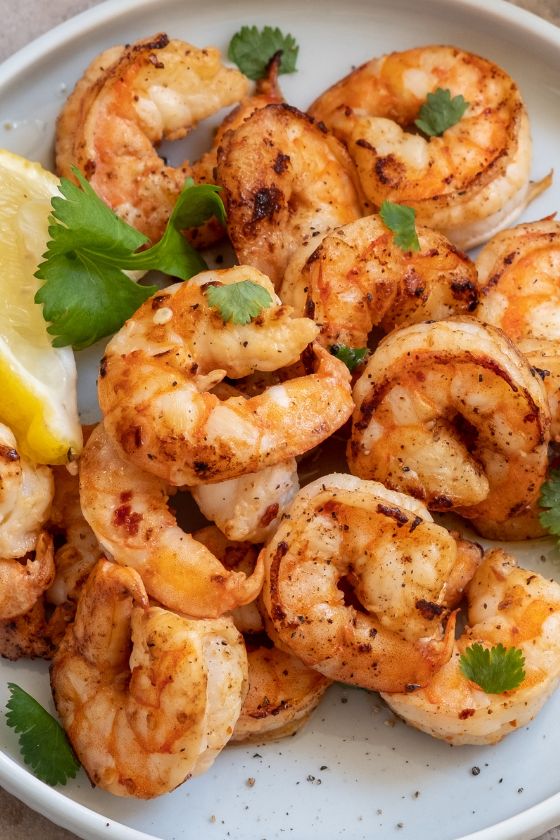 Shrimp is one of the most versatile ingredients around — from classic shrimp scampi to a cheesy bay shrimp melt to modern favorites like honey orange firecracker shrimp, we've rounded up the 35 best shrimp recipes ever.
We have got everything from baked shrimp to creamy garlic butter Tuscan shrimp to choose from our 35 favorite shrimp recipes, keep swiping from our top picks!
37 Easy Recipes with Shrimp You'll Love
 Let's start with the most classic shrimp recipe that has been stealing hearts for decades now — shrimp, butter, garlic, lemon, and white wine: Yes, it is our favorite, the Italian American shrimp scampi. 
It's juicy and rich, and shrimp swims in tangy butter with lots of garlic. You can simply pour it over pasta or sop it up with crusty garlic bread: either way; it's heaven. 
It's got all the flavor you love covered up in an easy, super-healthy shrimp recipe.
A quick and easy recipe of spicy shrimp bathing in a sweet and savory honey orange glaze served with flatbread or cumin rice! You can serve it with cauliflower fried rice to make it a low-carb dish. 
It's a delicious sauce that coats the shrimp beautifully. It comes together in around 30 minutes, like my chili lime shrimp, making it a perfect weeknight meal.
It's spicy, sweet, savory, and so delicious just like Orange Chicken.
This creamy, aromatic Thai coconut shrimp is a perfect restaurant-quality weeknight dinner to make when you crave Thai-inspired flavors! 
It takes about 25 minutes, filled with authentic east Asian flavors — aromatic curry paste, coconut milk, tangy lime, and juicy shrimp. 
You can serve it over fried rice, or noodles your family will be singing your praises for the rest of the day.
Garlic and butter make everything delicious!
From chicken to a simple bread, there is not a single savory recipe out there I would mind drowning in this stuff!
This shrimp recipe could get any easier and I bet you'll be dreaming about this butter and garlic sauce.
 The recipe takes only 10 minutes to cook, serve it with fresh crusty bread which is just perfect for a busy weeknight dinner.
Shrimp is one of the best ingridents to make an easy and quick dinner just like this Cajun Shrimp Alfredo!
Cajun seasoning is just made for shrimps, it's smokey and salty, and every bite is packed with a big punch.
It's packed with flavor, and you'll hardly believe the preparation time: it takes only 10 minutes to put everything together.
Serve it with quickly sauteed veggies, salad, or pasta, and you have a filling dinner recipe!
This Shrimp salad screams summertime in a bowl with nicely seasoned shrimps tossed with avocados, red onion, and a herb-y salad dressing! 
It tastes divine! Lime juice and cilantro are the key ingredients for the salad dressing, creating this heavenly, healthy, high-protein summer salad you'll want to have all summer long. 
Each bite is a burst of flavors, perfect for a picnic or a BBQ. Put it on the dining table and watch everyone's eyes lit up!
You can have it any time of the year, it's the best dinner recipe for keto and low-carb diets.
When you've got the homemade Chinese food cravings, make a batch of this incredibly simple shrimp fried rice! Great for meal prep and tastes even better than the takeout version.
As I have mentioned before that shrimps take little time to cook. Just a couple of minutes on either side, and it's ready to serve.
So, for the quickest dinner recipe, try this shrimp fried rice the next time you're tired and don't want to spend more time in the kitchen.
This is easy. one -skillet shrimp recipe that is ready in just 20 minutes, a healthy and non-greasy fried rice recipe.
I'm a huge fan of Tuscan Shrimp and Tuscan Chicken, coated with that creamy, sun-dried tomato and garlic sauce – jam-packed with flavor in every bite!
It's always on the top of my weekly meal prep list.
Only a handful of ingredients, and you have a delicious dinner on the table in about 15 minutes. You'll even impress yourself!
If you haven't cooked shrimp before, you could sure start with this shrimp recipe, it's an excellent meal for a beginner. It's so much simpler than you might think.
Sheet pan shrimp fajitas are the perfect easy weeknight meal!
With just a few ingridents, this recipe is gluten-free, dairy-free, and low-carb, and the best part is — it takes less than 15 minutes to make.
Sheet pan meals are the best! You only dirty one pan, and everything cooks perfectly in under 10 to 15 minutes!
Serve it with your favorite tortillas or over a bed of jasmine or brown rice or even chopped salad; these shrimp fajitas are amazingly versatile and delicious. Impress your loved ones by making this flavourful dinner this weekend.
As much as I love shrimp fajitas, I miss the cool crunch you get by adding slaw and garlic lime crema with a touch of spice to the tacos.
Tacos are so versatile; keep it simple with shrimp and lime crema, add slaw, or add fresh roasted veggies or a dollop of guacamole for something special!
It is jam-packed with flavors and only takes 20 minutes to make!
Each tortilla is filled with juicy and spicy shrimp, coleslaw, cilantro lime crema, and all your favorite toppings – a perfect summer dinner recipe!
If you'd got some extra time, you can make them healthy with homemade tortillas too.