Are you craving classic cookies? These easy and sugar-free cookies will curb your cravings without any guilt! 
Whether you are looking for keto-friendly, diabetic, or sugar-free dessert recipes, I bet these easy sugar-free cookie recipes will be on your weekly rotation list.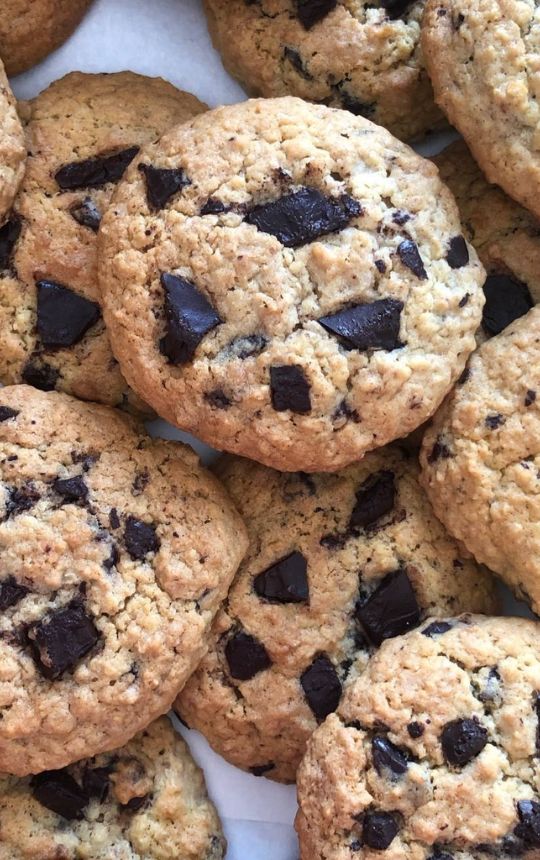 Quick Sugar Free Cookie Recipes (Vegan, Keto, Diabatic and More!)
Let's start the sugar-free cookie recipe with the ultimate cookie! I guess we can all admit that chocolate chips reign supreme in the ranking of cookies. 
These are soft, chewy, delicious cookies loaded with chocolate chips with a keto-friendly recipe option.   
They are easy to make, and you can quickly whip up a few batches for your family.
I know you must be thinking of oatmeal in cookie recipes? 
Yes, you read it correctly! These cookies are soft, chewy, and loaded with sweet raisins in every bite. 
These vegan oatmeal cookies make a healthy and delicious dessert. Since they are oil-free and refined sugar-free cookies, you can eat them any time of the day without guilt!
Don't like raisins in the cookies? You can substitute raisins with cranberries, chocolate chips, walnuts, pecan, or even dried cherries without making any changes to the recipe.
Say hello to brookies! Brownies plus cookies = Brookies. 
These brownie cookies recipe only take 10 minutes to whip with readily available ingredients. 
They can entirely satisfy your tastebuds and dessert cravings. The fact that they are keto-friendly, sugar-free, and low-carb is just the bonus! 
It's so easy to make you just need a few pantry staples, a mixing bowl, and a fork.
These peanut butter cookies melt in your mouth like magic. 
They're buttery, sweet, soft, and chewy all at the same time. You need four ingredients and 20 minutes to make these delicious cookies. 
These cookies are egg-free, dairy-free, gluten-free, low-carb, and sugar-free, which means you can have them any time of the day without ruining your diet. 
Definitely healthier than regular chocolate cookies.
Anything with dates on it is already a certified hit in my book. These date cookies are proof.
This sugar-free Date cookie recipe is an easy, diabetic-friendly, gluten-free and vegan snack!
It's amazing what a combination of peanut butter, quick oats, and dates can do!
This is the one cookie that you really can't resist.
These almond flour cookies call for only five ingredients, yet they're incredibly delicious. These are soft, chewy, and thick cookies that are naturally grain free and sugar free! 
With this recipe, all you'll need is one mixing bowl and 15 minutes. You won't need to chill the dough, they are the best healthy and delicious treats that anyone can have!
They're also low-carb, gluten-free, and vegan (if you use vegan butter in it).
These Keto chewy cookies have the perfect texture that you look for in ginger molasses cookies, But they dont contain any molasses at all!
Then what is the secret ingredient that makes the texture so perfect? It's just a few tablespoons of grassfed gelatin. Which changed the texture entirely, they were soft without being cakey and got chewiness just like real ginger molasses cookies have!
These cookies are the perfect source of warmth and comfort that you cant get from anywhere.
Finding out you've to cut the sugar in your diet can be tough. But don't worry, these applesauce chocolate chip cookies will make everything okay.
It's totally addicting, slightly sweet, moist, full of flavor, and perfect chocolate cookies without any sugar. 
But there's nothing boring about them at all!
The sweetness comes from the freshly made applesauce, it's healthy and filled with wholesome ingredients best for kids who hate apples.
They're thick and soft, sweet and gingery, and absolutely easy to make! 
You'll love the flavor combination of peppery and sweetness in these cookies. The butter makes the cookies even richer and more tender. 
These sugar-free ginger cookies are so addictive and quite hard to believe they're gluten-free and keto-friendly.
Say hello to the healthy apple and oatmeal cookies! 
I am such a sucker for oatmeal cookies. 
They're sweet, soft, and moist, the best snack that you want to have all the time without ruining your diet. 
These cookies remind me of delicious overnight oatmeal but in the form of cookies. If you want to make some gluten-free, sugar-free, and healthy snacks, then give this recipe a try!
Want to save the recipe?  Pin it for later!