These Air fryer Millet Cookies are soft, delicious, and easy to make classic homemade dessert recipes in an air fryer. These cookies take only 6 ingredients (Bonus: everything vegan and gluten-free) and take 10 minutes or less to whip up everything!! Do not worry if you don't have an air fryer, we have also covered the oven based instructions for these healthy millet cookies.
These Millet air fryer cookies are the easiest and quickest air fryer dessert recipes you could ever make.
These cookies are crunchy on the outside and soft on the inside, which makes for a very healthy snack or breakfast option. You can serve these chocolate cookies to the kids along with a warm glass of milk and they will happily gulp everything!!
Nothing can beat the homemade version of healthy air fryer millet cookie recipes, which you can make without heating up your whole kitchen.
The reason why I love baking in air fryers is, they don't emit much heat and won't warm up the house as a convection oven does.
These millet cookie recipes are perfect for small batches, you can make them ahead of time, these cookies are freezer-friendly and stay well in the refrigerator for about a week!

Millet is rich in NIACIN – which helps the body to manage more than 400 enzyme reactions! It is such an essential compound that it's often added to processed food to enrich them. 
These Healthy Chocolate Millte Cookies are: 
Vegan, Vegetarian, Gluten-free Cookies, Eggless chocolate cookies, Dairy-free, and oil-free cookies 

Crispy on the outside and gooey and soft on the inside

Easy to make with only 7 ingredients / minimal steps 

Totally made with pantry staples and no fancy ingredients required

Easily transportable, best for picnics, upcoming potlucks, and backyard parties
Best freezer-friendly cookies // budget-friendly healthy cookies 

Kids-approved healthy cookies and non-vegan approved millet cookies 

Easy millet cookies without an oven (Find detailed Oven instructions below) 

Made in 30 minutes or even less (prepping + air frying!)
Millet is an excellent source of beta-carotene – a natural pigment that helps your body fight off free radicals and supporting the health of your eyes. 
What are Vegan Millet Chocolate Cookies are made of?
Millet Flour: Millet is one of the great healthy gluten-free grains that you must add to your diet. You can add ½ millet flour and half all-purpose flour. I have yet to try this combination, but I'll keep you posted. 
Vegan Butter: You cannot make chocolate cookies without vegan butter, True? Ok I know you can, but who wants to live in that kind of region? I highly recommend using margarine rather than using a cup full of butter. 
Brown Sugar: Brown sugar enhances the overall texture of chocolate cookies. 

Sugar: When granulated sugar is paired with brown sugar it adds accurate sweetness and chewy texture. 

Vegan Chocolate chips (optional): A chocolate chip is incomplete without chocolate chips and there is no exception to this rule. Though I forgot to add while making these millet cookies. :P 
Non-dairy milk or plant-based milk: I have used almond milk but any plant-based milk will work – Almond milk, cashew milk, coconut milk, or soy milk. 
Vanilla extract: It gives a warm, rich, classic cookie flavor that we always crave!! You can either use pure vanilla extract or vanilla bean paste, but do not skip this. 
Salt: YOu just need a pinch of salt to balance the sweet flavors from the sugar and chocolate. 
Cocoa: Cocoa provides the rich chocolate flavor in the cookies. I would recommend using high-quality cocoa powder for the best results.
Millet Flour comes under low-glycemic index (GI) food – it helps keep your blood sugar from spiking after eating this. 
How To Bake Chocolate Cookies in Air Fryers:
Preheat the air fryer to 320F or 160C

Make the cookie dough (refer to recipe card below).

Split the dough into 8 small cookie balls.

Make sure to line the air fryer basket with parchment paper, then gently place the millet cookies, do leave some space in between the cookies. 

Optional: you can press some chocolate cookies or chopped dry fruits into the cookies. 

Bake for 10 minutes( for small-sized cookies) and 15 minutes (for large-sized cookies)

.
Perks of using an Air Fryer – a step towards healthy life!!
The Air fryer does not heat up your kitchen, it takes only 4 to 5 minutes to preheat (depends upon the air fryer).

Frying in an air fryer is safer than deep frying in a larger oil container. 

Air frying is healthier than deep-frying, as it does not call for oil. 

You can bake, fry, roast, and even grill in an air fryer. Foods come out so much crispier than it does in the oven.
Millet is rich in dietary fiber, both soluble and insoluble – which improves digestive health.
Is cooking with Air Frying Healthy?
Air frying is much healthier than deep-frying you need zero or less oil as compared to deep frying. Air frying is much close to the conventional oven in terms of healthiness, though it takes much less time to cook food.
Vegan Millet Chocolate Cookies Tips & Tricks:
If you want a gooey melted chocolate center, feel free to add. Press some extra chocolate chips on the top of the cookies before baking in the air fryer. 

You can also use instant mix cookie dough for this recipe (temp may vary a little bit).

If you have a small-sized air fryer you may need to bake in batches. 

Make sure to evenly space the millet cookies in the air fryer basket for even baking. 

If you want a vegan or dairy-free millet cookie then replace the butter with plant-based butter or dairy-free butter. 

Make sure to use air fryer parchment paper while baking in the air fryer, if you do not have air fryer parchment paper then simply make some holes in the normal parchment paper. It helps to clean the air fryer basket easily. 

If you want to store the leftover millet cookie dough, simply store it in an airtight container, it will be good for 4-5 days.
Millet is rich in potassium – which supports healthy kidney and heart function.
More Vegan Air Fryer Recipes:
"Must Try" Recipes :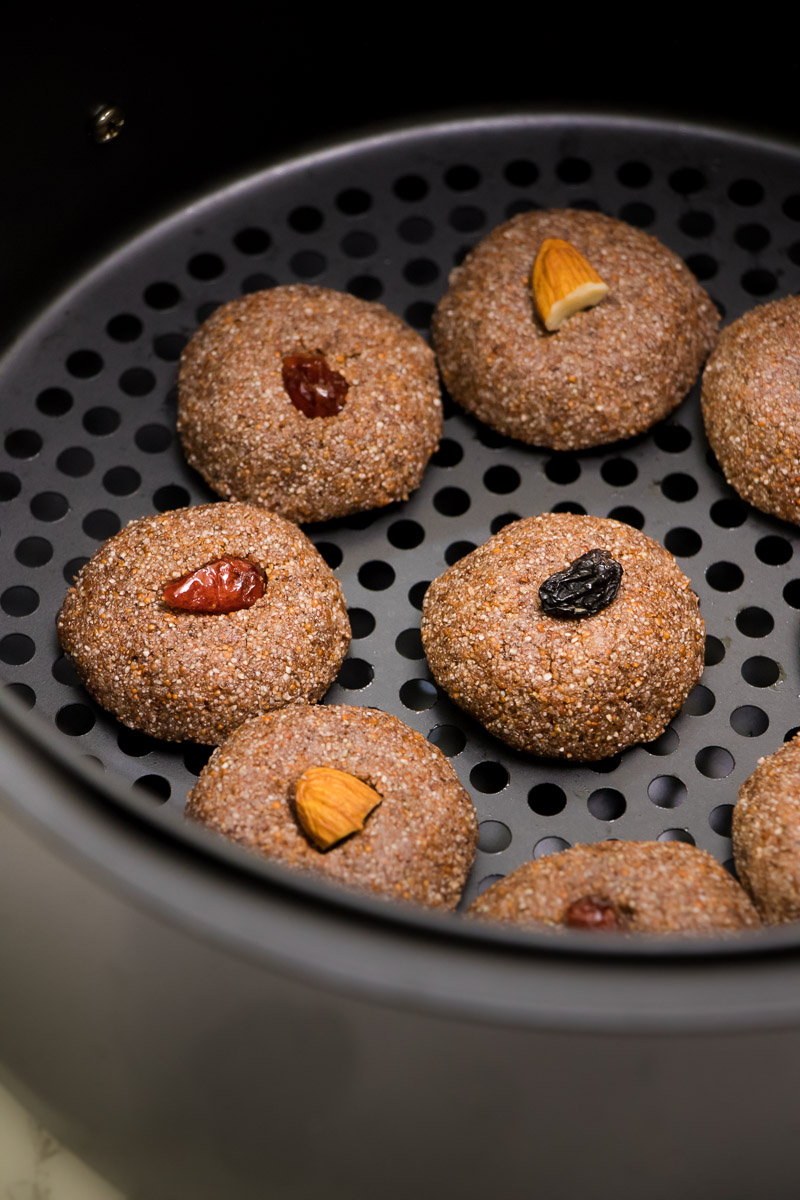 Ingredients
1 cup Millet Flour (coarse flour)

4 tbsp Vegan Butter

¼  cup Powdered sugar

1 cup Light Brown sugar

⅛  cup cocoa powder

¼ cup Milk (any plant-based)

1 tsp Vanilla extract

½ cup Chocolate chips (optional)

¼ cup Dry fruits finely chopped

a pinch of salt 
Instructions
Preheat the air fryer at 160C. Line the air fryer basket with air fryer parchment paper or simply make some holes in normal parchment paper.

Whisk millet, sugar, butter, in a separate bowl. Add milk and vanilla extract, and whisk until everything is combined properly.

Optional: add the chocolate chips and combine it well.

Take a spoon and scoop dough and roll into balls, gently press the middle of the ball and flatten it (slightly) and place it in the air fryer basket 1 to 2  inches apart.

Cook the millet cookie in the air fryer for about 10 minutes or until the cookies starting to get crispy on the outside.

Transfer the cookies to a wire rack and let them cool, and repeat the process with the remaining millet cookie dough.
Did You Make This Recipe?