This air fryer shrimp recipe is super quick and ready in only 10 minutes! It comes out really juicy and tender, just perfect! With simple ingredients, you can add them to lots of different dishes!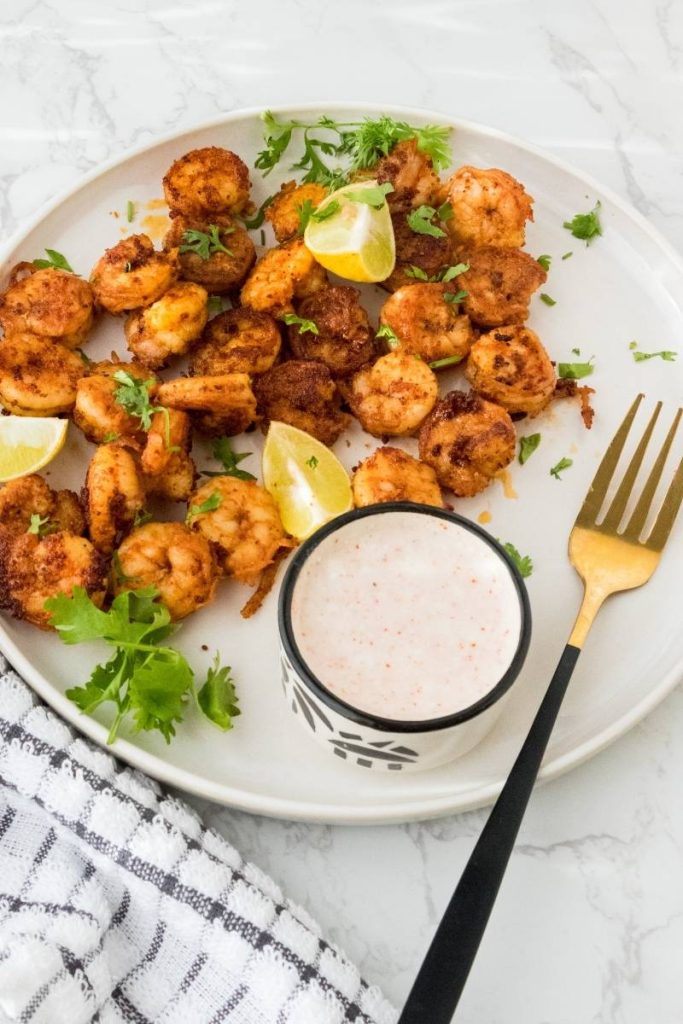 If you're a seafood lover or simply enjoy quick and easy dishes that pack a punch of flavor, this non-breaded shrimp recipe is perfect for you.
In just a few simple steps, you'll be enjoying a quick and flavorful dish that's perfect for any occasion.
Easy Air Fryer Shrimp 
Shrimp is my go-to for busy weeknight meals, and air frying them is my absolute favorite cooking method. This recipe has easily become my all-time favorite shrimp dish, and air frying makes it incredibly convenient.
When we noticed our recipe blog lacked an air fryer shrimp recipe, we couldn't resist giving it a try!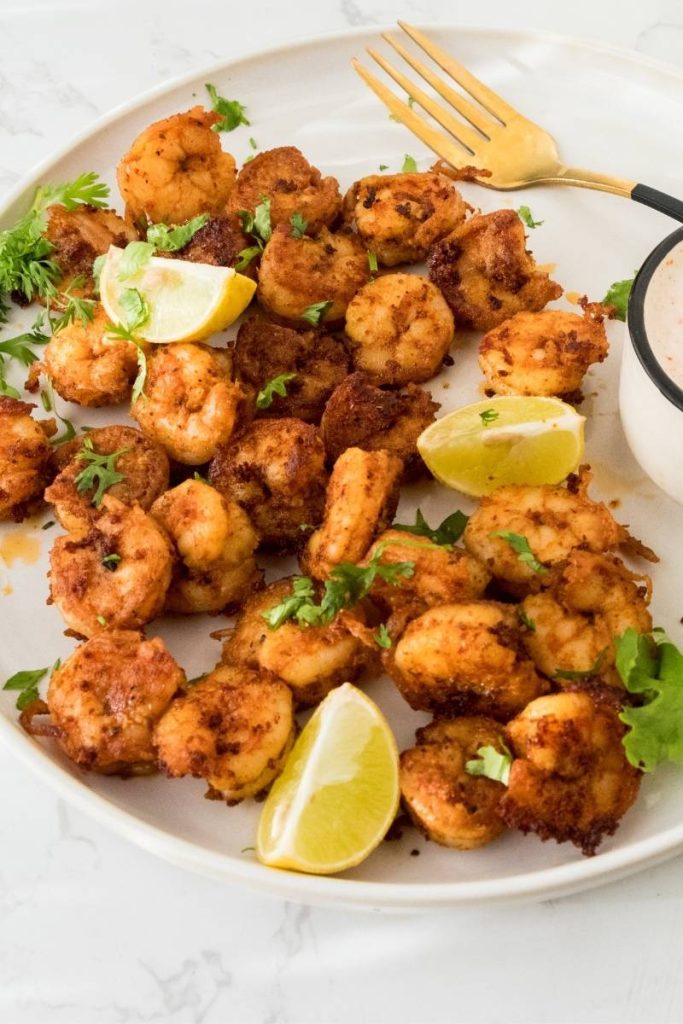 These breading-free Air Fryer Shrimp are ready in under 10 minutes, making them a quick and delicious option. This versatile recipe complements almost anything, whether enjoyed as an appetizer, added to your dinner salad, or as a wholesome snack.  And if you're new to air fryers, this shrimp recipe is a fantastic start. 
Looking for more beginner-friendly air fryer recipes? Check out our Air Fryer Chicken Breast, Chicken Fajitas, and Air Fryer Coconut Shrimp. At Magenta Streaks, we're all about simple air fryer recipes.
Why This Recipe Is A Must-Try!
Soy-free, dairy-free, gluten-free, and keto-friendly – a treat for all.

Crispy, crunchy, tender, and juicy – satisfying in every bite.

Cooking shrimp in the air fryer makes for a quick weeknight dinner.

This a delightful after-school snack idea that kids will adore.

Requires minimal ingredients with no excessive cleanup.

Enhance salads, wraps, and burrito bowls with these delectable delights.
Ingredients
To make air fryer shrimp – just grab the shrimp and the rest of the stuff you probably already have in your kitchen. Here's what else you'll need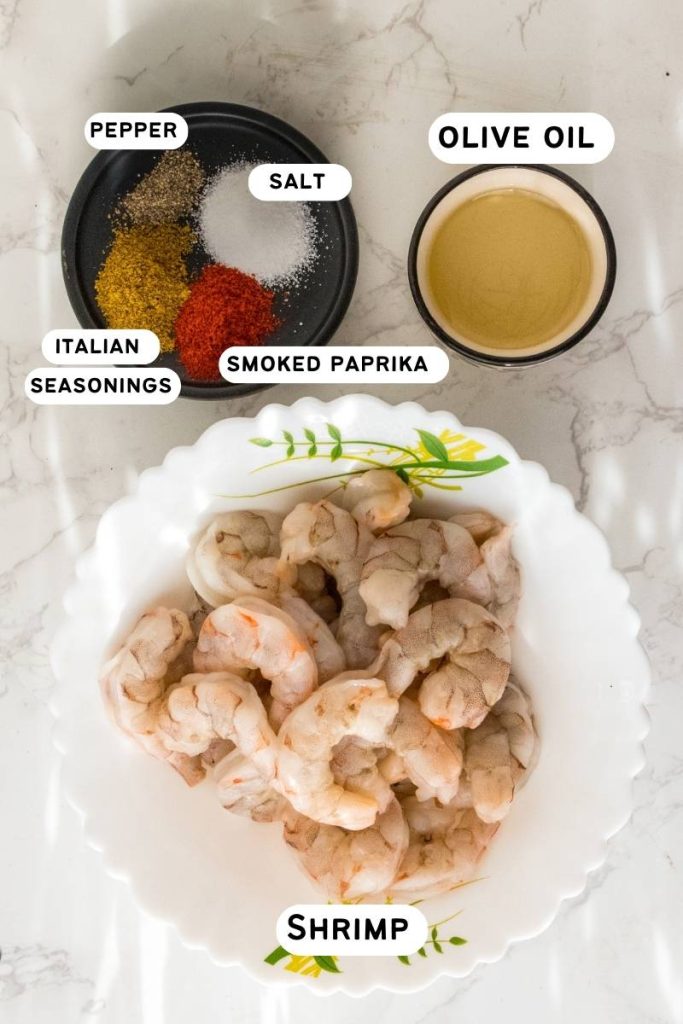 Shrimp- Use large or jumbo shrimp. If you are using frozen, make sure to thaw them fully before cooking.  
Olive oil- it's my preferred oil, any oil will do the job.  
Seasonings- You'll need lemon juice (fresh or packed), salt, black pepper, smoked paprika, and Italian seasonings.
How To Make Air Fryer Shrimp 
Preheat Your Air Fryer: Preheat your air fryer to 375°F (190°C) for about 5 minutes.
Season the Shrimp: In a bowl, toss the peeled and deveined shrimp with olive oil, smoked paprika, Italian seasoning, salt, and black pepper. Ensure that the shrimp are evenly coated with the seasoning.
Arrange in the Air Fryer Basket: Place the seasoned shrimp in a single layer in the air fryer basket. Make sure not to overcrowd to ensure even cooking.
Cooking Time: Cook the shrimp in the air fryer at 375°F (190°C) for 8-10 minutes, shaking the basket halfway through. The shrimp should turn pink and opaque, with a crispy exterior.
Serve: Once cooked, transfer the air-fried shrimp to a serving plate. Squeeze fresh lemon juice over the shrimp for an extra burst of flavor. Serve immediately with your favorite dipping sauce or alongside a refreshing salad.

How Long To Air Fry Shrimps
The cooking time for air fryer shrimp generally ranges from 8 to 10 minutes at 375°F (190°C). However, the exact time can vary based on the size of the shrimp and the specific model of your air fryer. 
Do not forget to keep an eye on them and shake the basket halfway through to ensure even cooking. The shrimp should turn pink and opaque with a crispy exterior when they're ready.
Tips and Possible Variations 
Use fresh or frozen shrimp:

Opt for fresh or frozen shrimp that has been properly thawed. Using high-quality shrimp will significantly enhance the taste of the dish.

Don't Overcook:

Keep a close eye on the cooking time to prevent overcooking. Shrimp cooks quickly and can become rubbery if left in the air fryer for too long.

Customize Seasonings:

Feel free to experiment with different seasonings to suit your taste. Cajun seasoning, Old Bay, or even a touch of chili powder can add a unique twist.

No air fryer? No worries

, you can cook the shrimp in a skillet or pan for about 3 minutes for each side or until golden.

Pat shrimp dry before marinating them:

Dry off the shrimp to ditch any extra moisture before you season them. This ensures ultimate crispiness; excess moisture can turn your air fryer shrimp soggy and we definitely want to avoid that!

Do not overcrowd the air fryer basket:

Place the shrimp in a single layer, leaving space between each one to prevent touching. This allows the hot air to circulate around them, resulting in air fryer shrimp cooked to crispy perfection.

Storage and Reheating  
Storage:
Once cooled, store the air-fried shrimp in an airtight container, in the fridge for 3-4 days. 
Reheating:
Reheat in the air fryer at 350°F (175°C) for 2-3 minutes or until just warmed through, make sure not to overcook the shrimp. You can also reheat the shrimp in the oven for about 5 minutes at the same temperature.
Ways to Serve Air Fryer Shrimp 
While these air-fried shrimp are undeniably delicious on their own, if you're in the mood for a heartier meal, there are plenty of exciting ways to team up these air-fried shrimp with other ingredients. Here are a few of our favorite meal options:
Fresh Salads: Boost your greens by tossing your crispy air fryer shrimp, this Healthy Shrimp Cobb Salad, or my favorite Avocado Shrimp Salsa. 
Bowl Recipes: Toss some freshly air-fried shrimp into a shrimp burrito bowl, Cilantro Lime Shrimp Bowl, or Shrimp Fajita Bowl. 
Mains: Try your hand at Shrimp Fried Rice and Garlic Shrimp Spaghetti.
Tacos: Wrap your air fryer shrimp in soft flour tortillas, add a sprinkle of cilantro, and whip up some Easy Shrimp Tacos that are a true treat for your taste buds.
Your feedback is valuable! If you've given this Easy Air Fryer Shrimp recipe a shot, or any others from MagentaStreaks, please take a moment to rate the recipe and drop a comment down below.
And if you've captured a photo of your recipe, feel free to share it with me on Instagram, and I'd be delighted to repost it on my Stories!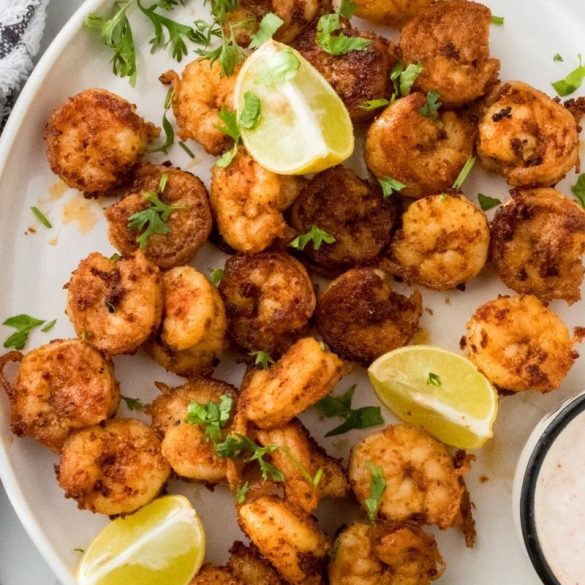 Ingredients
1 lb shrimp (large and deveined)

1 tablespoon olive oil

½  teaspoon salt

¼  teaspoon pepper

½  tablespoon lemon juice

½  teaspoon garlic (freshly chopped)

½  teaspoon smoked paprika

1 teaspoon Italian seasonings
Instructions
Prep and Marinate:

Deveined and pat shrimp dry.  In a medium-sized bowl combine olive oil, salt, pepper, garlic, Italian seasoning, and smoked paprika. Add the shrimp and let marinate for at least 15 minutes or one hour.

Preheat Air Fryer:

Preheat to 375°F (190°C) for about 3 minutes.

Arrange Shrimp:

Place shrimp in a single layer in an air fryer basket.

Air Fry:

Cook for about 8-10 min, or until pink and cooked throughout. Shake and flip the shrimp halfway through.

Serve the air fryer shrimp on their own with a fresh squeeze of lemon, pair it with your favorite sauce, or on top of your choice of salad.
Did You Make This Recipe?