Szechuan chicken is an easy stir fry made with tender chicken pieces and vibrant veggies nicely tossed in a sweet and savory sauce. You can create your own classic Chinese restaurant-quality recipe with minimal ingredients. Ready in less than 25 minutes, it's an ideal busy weekday dinner meal recipe!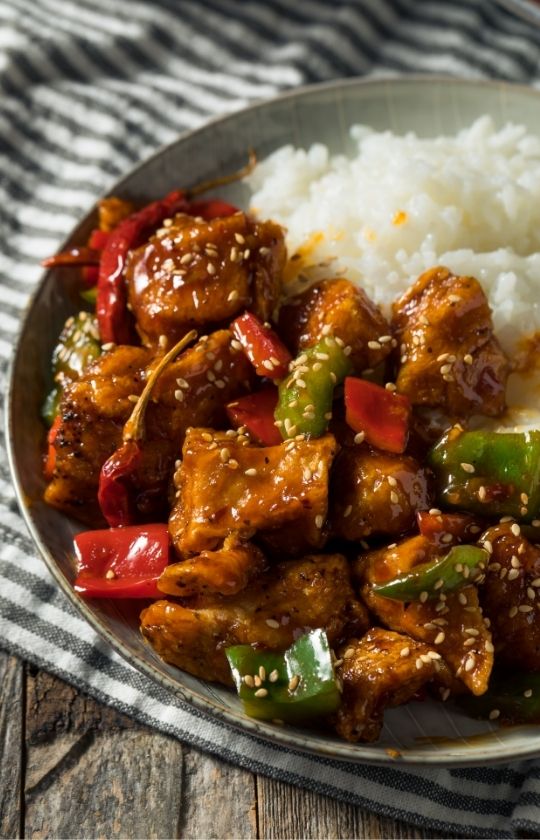 We love Asian recipes that are easy to make and require fewer ingredients. I always love making my family's favorite take-out recipes at home, including General Tso's chicken, chicken chow mien, and this delicious spicy Szechuan chicken. 
When I was in college, my weekend takeout meal was always Sichuan chicken and chicken chow mien, on repeat! The Sichuan chicken has the perfect blend of classic Chinese chicken and colorful veggies with sweet and spicy Szechuan sauce, which is healthy (if you try to cut the sugar content). 
In this recipe, I am using all the ingredients that are readily available in stores which makes this recipe real quick and easy for a busy weeknight dinner. 
Ingredients Required 
Chicken (boneless): I mostly use boneless breasts and cut them into smaller pieces.  
Sauce: Rice wine, corn starch, white pepper, soy sauce, sesame oil. 
Peanuts: roasted peanuts for the crunch
Sugar: To balance the spicy flavors. 
Soy sauce or tamari: try to use low sodium soy sauce or 
Vegetables: Such as red bell pepper, yellow bell pepper, minced garlic, and green onion (you may add any other veggie you've in your fridge or you love) 
Sichuan peppercorn or regular peppercorns: You can find this at any Asian store.

How to make Szechuan Chicken Recipe 
Making Szechuan chicken has only three parts: Prepping the chicken, stir-frying the chicken with veggies, and mixing them together. 

Prepping the chicken: This dish is best prepared with boneless chicken breast cut into small equal-sized cubes.


We need to marinate the chicken pieces in a mixture of cornstarch and seasonings. This step is totally optional, but marinating the chicken pieces elevates the taste of stir-fried chicken.

Seasonings for the marination: (for measurements, go to the recipe card) soy sauce, rice wine, white or black pepper, and sesame oil. After marinating the chicken pieces, fry them on both sides or until cooked evenly. 

Now, take a large skillet or pan, heat it over medium to high flame, toss the chopped veggies, and stir fry. Simply add the vegetable oil, minced garlic, ginger, dry chilies, bell pepper, green onion, roasted peanuts, and Szechuan peppercorns. 

After a few minutes, add fried chicken and stir to combine everything evenly.

While the chicken and veggies are cooking, make the sauce. Take a small bowl and whisk all the sauce ingredients. 

Add the sauce to the chicken and vegetables and bring it to a boil. Cook for 30 to 40 seconds, or wait until the sauce thickens. 

Remove the skillet from the heat and garnish it with sesame seeds and scallions. 

Serve it hot with white or brown rice, and you've got a healthy meal packed with protein, carbs, and fiber.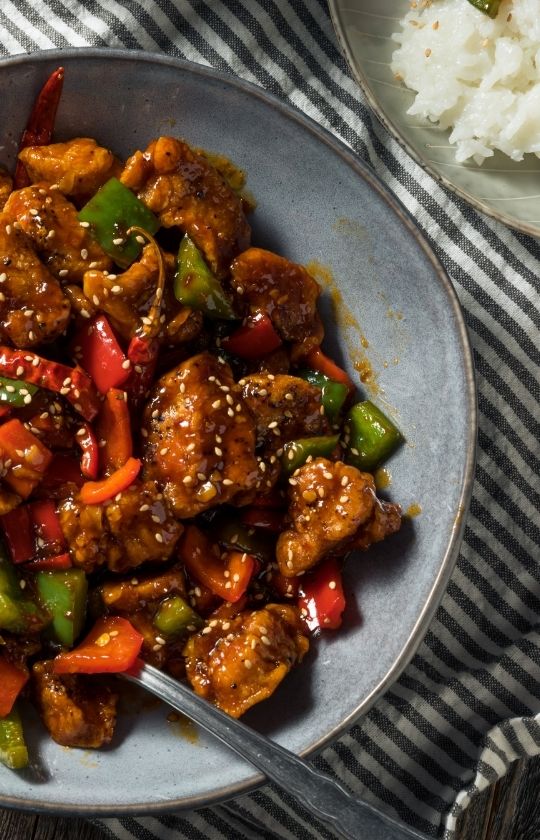 Szechuan Chicken Recipe FaQs
Difference between Szechuan chicken and General Tso's Chicken?
Szechuan chicken is a bit spicier than General Tso's chicken and contains the famous Szechuan peppercorns. General toss chicken has a thick batter coating and is deep-fried; on the other hand, Szechuan chicken is pan-fried. Szechuan chicken has a fair amount of veggies, whereas General Tso's chicken is served on its own or with broccoli.
How spicy is Szechuan Chicken?
Usually, Szechuan chicken tends to be spicier because of the Szechuan peppercorns and chiller peppers.
But if you don't want your dish spicy, you can simply tone down the spiciness by omitting the peppercorns and chili pepper.
More Chicken Recipes :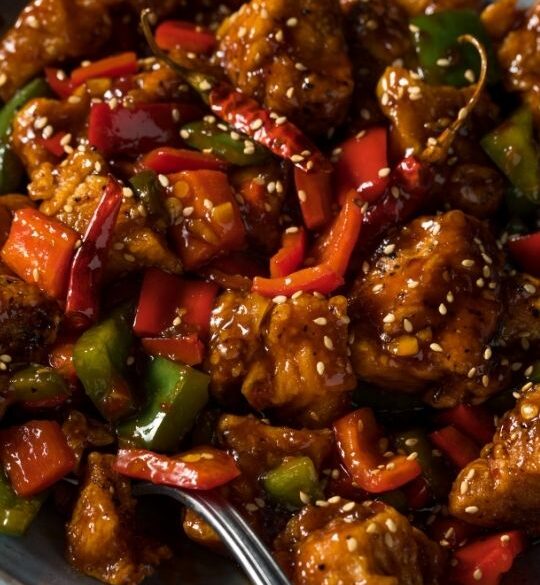 Ingredients
For the stir fry: 
½ cup vegetable oil 

1 pound chicken breast (cut into 1 inch pieces) 

¼ cup corn starch 

1 red bell pepper

½ cup onion

1 green bell pepper

10 small dried chilies 

2 tbsp minced garlic 

Salt and paper to taste

1 tbsp Szechuan peppercorns (optional)
For the sauce: 
3 tbsp low sodium soy sauce

1 tbsp sugar

1 ½ tbsp hoisin sauce 

1 tbsp corn starch 

1 tbsp sesame oil

¼ cup chicken broth (optional) 
Instructions
Take a large bowl, place the chicken pieces, corn starch, pepper, and salt to taste. Combine everything nicely and marinate for about 10 to 15 minutes (optional). Heat a skillet over medium to high heat and add vegetable oil.

Place the chicken pieces in a single layer. Cook for about 4 to 5 minutes per side or until golden brown. If you're cooking a large batch try to cook them in batches. 

Remove the chicken from the skillet and keep them aside. 

Now add all the chopped veggies, minced garlic, and ginger. Stir in the chilies and Sichuan peppercorns. Cook for about 4 to 5 minutes or just stir until the veggies get softened. 

Add the fried chicken to the pan with veggies. 

While the chicken and veggies are cooking, make the sauce. Take a small bowl and whisk all the sauce ingredients. 

Add the sauce to the chicken and vegetables and bring it to a boil. Cook for about 30 to 40 seconds or wait until the sauce gets thickened. 

Serve it immediately over rice and enjoy!
Did You Make This Recipe?