The chicken Alfredo pasta recipe is an easy pasta dish ideal for busy weeknight meals! Creamy alfredo pasta is all cooked in one pot and ready to serve in less than 20 minutes! 
The Crispy golden chicken is nicely mixed with super creamy parmesan alfredo sauce. This traditional Italian pasta dish is simple comfort food at its finest.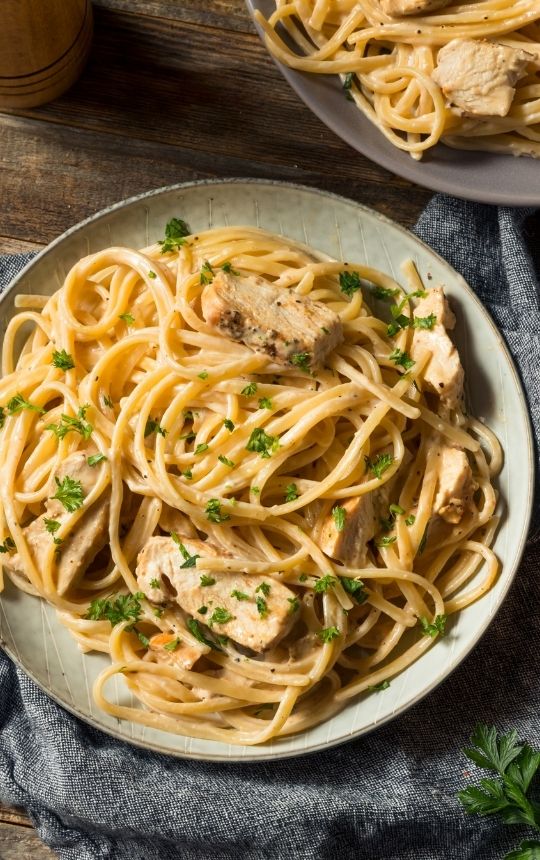 Ingredients for Chicken Alfredo
For chicken alfredo pasta, you have three main components to play with, all of which are delicious and even more flavorful once combined.
Chicken: We love cooking chicken breast in a bit of cajun seasoning, but you can use chicken tender and your choice of seasonings or what you have on your hands.


If you don't have chicken breast on hand, you can swap it with shrimp or sliced sausages. 

Pasta: Fettuccine pasta is best for the chicken alfredo recipe as it's sturdy to hold up to the thick, creamy homemade alfredo sauce.
Homemade Creamy Alfredo sauce: The star of the recipe! You will see lots of alfredo recipes made with cream cheese, but heavy cream is where it's! Chicken alfredo is made with heavy cream, just like in Italian restaurants; it

makes the sauce rich and flavourful!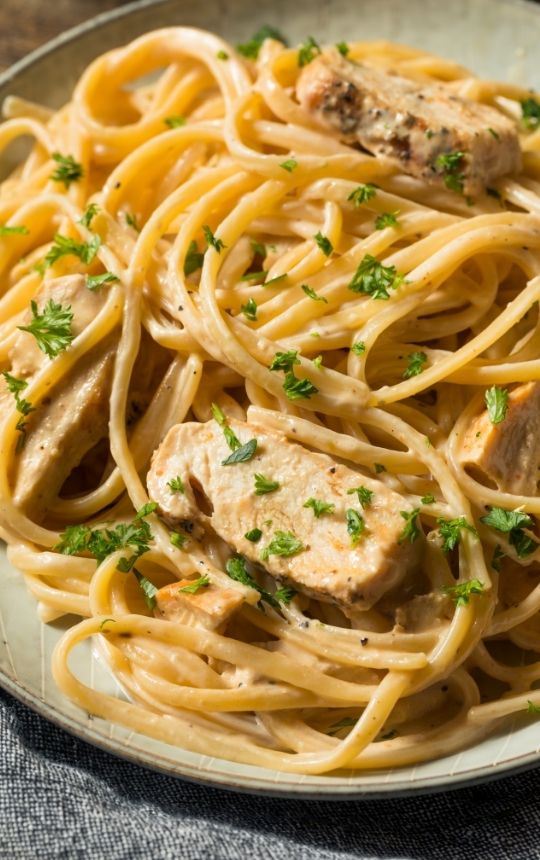 How to Make Chicken Alfredo
The chicken Alfredo recipe comes together really fast.  
Boil the noodles: Cook the pasta or fettuccine al dente, according to the package instructions. 
Cook the chicken breast: season the chicken, then pan-fry in oil and butter for about 6 to 7 minutes. Then transfer it to a cutting board and let it rest for a few minutes, then cut into ½-inch thick slices. Cover with foil while you prepare the sauce. 
Make the alfredo sauce: Saute garlic in butter in the same pan over high to medium flame. Slowly add cream and simmer until slightly thickened, and then add the parmesan and stir until melted and smooth. 
Assemble: Add cooked chicken and cooked pasta to the sauce and add some pasta water to reach the desired consistency. Serve the pasta in the serving bowls and garnish with parsley more parmesan and Enjoy!
Storage Tips 
Leftovers: You can keep the leftover pasta in an air-tight container for about three days in the refrigerator. 
Hot to Reheat Chicken Fettuccine Alfredo: Reheat on the stovetop over low heat and a little bit more cream or half and half when reheating to make sure it isn't dry.


If using a microwave, stir often and heat just heated through. 

Make-Ahead:

Chicken Fettuccine Alfredo is ideally made and served immediately; however you can cook the chicken up to 1 day ahead. But I dont recommend cooking the alfredo sauce in advance.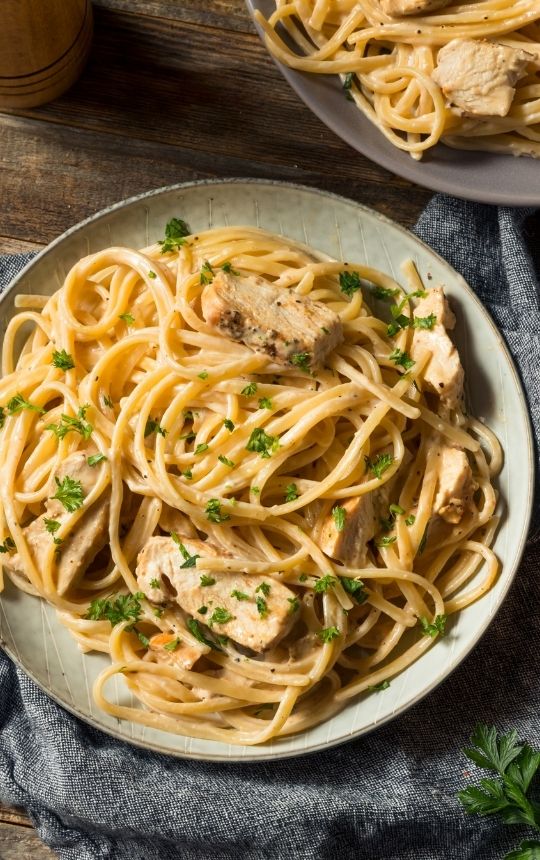 What type of pasta should you use?
Fettuccine is our pasta choice when making homemade chicken alfredo, but you can use any pasta for this recipe.
 The bow tie is also the best option or penne; you can use fresh or boxed pasta for this easy chicken pasta recipe.
What Goes with Chicken Alfredo?
This chicken pasta recipe is a great creamy pasta dish that can be served on its own, but if you're looking for some side dish inspiration to go with it, you cannot go wrong with veggies. 
A tangy salad like Cilantro Lime Coleslaw or Tossed salad would pair amazingly with chicken alfredo and some delicious homemade garlic breadstick.
More Italian-Inspired Chicken Recipes
More Chicken Recipes :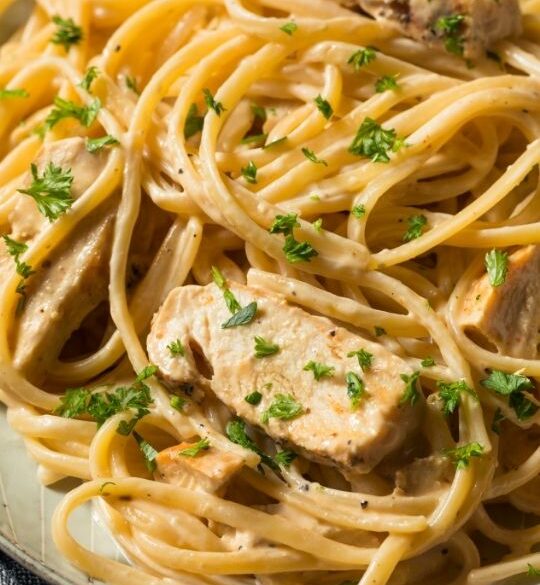 Ingredients
12 ounces fettuccine (or any pasta you prefer) 
2 chicken breasts boneless and skinless
2 teaspoons cajun seasoning
1 tablespoon olive oil
5 tablespoons butter (divided)
4 cloves garlic minced
1 ½ cups heavy cream
1 ½ cups parmesan cheese grated (divided)
salt & black pepper 
¼ cup Fresh chopped parsley (for garnishing)
Instructions
Bring a large pot of salted water to a boil. Add fettuccine and cook according to the package instructions, reserve 1 cup of pasta water and keep it aside. 
Cut the chicken breast into bite-sized. Toss with cajun seasoning (or your preferred seasoning mix) 
While the pasta is being cooked, heat 1 tablespoon oil and 1 tablespoon butter in a saucepan over medium heat. 
Add chicken to the pan and cook until crips golden or about 5 to 7 minutes. Remove from the pan and keep it aside. 
Turn the heat to low and in the same pan melt 4 tablespoon butter and add minced garlic, cook for 1 minute or until fragrant. 
Add the cream and bring it to simmer (you can turn up the heat to medium if required). Let it simmer for about 5 to 8 minutes or until slightly thickened. 
Remove from the heat and stir in parmesan and season with ½ teaspoon salt and ½ teaspoon pepper (or to taste).
Remove the pan from the heat and stir in the chicken. Toss with the pasta adding additional pasta water if required. 
Garnish with fresh parsley and parmesan and Enjoy the super creamy chicken alfredo with some warm garlic bread.
Did You Make This Recipe?