Homemade Macaroni Salad is a perfect summertime pasta salad recipe! This classic pasta salad is a healthy, easy-to-make, and comforting vegetarian side dish recipe that goes perfectly well with any grilled protein! It's super simple to prepare and as diverse as you want it to be, this is guaranteed to be a hit side dish at every cookout and potluck.

Previously I've shared a few of my summertime salad recipes, including my go-to black bean & corn salad and southwest chicken salad, BUT this classic pasta salad is my all-time favorite dish! Macaroni salads are the party staples and BBQs, potluck and cookout are just incomplete without a huge chilled bowl of this creamy and tasty macaroni salad!
Today I'll share my go-to version of macaroni salad! The salad dressing is perfectly creamy and light – without being extremely heavy. I've tweaked it into a bit healthier by substituting mayonnaise with greek yogurt. This makes the pasta salad a healthy and refreshing side dish, that you can have at any time of the day.
The perfect Side dish 
A great one-bowl lunch or dinner option, or as a side dish to grilled chicken or fish (basically any grilled protein!) 

It's great for meal prep recipe 

Perfect refreshing summertime pasta salad dish

It's so quick, easy, and

budget-friendly

 

A satisfying yet

healthy comfort food 
Quick and easy to make

with minimal and easily available ingredients
Classic Macaroni Salad
The classic macaroni salad is an easy summertime pasta salad that's a mix of elbow pasta, greek yogurt, vinegar, dijon mustard, black pepper, and fresh veggies. 
It's quite difficult to imagine a summer without a chilled bowl of macaroni salad. This is a kind of a summertime staple, that you keep in your fridge for a quick side for meals. But here's the thing – this pasta salad is super easy and quick to make.
It's so easy that by the time your pasta is done cooking you'll have your salad mixture ready to go. You just have to durian your pasta and toss in the salad mixture and refrigerate overnight or serve it immediately!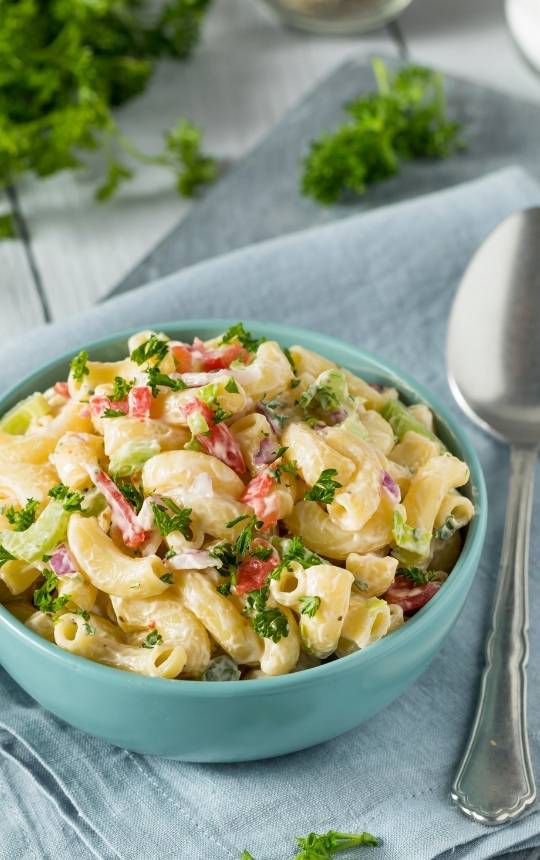 Macaroni Salad Ingredients (and Possible Substitutes)
Ingredients to make the salad dressing, here's what we need: 
Plain Greek yogurt: I love to use the full fat which makes the dressing richer, but you can also use low-fat or fat-free yogurt. Possible sub: Sour cream. (using only mayo can make the salad too oily) 
Vinegar: red or white wine vinegar or even apple cider vinegar will also work.
Mayonnaise: Make sure to use good quality mayo for a better flavor. 
Dijon mustard: you can use store-bought or simply make your own batch at home. If you want you can add a tablespoon or 2 as per your taste preference. Sub: Regular yellow mustard.
Salt and Black pepper: Make sure to add salt in the boiling pasta water. 
Honey or maple syrup: To balance the tang of mustard and vinegar. It will not add sweetness to the salad. Sub: brown or white sugar.
Rest of the ingredients for the macaroni salad:
Elbow macaroni pasta: any pasta will work for this recipe – farfalle, ditalini, or tubetti. 
Bell pepper: for some extra crunch and a light sweet flavor. Any color bell pepper will work for the recipe. 
Hard-boiled eggs: My preferred method to make hard-boiled eggs is to just air fry them. No water no mess – hard-boiled eggs ready in 10 minutes. 
Onions: Brings extra flavor and light bites. You can use shallots or yellow onion. 
Carrot: Chop the carrots into thin stick size or you can even get the pre-cut carrots. 
Celery: I like to dice them into small pieces to get crunch in every bite. 
Fresh parsley: Use fresh chopped parsley. For some extra herb, flavor, and freshness to the salad.
How to Make Macaroni Salad
This super quick summertime salad recipe is easy to follow for even the most inexperienced cooks.
Cook the macaroni: Cook the pasta in the saltwater as per the package guidelines to al dente. Do not overcook. 
Drain and rinse the pasta: Drain the cooked pasta and rinse with cold water, then add some olive oil to it and mix it properly to avoid sticking of pasta (refrigerate it until cool).
Prep the salad Dressing: Take a mixing bowl and add mayo, greek yogurt, vinegar, honey, dijon mustard, and finally season with salt and pepper as per your taste. 
Assemble the macaroni salad: Take a large mixing bowl and add all cold pasta (well-drained) along with carrot, bell pepper, celery, hard-boiled eggs, and red onions. 
Toss with the salad dressing: To the salad mixture, pour the salad dressing and add chopped parsley and mix everything properly to evenly coat. Serve immediately or store in the refrigerator.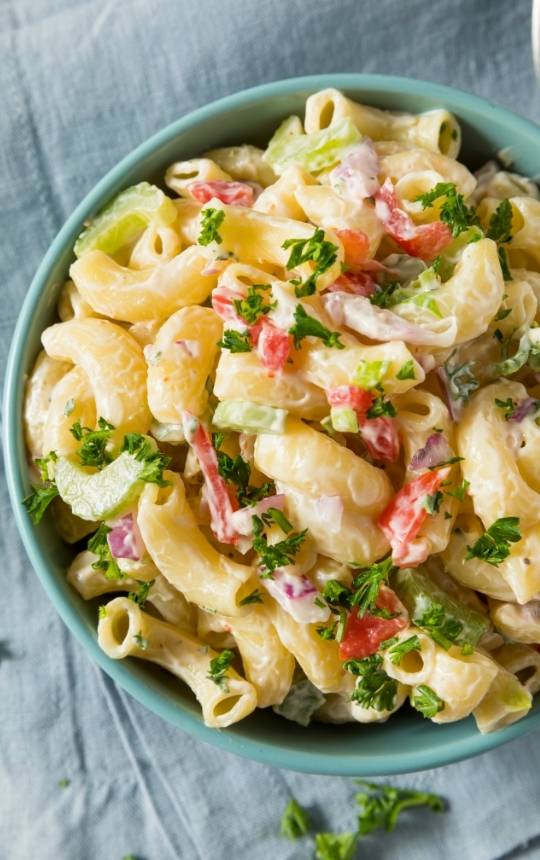 Tips for a Perfect Pasta Salad Dish 
Pasta: elbow pasta can be swapped with any shape and any kind of pasta. 

Make sure to drain the pasta properly and rinse it with cold water – this stops the pasta from cooking so it doesn't get mushy and keep it from being sticky. 

Greek yogurt:

the idea is to skip the mayo(but I have used both), if you like you can fully skip the mayo and use only greek yogurt. For vegan macaroni salad use vegan yogurt. 

Store leftovers macaroni pasta in an airtight container in the fridge for up to 4 days. (make sure to store the macaroni salad mixture and salad dressing in different airtight containers.
Macaroni Salad Add-in options
Macaroni salad is easy to make pasta salad recipe and you'll find a lot of room to be creative with lots of add-ins options – 
Dill pickle – or caper or Olives (green or black). These briny bites of fill pickles will provide a bit extra zesty flavor to the salad. 

Cheese: Diced cheddar, mozzarella, or even feta are some great toppings for the pasta salad. 

Cucumber and peas: Peas adds a bit of sweetness and cucumber for extra crunch in every bite. 

Roasted protein – You can add roasted chicken or roasted tofu on top of the salad.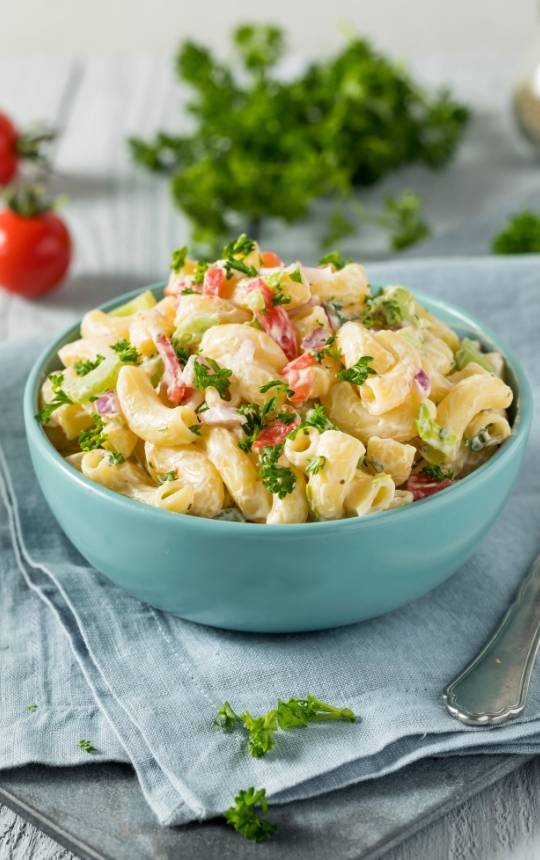 What to Serve with Macaroni Salad
Make this healthy summer meal for your family or make this pasta salad on your next potluck or get together by serving this as a side to roasted chicken, General Tso's chicken, Air Fryer roasted chicken, Cilantro & lime Chicken, or Oven-roasted Chicken with garlic.
MORE SUMMER SALADS TO TAKE TO GATHERINGS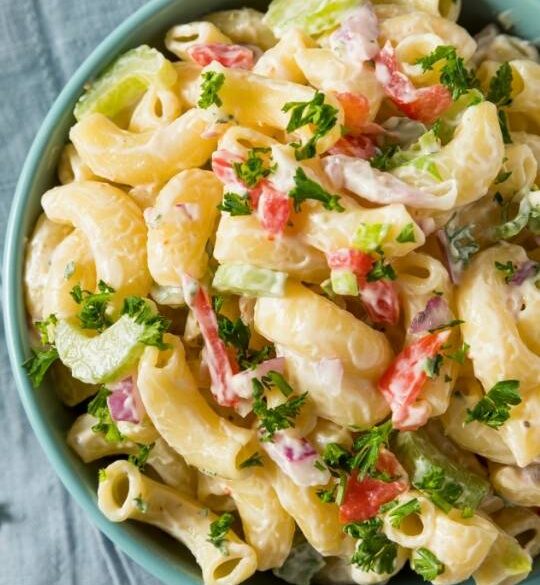 Ingredients
Salad Dressing:
1/2 cup Mayonnaise

1/2 cup plain Greek yogurt

1 1/2 tbsp vinegar

2 tsp dijon mustard

⅛ teaspoon crushed red pepper optional

2 tsp honey

⅛ tbsp garlic powder 

½ tbsp Salt (as per your taste) 

¼ tbsp Ground black pepper
Macaroni Salad:
8 oz dry elbow macaroni

3 hard-boiled eggs, peeled and diced

1 cup diced red bell pepper

1 cup carrots, roughly chopped

½  cup diced celery

½  cup diced red onion

½ cup fresh parsley (chopped) 
Instructions
Cook the Pasta: 
Cook the pasta according to the package instructions. Drain and rinse immediately with cold water and then drizzle 1 tbsp of olive oil and gently mix so the pasta won't stick together as they sit. 

In a large mixing bowl, place the cooked pasta, bell pepper, carrots, celery, red onions, and hard-boiled- eggs. Gently mix, set it aside and prepare the salad dressing. 
Macaroni Salad Dressing: 
To prep, the salad dressing, take a medium-sized mixing bowl and combine mayonnaise, plain greek yogurt, vinegar, honey, dijon mustard, salt, crushed black pepper, and garlic powder. Whisk until thick and creamy. 

Pour the salad dressing over the macaroni salad mixture and toss until everything is properly coated with the salad dressing.

Pro Tip: for better results, cover the bowl and place it in the refrigerator and allow the macaroni salad to chill for at least 2 hours (or overnight). Properly stir it before serving. Enjoy!
Did You Make This Recipe?