Here's a quick and foolproof way of how to reheat pizza in air fryer. This method of reheating leftover pizza works for almost all models of air fryers and for thin-crust or regular crust pizza.
Using an air fryer is a quick and easy way to heat up leftover pizza fast and way convenient than microwaving it. It's quick and doesn't make the pizza soggy like you get the reheated pizza from the microwave.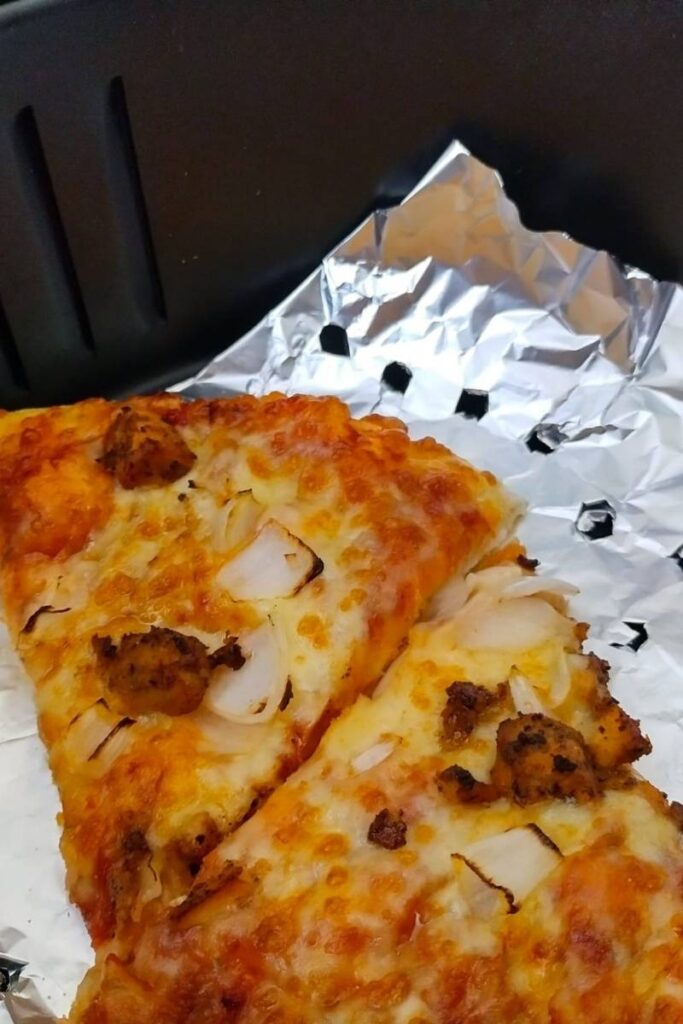 I got an air fryer last year and I am just in love with this device! I bought this so that I could able to cook healthy and low-calorie food that tastes great with less oil.
But then I quickly realized that you can do so much more than just making Fried Plantain chips at home! 
Air fryer is amazing at heating up leftovers. Whether it is reheating oily takeout french fries or leftover chicken, it's a great way to heat up last night's meal. 
And for us, we always end up with a few extra pizza slices, and my husband loves having it for breakfast or lunch the next day.
Best Way to Reheat Pizza in Air Fryer 
I'm telling you this is so far the best trick I have got!
You can find detailed instructions about reheating the pizza in the recipe card below. 
I don't know about you but I can eat pizza all day long, and I always tend to order more pizza and have to store it in the fridge.
This made me determined to find a way to make leftover pizza new again. Few things in life make me happy, like pizza for breakfast!
Why waste the leftover pizza, Right? 
Most people reheat their pizza in the microwave or oven. The microwave overheats the pizza, resulting in a super soggy pizza with piping hot cheese that will burn your mouth. Terrible idea!
On the other hand, the convection oven is still better than the microwave, but in the end, it is also not satisfactory. It tends to dry out the pizza and it does not taste like as it did last night!
You finally got a dry and piping hot pizza, and you eat it anyway because pizza is just too good to pass up, but you must try reheating your pizza slices in that small magic machine in the corner of your kitchen, that you already know creates magic!!!

Before using your air fryer, be sure you are not making one of these mistakes!!!
Can You Reheat Leftover Pizza In Airfryer?
Reheating leftover pizza in air fryer is a great way to turn it into the perfect pizzas as it works fast while making it hot, delicious, crispy crust. The hot air circulating inside the air fryer makes the food crisp without drying it out.
So yes, you can reheat your pizza in an air fryer and it gives a much better result than a microwave or a convection oven. You know the best part about an air fryer it almost acts quite similar to an actual deep fryer. 
It allows the food to get crispier without making it dry or dull, as long as you use very little oil in certain food items.
There are a lot of people who think leftover (left overnight) pizza is ruined, but it's not, you just need to reheat it properly.
Okay, first make sure that your pizza is good to eat. I know it may sound weird, but finding a pizza in your refrigerator a few days after it was ordered, does not make it good to consume. Sorry, but it is not edible!
Keep reading to find out how to reheat pizza including the thick crust and thin crusts perfectly!
Reheat Pizza in an Airfryer
A printable instructions card for reheating pizza in air fryer is included at the bottom of this post. 
This is one of the best methods I use to reheat the leftover pizza and it gives the best results. It includes my trusted air fryer and some leftover pizza slices.
First of all assess your pizza slices, how big are the slices, what is the crust thickness, how many slices may fit in the fryer tray?
These questions are essential as they will determine how long you are going to cook them. Make sure to place all the slices evenly, do not overlap the slices as they may not heat evenly.

Essential Guidelines For Reheating Pizza
Make sure the air fryer has been pre-heated for at least 5 minutes before you put the pizza into the basket.

You can add some water to the air fryer basket container to maintain moisture inside the air fryer if you are using a large air fryer with big exhaust vents. That ensures that the pizza does not dry out while it heats up.

If your pizza has a thinner base, it will be faster to reheat, so you will need to cook the thinner pizza for a shorter time than a thicker crust pizza.

I can give a rough time estimate time, the thinner crust pizza may require 2-3 minutes and a thicker crust slice may need 4-6 minutes.

Also, make sure to place the same thickness at a time, this way pizza slice may cook evenly and at about the same rate.




Overlapping the slices may lead to blocking the rapid air inside the air fryer.
Continue reading to get the detailed method to reheat pizza in an air fryer.
How to Reheat Leftover Pizza in an Airfryer
Place a foil or a parchment sheet to the base on the air fryer basket. Place the leftover pizza slice on top of it. If needed, lightly spray a little amount of oil on top of the pizza so that the toppings don't get burnt.

Set the air fryer at 360°F/180°C for 3 to 6 minutes or

check the pizza slice and decide if it is hot enough.

 

If you are not sure, cook for 4 minutes first and then check to see if it's cooked to your desired doneness.

If it is warm though as per your preference then take it out. 

If you feel it may need a bit more cooking time, let it cook for an additional 30 seconds to 1 min.

Use a tong or a spatula to remove the hot pizza and Enjoy!

Serve it warm.
How to Reheat Leftover Pizza in an Airfryer Oven 
It's almost the same as you would heat in the basket-style air fryer. The major difference is that you can place and reheat more slices at the same time.
Keep in mind that the positioning of the shelves plays an important role in reheating in the air fryer oven. Too high up and it will dry and burnt the pizza slice and too low and it will take too long to reheat your pizza slices.
In my opinion, the bottom shelves being as the drip tray, and place the pizza slices in the air fryer oven from the first shelf up from the drip tray that is 2nd shelf from the bottom.
How long to reheat pizza in air fryer?
Air fry at 400° for 3 to 6 minutes, or until cooked to your desired crispness and the cheese is melted. You can also add some extra cheese or topping as per your preference. Then remove the first pizza from the air fryer basket using a pair of tongs, and garnish with basil leaves.

Why heating up pizza in air fryer is Convenient: 
The biggest advantage of reheating leftovers is that there isn't much cleanup needed. The pizza goes directly goes into the air fryer basket. 
Once it's cooked and the basket gets cool, you just need to wipe it with a kitchen towel or a tissue and be ready to use it again. There won't be a mess and less cleanup. 
If you have got a pizza slice with a lot of toppings you can put aluminum foil or parchment paper in the air fryer basket.
Do I have to preheat the air fryer?
I dont prefer preheating for heating up pizza in air fryer. As preheating makes much difference for food with breading or coating that you want to get extra crisp and not making it soggy.
Easy Airfryer Recipes:
Recent Content: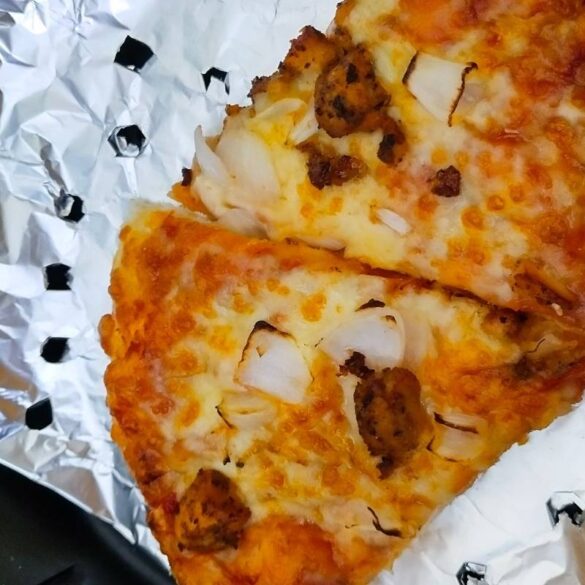 Ingredients
1-2

 

slices leftover pizza

Oil spray (optional) 
Instructions
Preheat the air fryer to 350 degrees.

Place the leftover pizza slices inside the air fryer basket in a single layer and reheat for 3 to 4 minutes. 
Remove the leftover pizza from the basket and enjoy!
Notes
The temperature may vary depending upon the air fryer model and the pizza, so make sure to adjust the temperature according to your air fryer model. 

If pizza is not warm thoroughly, you can continue to cook it for again 30 secs or 1 min. 

Do not overlap the pizza slices with one another, it may result in uneven cooking. 
Did You Make This Recipe?
FAQ on Reheating Pizza in an Air Fryer
It entirely depends upon the thickness of the crust and the temperature setting you have set. For more information refer to the guidelines section in the post.
No, you do not need to apply oil over pizza slices while reheating them in the air fryer.. But you can. If you think your pizza slice is going to stick to the air fryer basket. Or if you want a crispy base, then spray a little bit of olive oil on the pizza base before placing it into the basket.