This homemade easy and quick Roasted Beetroot hummus Recipe is super creamy, and smooth, and tastes so earthy and flavourful.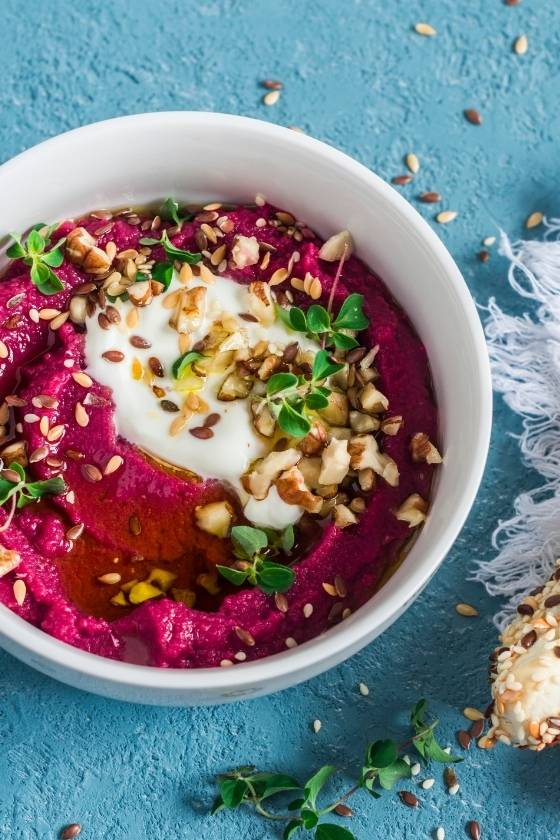 Why This Recipe Is A "Must-Try"
It's a healthy snack Beetroot is packed with essential vitamins and minerals.

You can customize the flavor according to your taste.

It's easy to make and takes only a few minutes to whip a batch of this roasted beetroot hummus.

It's cheaper than store-bought hummus

Definitely a crowd-pleaser

It's a great way to use up leftover beets
How To Cook fresh Beetroot For Hummus? 
You need cooked beet for this recipe, if you are in a hurry then instead of cooking them yourself, you can buy cooked beetroot that is vacuum-packed.
For making this roasted beet hummus, make sure your beets are fully cooled before adding them to your hummus.
Firstly, peel the skin from the beetroot with a peeler. Preheat the oven to 400 degrees Fahrenheit.

Cut the beetroot into wedges or into small cubes, and place it over the baking tray with a generous amount of olive oil brushed over them.

Make sure to place the beets in one layer so that they do not overlap, so that they can cook evenly in the oven.

Roast them for about 15 to 20 minutes depending upon the size or until they are fork-tender.

Now, let the beet cool completely before adding them to the hummus.
Is Roasted Beetroot Hummus Good For Health? 
The hummus recipes are one of my A-L-L time favorite appetizer recipes. Beetroots are loaded with nutrients and on the other hand, chickpeas are great for your GUT HEALTH as they are jam-packed with fiber and keep things moving from your digestive system.
So, when you combine these 2 together you have got yourself one rich healthy snack or a condiment recipe!
Let me repeat why this beetroot hummus is healthy even if you consume it on a daily basis. Beets are R-I-C-H with nutrition, beat inflammation, and are great detoxifiers.
And chickpeas are great for G-U-T health and are packed full of insoluble fibers which are great for the bacteria in your gut. So happy bacteria = happy YOU :)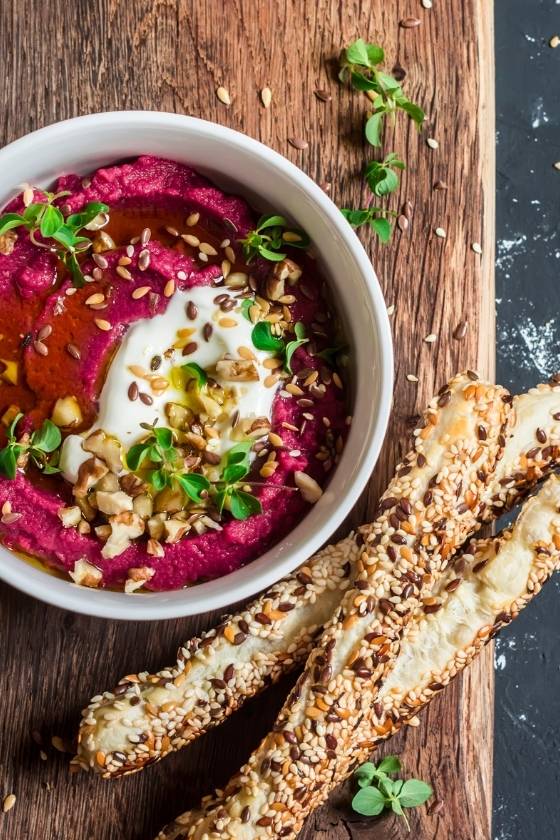 Substitute for Tahini In Hummus? 
Tahini sauce is quite popular and can be found in supermarkets or large stores or you can order it on Amazon.
If you still can not find it, try the homemade tahini sauce recipe. It gives a great taste as well as a smooth and silky texture to the hummus, more than a taste it improves the texture of the roasted beetroot hummus to another level, that is why I love adding tahini sauce to the hummus.
Well, not everyone likes tahini sauce, even some are allergic to sesame instead of tahini sauce you can also add peanut butter and sunflower seed butter as a substitute. I prefer using a little amount of tahini at a time so that it does not overpower.
Ingredients Required 
This is a quick and easy-to-make roasted beetroot hummus recipe, which means there is no hassle and no mess.
Chickpeas: The main ingredient or the base is traditionally prepared with chickpeas, it is not hummus without chickpeas, it is packed with fiber and neutral in taste. I prefer cooking it from the scratch, but you can easily take the major shortcut by using canned chickpeas.
Beetroot: I bake the beetroot in the oven or even as it pan-fried. For roasting instructions, refer to how to roast beetroot. Canned beet is already cooked; you can simply drain the beets and dump them into the processor with the rest of the ingredients.
Tahini paste: Tahini paste is roasted ground sesame seeds which adds a nutty flavor to Beet hummus. You can get tahini sauce from any supermarket or even you can prepare it at home.
Lemon: my citrus choice for this hummus recipe is definitely lemon. Lemons perfectly;y balance the sweetness of the beetroot and gives the hummus a tangy taste.
Garlic: few cloves of raw garlic give a depth of flavor. The recipe needs only 2 to 3 cloves but feels free if you like a more garlicky flavor to your hummus recipe.
Salt: I usually prefer fine sea salt.
Spices: You can add spices as per your own preference, but do not forget this combination: roasted cumin powder, paprika, and coriander which are rich in flavor and will give hummus the next level of richness.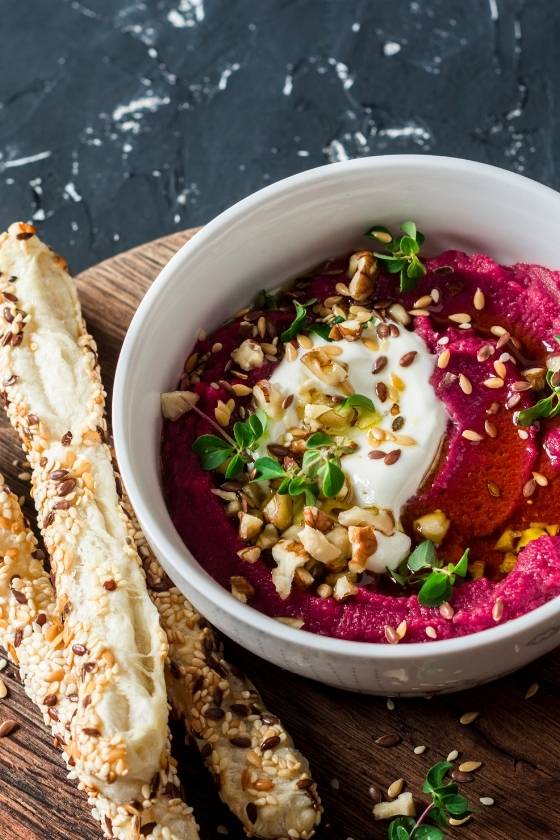 How To Make Roasted Beetroot Hummus 
Making this beetroot and chickpeas hummus is absolutely easy. It just matters of blending all the ingredients in a food processor or a blender.
Add ingredients to your food processor: Puree all the ingredients in a food processor or blender until smooth(except chickpea). Tahini, cold water, olive oil, roasted cumin powder, salt, garlic, and lemon.
Add chickpeas( skin off )
Puree for 3 to 4 minutes, or until smooth: Keep the blender going until the hummus is smooth and silky, make sure to pause in between to scrape down the sides. If the hummus looks or looks thick, feel free to add a few tablespoons of water.
Taste and check the consistency: At this point, you are almost done! Give the hummus a taste, and adjust salt, seasonings, and lemon juice. If you want to add anything more or extra add it now. Also make sure to check the consistency, if you find it too thick you can add a few tbsp of water or 1 or 2 ice cubes.
Transfer into a bowl with a finishing touch: Transfer the pink beet hummus into a serving or dip bowl. Drizzle with a generous amount of olive or sesame oil, add some finely chopped parsley, and you are done!
FAQs for Roasted Beetroot Hummus 
Although this is not a necessary step, if you want your hummus to be extra smooth, remove the skin from the chickpeas. It will definitely make a huge difference in terms of texture!
You can simply add 1 tbsp baking soda while boiling the chickpeas. Rinse them under cold water, gently rub the chickpeas, and discard the skin.
If you have some leftover Beet hummus, you can store the dip in an airtight container in the refrigerator for about 3 to 5 days.
You can also freeze your beet hummus and thaw it in the fridge when you want to use it again!
Definitely not! At least not the traditional hummus recipe that includes chickpeas as the main ingredient.
Hummus is made with chickpeas, which are classified as legumes. Legumes like soybean, chickpeas, etc are avoided on keto as they are high in carbs and low in fat. That is the opposite of what you want in keto!
Yes! It is totally possible to make hummus without using tahini. Tahini has an amazing nutty flavor with a touch of bitterness.
But if you want some extra richness you can replace the tahini with peanut butter, sunflower seed butter, greek yogurt, steamed sweet potatoes, and avocado, to name just a few possibilities.
There are 179 Cal in every 100 g of homemade Beet Hummus. Here is some detailed nutritional information on homemade beet hummus.
Other Dressing or Seasonings You Would Want to TRY!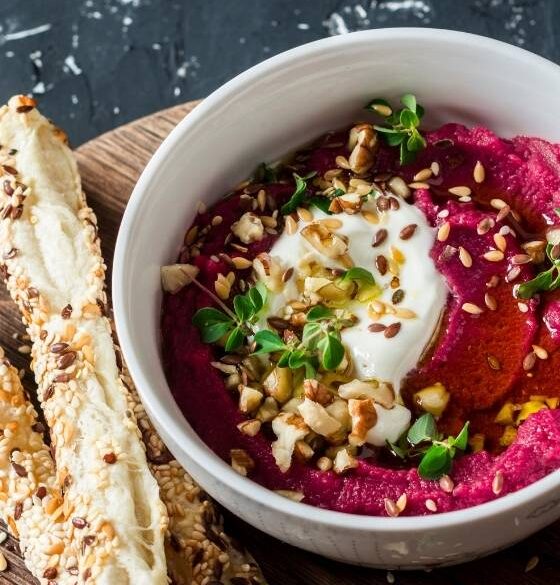 Ingredients
2 cups cooked chickpeas, remove the skin for a smooth texture or use canned chickpeas

1 cup Roasted Beet

3 tbsp tahini (mix 4 tbsp roasted sesame seeds with 1tbsp olive oil with a few tbsps water, blend to make a smooth paste)

4 garlic cloves

4 tbsp olive oil extra virgin

2 tbsp lemon juice

1 tsp pinch of salt

1 tbsp roasted cumin powder

1 tbsp chili flakes

½ cup ice cube
Instructions
Put all the ingredients in the large bowl of a food processor or a blender, and place cooked or canned chickpeas, roasted beetroot, tahini, garlic, and lemon juice with salt and spice seasonings.

Turn on the processor for a while, while it's running add 2 to 3 ice cubes (it helps the roasted beet to a nice and creamy consistency).

Taste and adjust the seasoning according to your taste. Run the processor again if the hummus is still thick, adding little more ice cubes as it runs( keep the processor until it reaches your desired creamy and smooth texture).

Now, transfer the beet hummus into a bowl, and add extra virgin olive oil. Sprinkle some sesame seeds and chopped parsley. Serve with homemade pita chips or veggies as dipping.
Notes
For a creamier and smooth texture, remove the skin of chickpeas. You can even add ice cubes instead of water, it gives a fluffy and creamy texture to the hummus.

You can use canned chickpeas and beet. make sure to cook the canned chickpeas for 15 minutes or until it turns soft or mashable.

Increase or decrease the seasoning according to your preference.

Leftover hummus can be stored in the fridge in an airtight container for about 3 to 4 days.

Beet hummus may thicken a bit in the fridge, you can add 1 or 2 tbsp of water to dilute it, to your preferred consistency.
Did You Make This Recipe?